Tips to Remember When Layering Rugs
Posted On November 19, 2020
A rug is one of the easiest ways to give your space extra visual appeal. But why pick just one out of the many carpet styles available? Feel free to experiment and follow our interior decorating tips to achieve a layered rug look that suits your home.
Area rug layering lets you incorporate design and texture to your room. It also adds a layer of protection to your space. But how exactly do you layer your carpets to make your room look better? In this blog, we've listed some layered rug ideas you can try out.
Design With Your Room in Mind
Carpet layering works best in a spacious room with less furniture. That space can be your bedroom, living room, or den. If you're placing layered rugs in any of these rooms, the following ideas can help you out.
Living Room
The type of living room you have will help you choose whether you'll layer or overlap your carpets.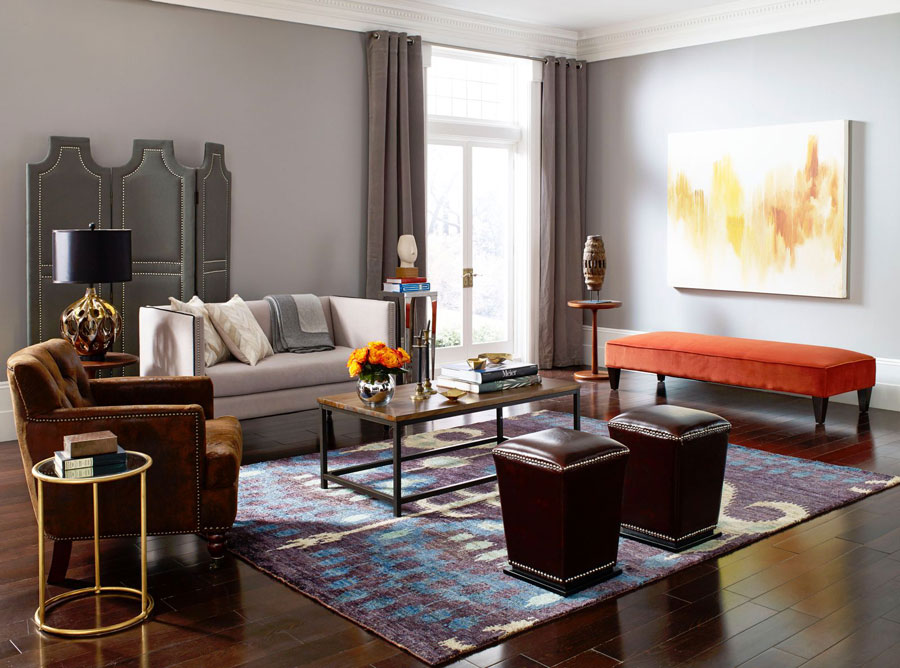 Layered rugs can serve as a visual anchor for living rooms with cozy seating areas. You may also place a coffee table over two layered carpets as an accent to your space. If your living room is on the small side, however, it's best to layer light-colored rugs with minimal patterns.
Overlapping rugs, on the other hand, is possible if you have a huge space. You can also add exquisite pieces of furniture on top of your layered rugs for a better design accent.
Dining Room
Placing layered carpets in a dining space boils down to two factors — your dining room's area and the size of your dining table.
When deciding how to layer your carpets, you may opt for an oversized jute rug as your bottom carpet, then place a rug with a different material on top. Just make sure your bottom rug is big enough for you to move your chairs freely.
Kitchen
Your kitchen's empty floor space will dictate how and where to place layered carpets. Runners are an ideal option for layering as your kitchen may only have a little space for a rug.
Since kitchens are more prone to splashes of water and other stains, it's better for you to install a jute carpet for these areas because of their high-quality, durable material. For greater design impact, consider placing smaller carpets above them when layering.
Entryway
Even though your entryway is a small area, you may choose to place layered carpets here, too. Set the right mood before people step into your home by choosing rugs with colors and patterns that complement your interior design. 
Bedroom
Your bedroom is made up of various textures that can help guide you when layering rugs. 
When picking out rug colors, stick to three main colors so they don't clash with the rest of the design elements in your room. 
Since your bed is a place for you to rest, it's best if you place carpets made of soft materials here.
Create a Focal Point
When you layer a small rug on a bigger rug, it can help direct the viewer's eyes toward a certain area in your room. Layering your rugs is even more effective when you use rugs with contrasting hues and patterns. Moreover, layering rugs on rugs lets you emphasize eye-catching furniture or other decorative accents in your home.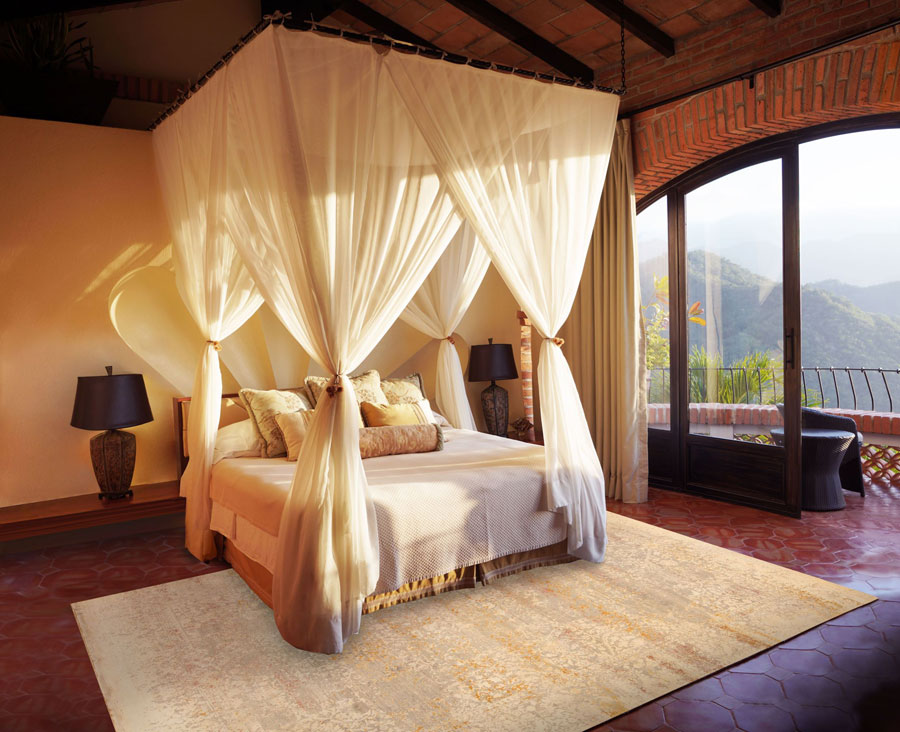 Turn your favorite furniture into a focal point with these rug layering design tips:
Place a vividly patterned carpet on a neutral colored rug

Add a light-colored rug on top of a dark carpet

Install dark-colored carpets on a light-colored rug
Keep in mind that when you're using the layering styles above, you'll need a large carpet that's visible under your furniture. If you're working with a smaller carpet, install it at an angle that'll keep it visible.
Define Your Space
Layered carpets can also serve as great anchors for furniture pieces in large spaces. Anchoring your furniture with layered rugs ensures it still commands attention no matter how vast your interior is. 
By common area rug rules, you'll need around 10 to 20 inches of bare floor between your carpet's edges and the walls of your space when installing your rugs. Achieving a sense of balance and harmony by making sure your furniture sits on top of your carpet. 
These rules might not apply to your room, however. Since it's a smaller space, consider placing a smaller rug in the middle to help ground and define your room.
Consider Color, Texture, & Size
Carpet layering lets you experiment with color. If you're not a fan of colorful carpets in your space, layering your rugs gives you the opportunity to create a neutral base with only a little color. 
How you layer your carpets will depend on what you're trying to achieve. For example, you can add patterned carpets over natural fiber carpets to emphasize texture. Or you could layer rugs with complementary colors that match your interior decor. 
When it comes to size, however, placing different rug sizes in your space is a great option. You may opt for a large, more dominant carpet as the base, and use smaller accent rugs for the layers, for instance.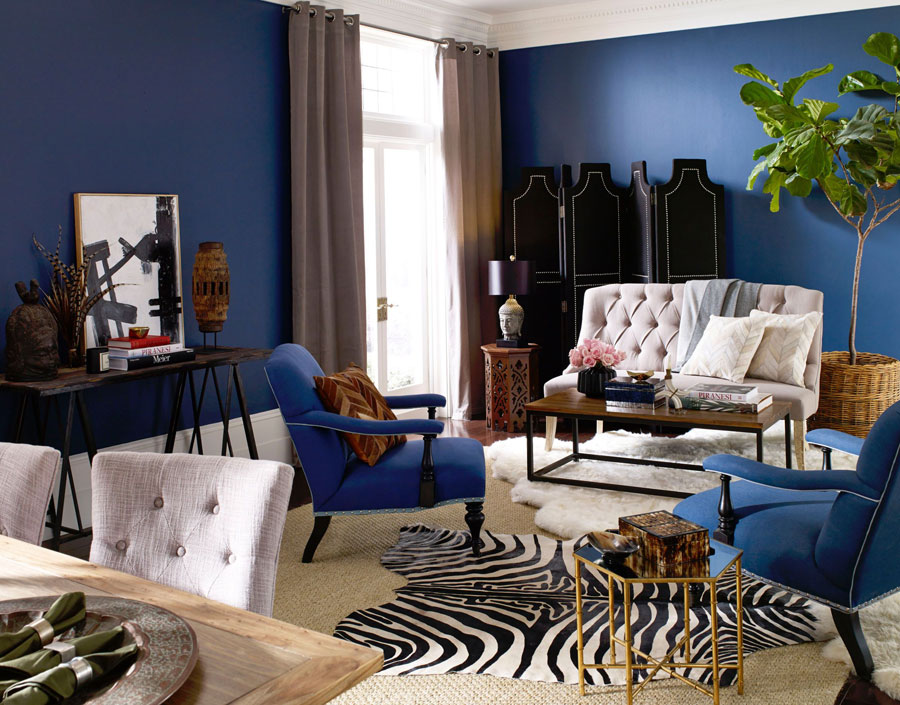 Want to give your interior an added sense of depth? Look into layering rugs with different textures. For an eye-catching, subtle look, try layering a cowhide or sheepskin carpet on a jute or sisal carpet. Another great texture combination would be for you to place a soft rug over a flat-woven piece.
Keep it Simple
Even if your home has a simple interior design, you can still layer your carpets. Designing your rugs this way can give your space more texture, for instance. Adding neutral-toned carpets with different textures is one way you can breathe more life into your space. 
Take two-toned sisal rugs as an example. These carpets can add depth to your room even though they don't feature bold or colorful patterns.
How you'll design with layered rugs will all boil down to your personal preference. Add a splash of color by installing bold carpets with intricate patterns. If you don't want to make your space look excessively vibrant, you can choose rugs with lighter, pastel colors.
Decorate Your Space with
Layered Area Rugs
When it comes to layering rugs, there isn't any strict set of rules for you to follow. All you have to do is have fun and figure out what works best for your space. 
Achieving a layered rug look offers various design opportunities. For one, it lets you create visual interest and add depth to your space. Keep it fresh and rotate your rugs regularly if you want to change the look of your interior.
Cyrus Artisan Rugs can help you find the best rugs for layering. Our inventory includes eye-catching area rugs available in various styles, colors, and patterns. Reach out to us if you want to customize your carpets to complement the design of your space. Find the perfect rug and visit our website today.