A Homeowner's Guide to Natural Fiber Rugs
Posted On December 15, 2020
Rugs are made from a number of materials — ranging from animal skins and silk to synthetic fibers such as nylon and polyester. The type of material used in a rug's construction determines its quality, texture, and lifespan. While synthetic fibers are generally more affordable and easier to work with, nothing beats the durability and beauty of natural fiber rugs.
The best rugs, those that stand the test of time, are made from materials found in nature. Wool is perhaps the most popular option, but rugs made of silk, animal skin and fur, jute, sea grass, bamboo silk, and sisal are also sought after. 
If you're new to the world of natural fiber rugs, get ready to explore a world of fine masterpieces that will bring a whole new dimension to your interior decor. 
Allow us to help you know more about these types of rugs and find the right rug for your home. 
Determine Your Needs
Before you look for a natural fiber rug, you must first look at the type of household you have. Do you have toddlers? Pets who like to play indoors? Do you often have guests over? While it's tempting to just choose a pretty rug, it helps to consider what circumstances your rugs will be subjected to. For instance, if you have a pet that hasn't been potty trained, a natural fiber rug may not be a suitable choice. 
Another factor you can gauge is the amount of traffic your rug will receive. Here are some considerations to make: 
The foyer, kitchen, and family rooms are

high-traffic areas,

which means you need rugs that are durable and can withstand stains.

Dining rooms and home offices can be considered as

medium-traffic rooms

. Although they are used regularly, they are not main passageways. 

Low-traffic spaces

are areas in your home that have few activities happening in them. These include your bedroom and guest rooms. Rugs placed in these areas get the least amount of footsteps.
Keep in mind that each room has specific needs, as well. For example, a rug in a bathroom or kitchen should be mold-resistant and easy to clean and dry. In high-moisture areas, it would be good to have a dehumidifier and ensure adequate ventilation. 
What are Natural Fiber Rugs?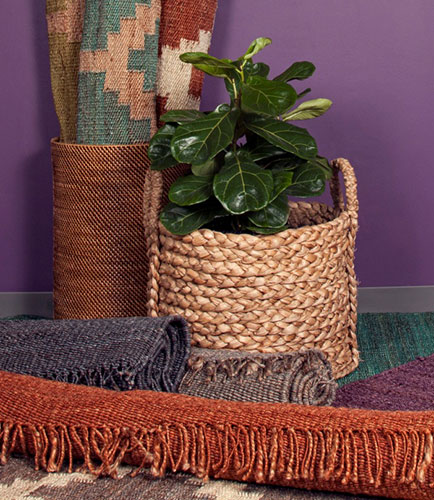 Natural fibers are extracted from various plants and animals, ranging from staples such as cotton, wool, and silk, to recently popularized ones such as hemp and bamboo. Each fabric gives off a unique color, texture, and quality, and some can be coarse while others are smooth. Check out some of the most popular natural fibers used for rugs: 
Jute
Jute fibers come from plant stalks instead of leaves. Rugs made from this material usually look coarse due to their texture, but they are, in fact, exceptionally soft. They have this texture that adds an earthy appeal to any room. These fibers are first soaked and stripped before they are spun to create an organic, woven look. While these rugs have a natural brown hue, they are sometimes dyed in different colors. 
Best recommended for: Jute rugs are wonderfully soft, but they can be the least durable, so it's best to place them in low- and medium-traffic areas.
Seagrass
As the name suggests, a seagrass rug comes from seagrass. The materials are typically harvested from saltwater marshes, making them nonporous and water-resistant. These rugs often start with a light green sheen that later on fades into khaki, resulting in a raw, natural look.
Best recommended for: Its pile feels great on bare feet, making it a wise addition to your bathroom, bedroom, and kitchen.
Hemp
Hemp fibers are a go-to material when creating durable and hard-wearing rugs. Hemp fiber is naturally coppery brown in color, but using different dyes can result in colorful pieces. A hemp rug would start off coarse underfoot but will soften over time with frequent use.
Best recommended for: A sustainable hemp rug is long-lasting and will enhance the interior of your foyers and living rooms. This is also the ideal rug if you have pets around because its fibers are pesticide-free.
Sisal
You might be familiar with sisal because it is also used in making rope and twine. Like jute, a sisal rug features a clean weave and a subdued brown that speaks nature. While they are durable, they can be a bit slippery, so placing them in stairways is a bad idea. 
Best recommended for: Because of its smooth, grassy texture, it is uncomfortable especially for bare feet. Place them in an area where everyone is expected to be wearing footwear like your entryway.
Wool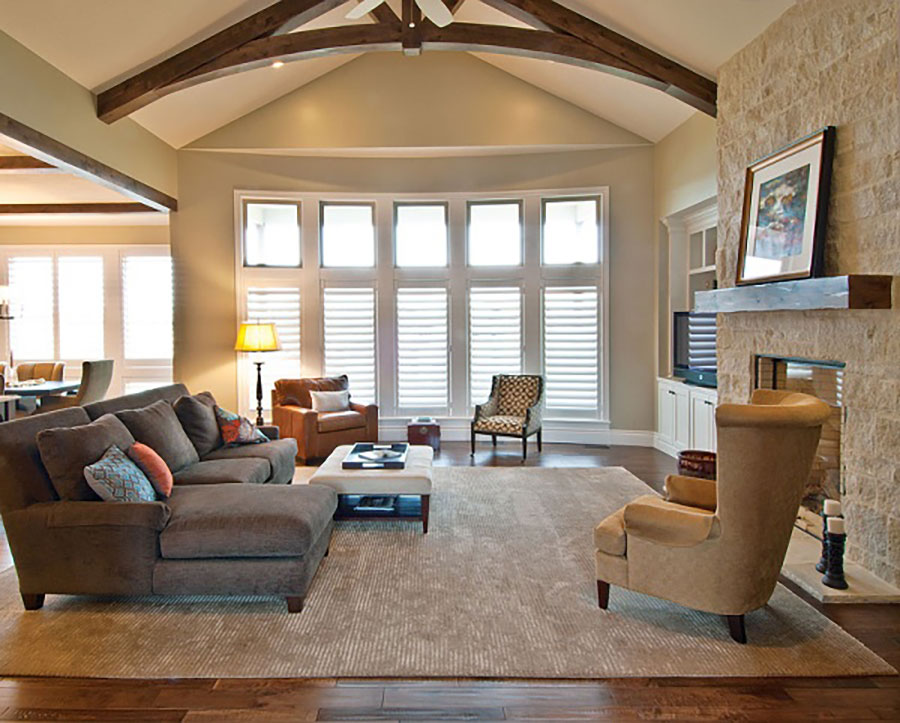 The most ideal and popular material for creating rugs, wool offers an incomparable softness, warmth, and luxury. Wool fibers are obtained from sheep and are rich in substances like keratin and sulfur. Wool rugs are some of the most durable pieces on the market. They can retain their shape even after years of heavy foot traffic.
Best recommended for: Wool area rugs can be placed in different areas in your home. With their wide range of colors and patterns, there are endless possibilities for decorating with wool rugs.
Cotton
Cotton is a widely used fabric in the world, not just on rugs but also on clothing. It is immensely soft to the touch and distinctively lightweight, making cotton rugs low-maintenance decorative pieces. Cotton rugs' breathable fibers absorb dyes well, which is why these rugs tend to have elaborate patterns with vibrant colors.
Best recommended for: The soft cushion on a cotton area rug makes it a fine piece in your children's rooms and in recreation areas.
Six Reasons You'll Love a
Natural Fiber Rug
A natural fiber area rug is a great addition to any living space. It elevates a  room's aesthetic and adds texture and depth. If you're still not convinced, here are a few reasons it may be your next best purchase: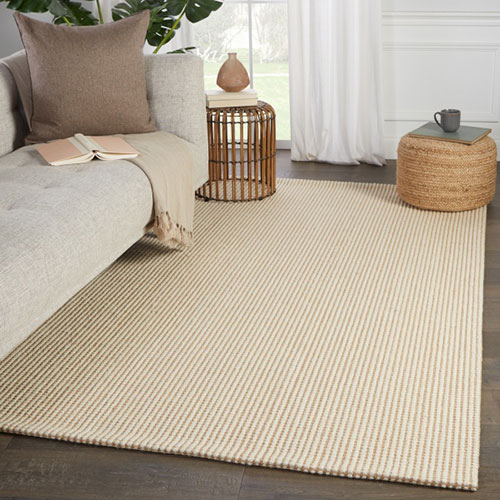 1. Kids and Pets are Free to Play
If you have kids or pets at home, you wouldn't have to worry about them ingesting or inhaling toxic substances and harmful chemicals. With a natural rug, you can let your kid crawl about or your pet roll over as it pleases without exposing them to danger. These rugs are incredibly soft to the touch, as well, which means your babies are safe from bruises or scratches. 
2. You Get Value for Your Money
Natural rugs are a worthy investment because they are durable and affordable. Even when subjected to a lot of foot traffic, they stay intact and fade beautifully. There is no compromise on quality when it comes to a natural fiber rug.
3. A Long-Lasting Decorative Ornament
This type of rug is not only hard-wearing, but is also easy to clean, with some even having stain-repellent qualities. Most can endure areas with high foot traffic. Plus, these rugs age well like fine wine, making them a keeper. 
4. Endless Design Options
With the various materials, colors, designs, and sizes available, natural fiber rugs can be placed in virtually every nook and cranny of your home. They blend well with any type of furniture and suit a wide range of interior styles and personal preferences. 
5. A Wide Variety of Textures
Natural fiber rugs have various distinct textures that easily differentiate them from other rugs. Synthetic fiber rugs are often flat and have basic designs, which tend to rely on colors and patterns. With natural ones, however, the material is the star of the show as it creates a statement of its own.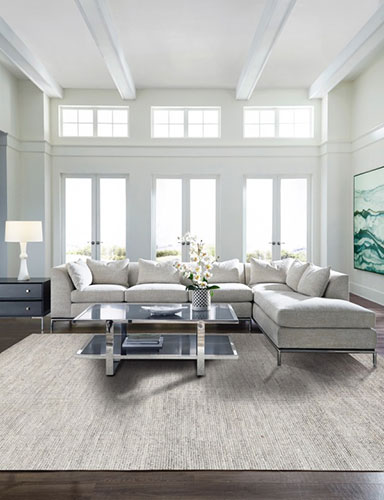 6. An Eco-friendly Accessory
Natural fiber rugs are made from biodegradable, recyclable, and renewable materials. What's more, purely artisanal, hand-woven pieces don't rely on machinery and chemicals. They are typically hand-made using mechanical looms and natural dyes. That said, natural fiber rugs are definitely environmentally-friendlier than mass-produced ones. 
Find the Perfect
Natural Fiber Rug
for Your Home
A natural fiber area rug is undeniably one of the best accessories you can place in your home. With their durable materials and exquisite designs, you'll see your living spaces come to life. Cyrus Artisan Rugs is the best place to find natural fiber rugs that are soft and can fit any of your rooms. Browse through our inventory today and purchase the rug that will make your house into a home. 
Visit our Showrooms
Visit Cyrus Artisan Rugs Showrooms in: Minneapolis, St. Paul, & Rochester, not living in Minnesota? Visit our showrooms in Sioux Falls, SD, Des Moines, IA, Austin, TX, Scottsdale, AZ & Palm Beach, FL. Choose from our wide range of rugs.