Choosing the Best Distressed Rug for Your Home
Posted On December 15, 2020
The distressed style has been a mainstay in interior design over the past few years. It is characterized by keeping the "weathered" look of furniture pieces and accessories or making new objects appear "aged." The goal is to evoke a sense of nostalgia, owing to the belief that particular objects look better as they age. But it can also be effective in bringing warmth to modern spaces and juxtaposing the old and new. 
A distressed rug is a signature element of this design movement. Nothing beats its vintage, elegantly faded look that holds up beautifully to everyday use. Not only does it direct the theme of the space but also brings everything together, regardless of what style you're trying to pull off.  
However, decorating with distressed rugs comes with a few rules. Allow us to share some tips on how to choose the best piece for your home. 
What is a Distressed Rug?
Distressed rugs work in interior design as faded, ripped jeans work in fashion.
The distressed trend has come a long way since ripped jeans and has crossed over and set its roots in interior design. The piece can either be a vintage rug that has faded and ripped beautifully over time, giving it a new dimension and depth of character. Or it can be deliberate, a newly woven rug that's been overdyed or bleached and made to look worn out using careful abrasion. The result would typically be lighter color palettes, with wear being its most valuable feature. 
Distressed rugs do not hide flaws and imperfections — they highlight them. They are enhanced to show their age without losing their original beauty. While the intent of a distressed rug is to show age, it proves to be an ageless design feature that is always pleasing to the eye. 
Design Tips for
Distressed Rugs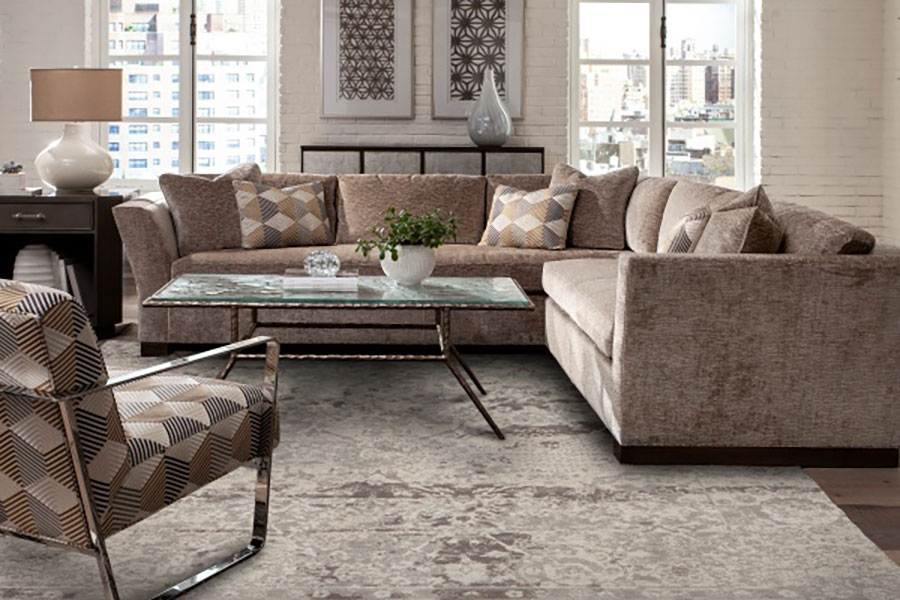 Distressed area rugs make great statement pieces for any living space. But with a few decorating techniques, you can even unlock their true potential. Check out these tips to maximize your distressed decorative piece.
Don't Match, Coordinate
The golden rule in interior design is not to "match" accessories and furnishings, but to coordinate them. What this means is that you don't necessarily have to go full-on "distressed" if you want to achieve a rustic, weathered look. You simply need a few faded furniture pieces and a distressed rug. 
You might have doubts about whether a distressed rug can look good in a modern space, but the fact is that distressed rugs are some of the most versatile pieces you can add in any space. You can throw it over a craftsman living room to complement with the earthy tones, hardwood, and leathers. A faded, muted rug can be a contrasting feature to pastel colored walls, one that can easily fade into the background but keeping the space "whole." And it can even be used in a contemporary space to ground it and make it cozy. In other words, the possibilities are endless with distressed area rugs.
Embrace the Fade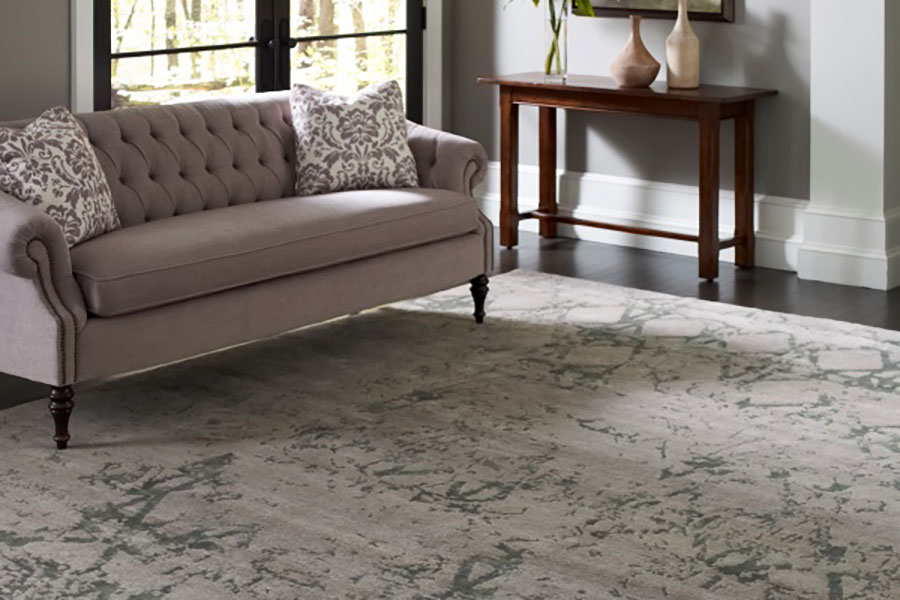 Rugs are prone to natural fading. This process adds character and definition to rugs as it indicates quality that stands the test of time. The discoloration happening randomly throughout the rug can also result in a unique color palette. These variations in hues can add a whole new dimension to your piece.
You'll definitely love the faded effect of distressed Oriental rugs. The vanishing hues of patchwork and florals on these pieces are a thing of beauty. Achieve that effortlessly elegant look in your living rooms, hallways, and dining area by embracing the fade.
Go with Subtle, Pastel Hues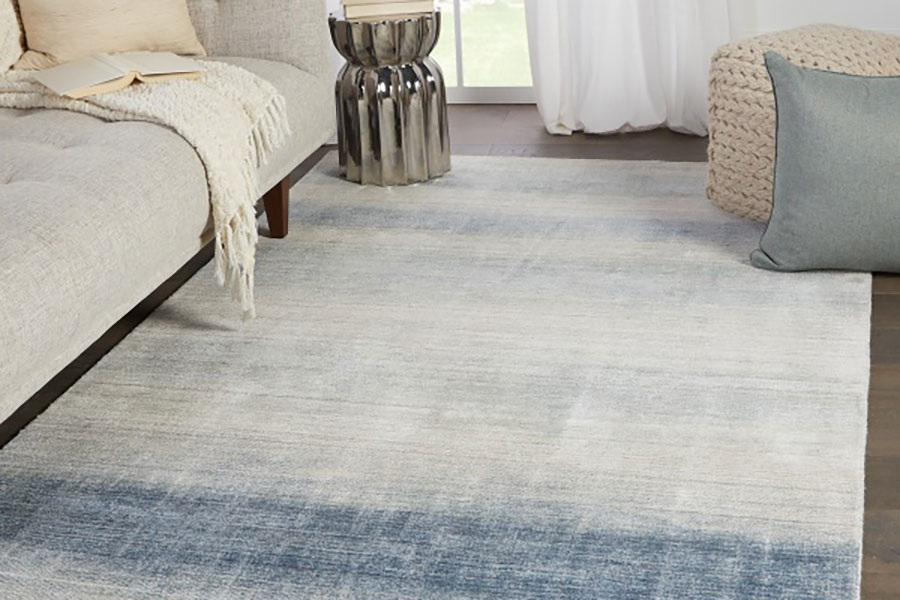 Bring harmony to any space with a distressed rug in a pastel hue. A subtle, faded palette can easily blend into the background, creating a more seamless flow between rooms and directing the eyes to other focal features like a sofa, dining table, or piano. In a rustic room with dark wood furnishings and leather upholstery, a pastel distressed area rug can help soften the drama of these natural features. 
Try Different Shapes and Sizes
Different sizes and shapes give off various effects to a room. The standard rectangle is a safe and basic choice for distressed area rugs. You may also try playing around with a circular distressed rug, especially if the space is already filled with squares and rectangles. The roundness of its edges will add a friendlier and warmer feel to your space and make it appear larger.
A distressed rug can also come in a runner rug form. These are thinner but longer than standard rugs. Place them in long hallways to bring life, narrow kitchen areas for comfort, and bathrooms for that sophisticated touch.
Include Natural Elements
Distressed rugs go well with natural materials such as wood, rattan, stone, and ceramics, an ensemble commonly found in "boho chic" interiors. For instance, if you have a large white sofa, one way to soften this commanding furniture piece is to add rattan side tables, ceramic planters and vases, and colorful pillow covers and throws. Then, add in a distressed oriental rug to embrace these elements into a unified look. Much like rugs made of organic fabrics, wood, ceramics, and other natural materials tend to fade and look better after years of use, which makes a distressed rug the perfect piece of the puzzle. 
Match the Color of Rugs with Decorative Pieces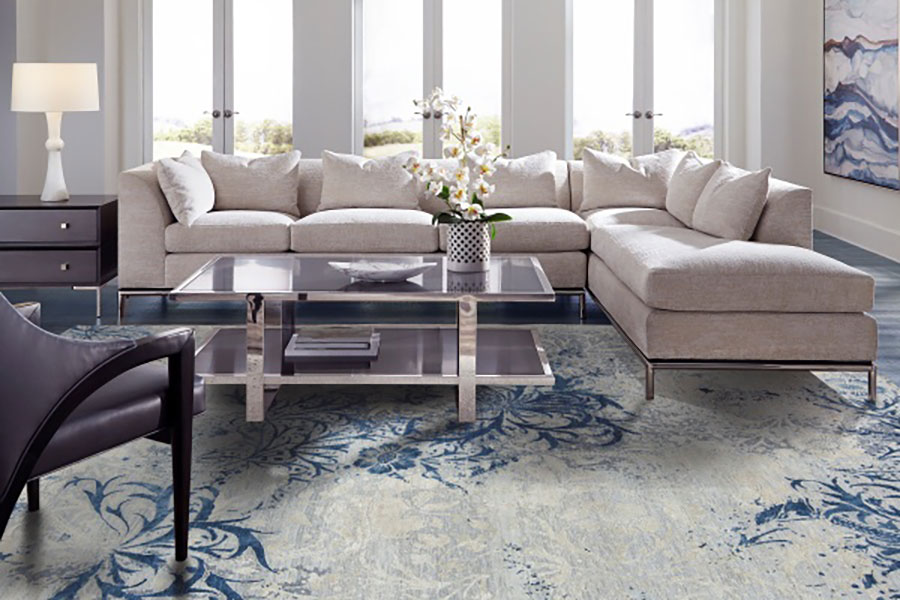 Having other decorative pieces match the color of your rug creates a more seamless look. You can match the color strokes of your rug with pillows, table ornaments, knick-knacks, and other accessories. Seeing the color of your carpet repeat in smaller elements brings the whole area together and is pleasing to the eye.
This technique not only brings balance to the space but it even makes the color palette of the distressed rug more memorable as they spill over to other parts of the room. Plus, it works as a subtle contrast, especially if you repeat these colors on the walls, such as in artworks, shelves, and other hanging accessories. 
More Than Just Floor Coverings
Vintage distressed carpets are more than just floor decorations and space dividers. A distressed rug can work as an art piece that you can hang on tall walls in spacious rooms. It can even be used as upholstery for furniture or decorative covering for console tables. If you have a worn, faded rug and don't feel like using it on your floors, think about other ways you can repurpose it. It can still do wonders elsewhere with a little imagination.     
Discover the Versatility of Distressed Rugs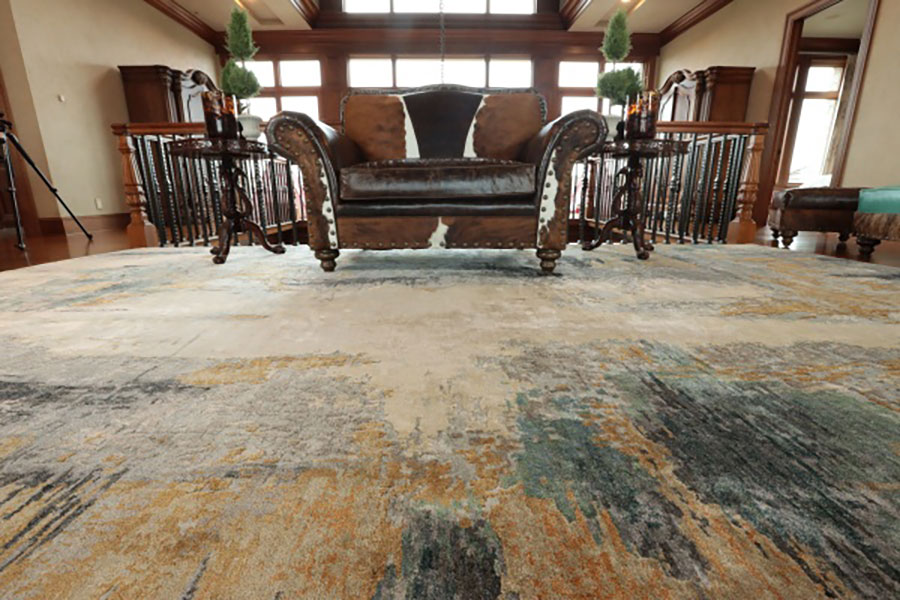 A rug can either be an alluring neutral backdrop or a vibrant and colorful centerpiece. It can either blend in or stand out, and this has a lot to do with the rug's colors. While patterns would matter in a space with patterned upholstery and wallpaper, it is the rug's color palette that determines whether it's a good fit or not. The wrong shade, however similar it may be to nearby elements, can disrupt the harmony of the room. The beauty of distressed area rugs is that their colors are neither too vibrant nor too subtle, making them easier to coordinate with other design features.
Adorn Your Home with A Distress Rug from Cyrus Rugs
Distressed rugs have proven themselves to be versatile and functional pieces of art. See your living spaces in a new light when you place one. Cyrus Artisan Rugs has a wide selection of vintage distressed rugs in endless color, size, and style options. Browse through our inventory today or visit our showroom to see these beautiful pieces up close.
Visit our Showrooms
Visit Cyrus Artisan Rugs Showrooms in: Minneapolis, St. Paul, & Rochester, not living in Minnesota? Visit our showrooms in Sioux Falls, SD, Des Moines, IA, Austin, TX, Scottsdale, AZ & Palm Beach, FL. Choose from our wide range of rugs.