Create a Thoughtfully Textured Home with Loloi Rugs
Posted On January 20, 2021
Texture is one of the key elements of good interior design. Equally important as color, patterns, forms, and light, this element adds depth and dimension to a space. Unlike visual elements, texture brings a multi-sensory experience and is often a determining factor for how livable a room is.   
One of the many ways to add texture to a room is through carpets and rugs. These functional accessories bring warmth in every sense of the word. A soft, textured rug beckons you to come in and unwind, walk bare feet with no inhibitions, or curl up by the fire with a book in hand. But more than that, they add a new dimension to your interiors, making it look finished and "layered."  
Transform your home from a stiff, showroom-like environment to a memorable and inviting haven by adorning it with a sumptuous Loloi area rug. A brand that's earned more awards than any rug company, Loloi Rugs takes you to a world of exquisite hand-knotted rugs that suit a wide range of styles and tastes.    
A Commitment to Craftsmanship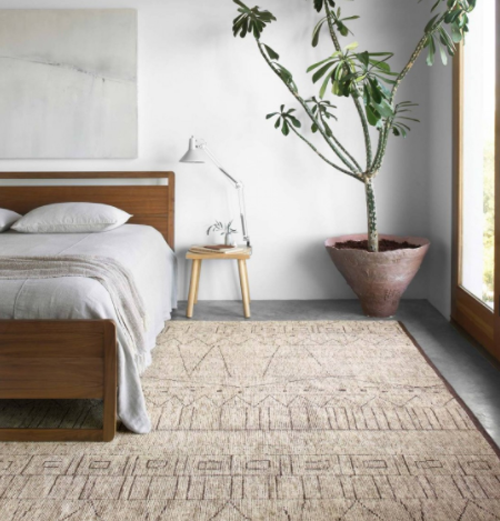 Since its establishment in 2004, Loloi Rugs has marked its name in the industry with its groundbreaking, forward-thinking philosophy. The company was founded by Amir Loloi and is based in Dallas, but its rug collection comes all the way from India, where a skilled group of artisans craft each rug using centuries-old techniques. 
The brand's creations are sought after for their unique textures and progressive designs. Each piece, whether it's a traditional or contemporary rug, is crafted with meticulous detail in mind.  
With different styles, shapes, sizes, colors, and patterns to choose from, Loloi Rugs helps you decorate your home with rich textures you can't find in big box stores. 
Materials Used to Make
Loloi Rugs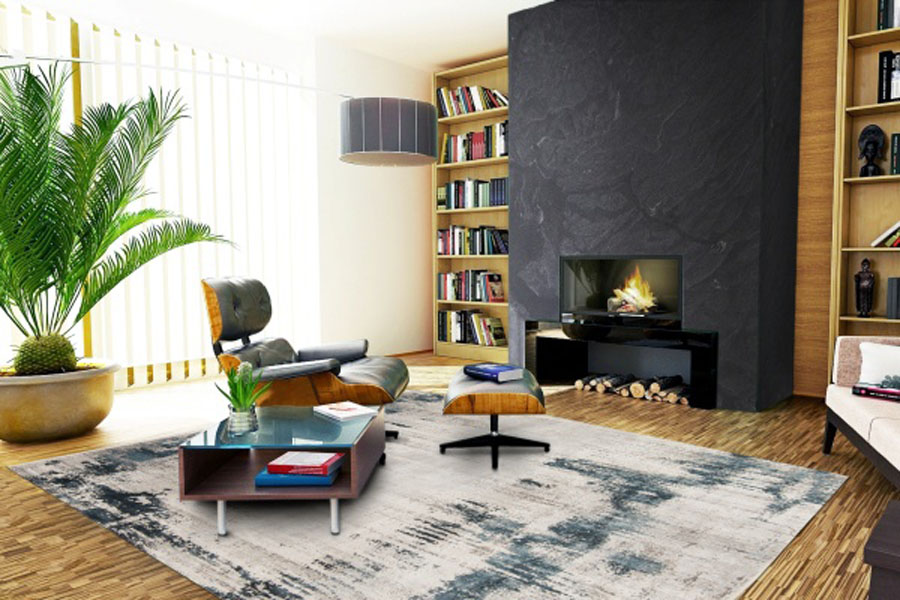 The company uses only the best rug-making materials and employs "dye masters" to bring its designs to life. The fibers are hand-spun to achieve maximum tensile strength, lustrous sheen, and softness. Discover the materials used to make these artisan pieces: 
Wool
Wool is the primary material used to make Loloi area rugs. This material is prized for its softness, high lanolin content, and durability. Its natural resilience against pressure caused by footsteps and furniture make it last longer than most materials. This makes a Loloi wool rug perfect for you living, dining, and recreation rooms.
Cotton
Rugs made with cotton have soft, strong fibers that can hold dyes effectively to create intricate patterns and details. They are easier to produce and are incredibly versatile. However, it is uncommon to find rugs made entirely from cotton. They are often blended with other materials to achieve a more well-rounded rug.
Viscose
Viscose, also known as bamboo silk, is a man-made fabric known for its silk-like qualities. It can imitate the comfort that natural fibers provide. Because these fibers are very delicate, they are often combined with wool and cotton to increase the rug's durability. 
Jute
This durable and soft fabric comes from dried plant fibers. Rugs made from this material features a natural tan shade, which will instantly add a cozy, natural flair to your home. Loloi Rugs' jute area rugs possess an earthy charm and incredibly soft textures, almost resembling wool.
Adding Texture to Your Homes with
Loloi Rugs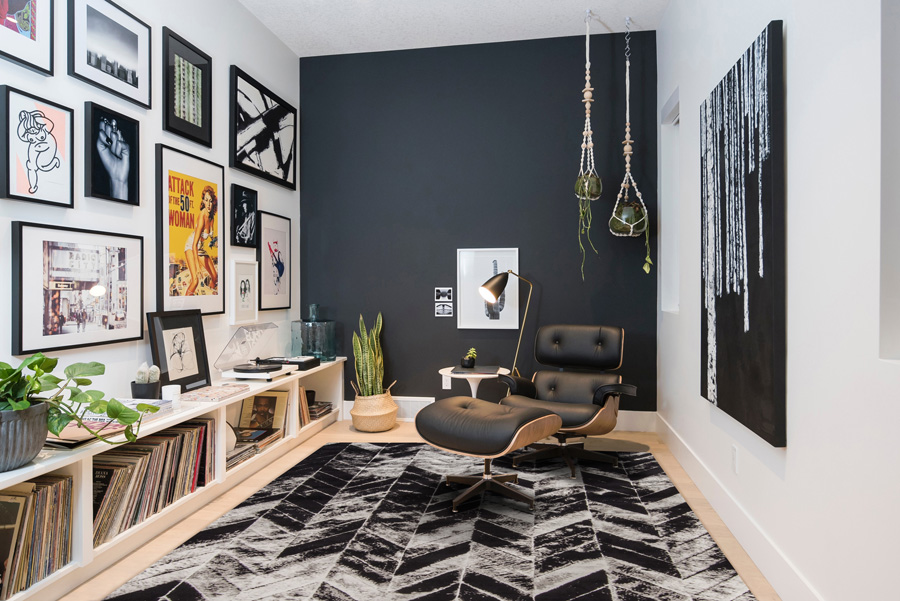 Loloi Rugs' collection of textured area rugs can fit in any room, regardless of the style you're aiming for. They can be a warm addition to modern spaces, a palette cleanser to a maximalist room, or the natural touch needed in bright places.
Put simply, a Loloi Rug will give your home that finished, "lived in," harmonious look. Check out these helpful tips on how you can use Loloi Rugs to achieve a layered look:  
Choose Varying Pile HeightsThere is beauty in rugs that have different pile heights. They add depth to spaces that would otherwise feel flat with ordinary rugs. This technique is done to give emphasis and definition to the rug's varying patterns. The combination of low and high piles makes the patterns come to life, resulting in a richly layered look.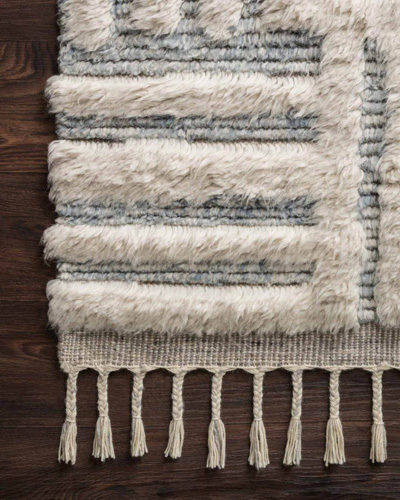 See how the Loloi Khalid rug in ivory displays a line and grid pattern in closely related hues. The tight knots alternate with loose fur, with the ends of the rugs tied together by a hand-braided tassel fringe.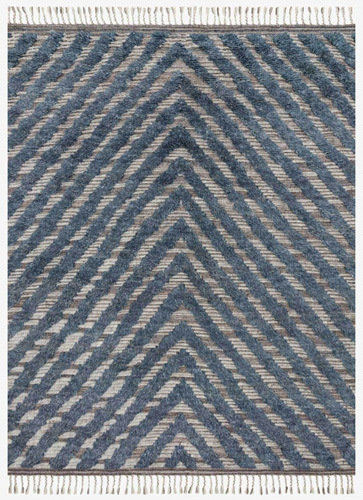 From a distance, this Loloi Khalid tribal rug features a simple pyramid pattern. But a closer look will show you three different pile heights in three neutral shades that make the rug come alive. The intricate details combined with the soft, fluffy wool will instantly give your living room or den a layered look.
Coordinate Different Textures 
You don't have to use only one texture in your home. You can mix two different textures to achieve contrast in a room. While they may look and feel different, they can actually complement one another to make your space more cohesive and well-rounded. For instance, you can layer the Loloi Iman wool over the Loloi Sahara jute and wool rug to add texture to your floors. The charcoal tinge, tassel fringe, and minimalist geometric pattern of the former will complement the latter's sand color, tribal patterns, and clean edges. While the two rugs have different textures, patterns, and styles, they will look seamless and stunning.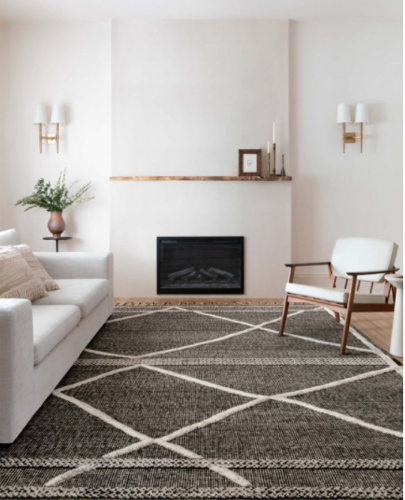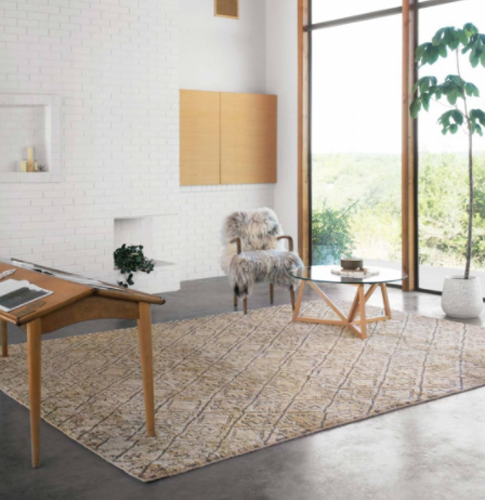 Take Note of Light
Light plays a huge role in achieving a layered interior design. In fact, light is often considered to be a layer in itself. Like most design elements, rugs have their unique way of interacting with light. Light affects how the colors and textures of your rugs will appear. For instance, silk tends to cause light to bounce and illuminate the surrounding area, while wool absorbs light and makes colors seem warmer. Rough-textured rugs like jute and sisal would cast shadows upon themselves. 
That said, when choosing a Loloi rug for your space, keep in mind how the material will interact with the lighting in the room you're decorating. Better yet, use this to your benefit by placing wool and jute rugs in bright, naturally-lit areas, and use viscose or silk rugs for darker ones. 
Embrace Color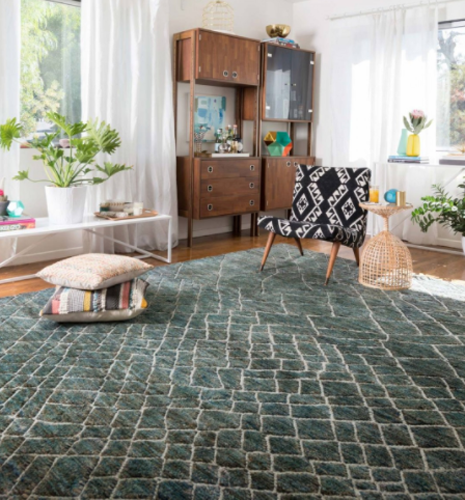 A bold, colorful rug can be the most impactful accent piece in your living spaces. And a handcrafted, naturally-dyed Loloi rug can spell the difference between a staging room and a richly textured interior. Color is in itself a layer, so don't be afraid to use more than one, or risk having a home that looks flat and dull. Play around with vibrant and neural colors that complement each other, then repeat these colors in small doses with accessories and knickknacks for a unified look. 
Thoughtfully-textured
Loloi Rugs
for Every Home 
Are you looking for Loloi rugs near you? Cyrus Artisan Rugs is a premier dealer of handcrafted rugs in the Minneapolis-St. Paul metropolitan area. We carry the finest rug brands with modern and traditional designs. Our wide selection of Loloi Rugs come in various colors, sizes, and style options.
Visit Our Showroom
Browse the collection online or head down to our showroom to get a feel of the rugs' remarkable textures first-hand. You may visit our showroom in Bloomington, MN to witness the beauty of our rugs in person. We service areas including Sioux Falls, SD, Des Moines, IA, Austin, TX, Scottsdale, AZ & Palm Beach, FL.
Get in touch with us to make your appointment.