How to Create Stunning Black & White Interiors
Posted On January 19, 2021
Black and white is a classic color combination that makes any room stylish, timeless, and sophisticated. From horizontal stripes to checkered patterns, this complementary color scheme has a great aesthetic charm that will bring out an edge to your living space.
Here are the things you need to know about these two colors, and some decorating ideas you can follow to create black & white interiors for your home, office, or studio.
The Meaning of Black & White
To some people, black and white aren't colors; they're the absence of them. Regardless of this theory, these two contrasting hues make a bold statement whether on their own or together. After all, if there are two colors that go hand-in-hand, it's black and white.
Understanding the meaning of black and white and how to design using these colors can help you make a statement. If bright and vivid colors aren't your cup of tea, black and white interiors are always a great option. Bring class and sophistication to your space with this simple yet stunning color combination.
Choosing the Right Black & White Style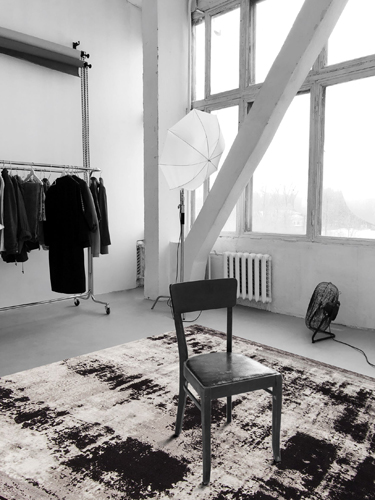 You've probably heard the decorating rule that "every room can use a touch of black." But have you ever stopped to ask yourself why?
Black is a striking color. If you want to add a focal point of color that adds a sophisticated look to your space, you can never go wrong with black. Light fixtures, accessories, paint, trims, or a piece of furniture with a touch of black will definitely turn heads and sharpen your decorating scheme.
White, on the other hand, is a versatile color that makes it an easy background color. Using white in decorating gives a bright, fresh, and clean look to any room. Its bareness serves as the perfect accent for a variety of color schemes and design styles. 
If you want to achieve real drama and spark, pair black and white together to create stunning interiors. This popular color combination is often used in contemporary homes and modern spaces. No matter what style you choose for your space, a fusion of black and white designs will definitely streamline your approach to decoration.
How to Create Stunning Black & White Interiors
There are a lot of room elements that can have the color black or white alone or a combination of both — from the walls, ornaments, pillows and sheets, and even your furniture. Take a look at how you can incorporate these colors in your space. 
Living Room
The living room is the first area people see when entering your house. It's also where you entertain guests and spend a lot of time with your family. How you style and decorate this room is essential in creating a sophisticated, welcoming atmosphere. 
A white-colored wall, for example, inspires creative thought where you can hang paintings, artworks, and even wall carpets with monochromatic tones. Black marble tiles paired with white trims and furniture, on the other hand, are also a good choice if you want to achieve a fresh and classic interior.
Bedroom
The bedroom is a place of comfort and relaxation because it's where you can lounge, unwind, and enjoy your privacy. Incorporating a black and white interior in this room can exude calmness and make it easier for you to fall asleep at night. 
Crisp white bed linens, in particular, are your best bet for your bedroom. Complement it with a black and white striped bed skirt and pillows with touches of black. If your walls are white, add more black to the room with lamps, chairs, frames, and rugs for ultimate style and comfort.
Bathroom
Black and white is one of the standard color schemes used in a bathroom. These neutral hues provide a sense of luxury, especially when paired with shiny gold trims and accessories. 
So how do you design your bathroom with black and white? The key is to not overdo it. You can use a white sink, black marble countertops, and black and white shower curtains for a custom look without much work. A black and white rug will also fit in and stand out in a neutral-colored bathroom.
Incorporating Black & White to Your Space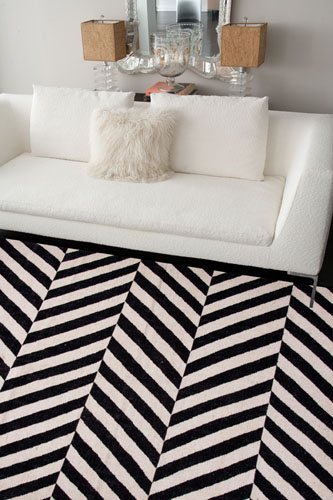 Want to learn an easy way to create stunning black and white interiors? Rethink your decor choices and bring character and sophistication to your room. 
Wall Color

– Unite your floor with a bold wall in plain black and white area rug with a beautiful patterned appearance for a cohesive look. If your walls are painted white or ivory, it can serve as the perfect canvas for framed photographs, decorative art, and even wall carpets. To add more accent, choose black wood frames for your photographs and dark wood matting for your artworks.

Furniture

– Incorporate black and white in wonderful ways through furniture. Emphasize the uniqueness of architectural elements, elegant shapes, and unique designs using black and white. Large mirrors are particularly helpful for reflecting black and white decor items and lighting fixtures. A black or white rug is also ideal for centering various pieces of furniture.

Ornaments

– Achieve a sense of harmony between ornaments by establishing a black or white area rug as a focal point. Doing this creates a sophisticated interior in any room. If you have a bare room, for example, you can start decorating with a carpet and build the rest of your decor around it. It's also a great idea to combine black and white decor with bright accents for a modern touch.
Enhance Your Living Space with Black & White 
Don't be afraid to be daring with black and white: let these colors bring class and sophistication to your interior. Design big with your wall or furniture, or small through decorative art, ornaments, and area rugs. Cyrus Artisan Rugs carries black and white carpets in different styles that can enhance your living space.
Boost your interior's aesthetic and achieve a fresh, minimalist vibe with black and white. These colors create stunning combinations and produce amazing interior design effects that will suit your needs. Learning how to design with this color scheme is ideal for creating stylish, balanced, and brilliant spaces.
With one of the most elegant color trends in decorating, your classic black and white interiors will certainly make a stunning impression.