How to Decorate Hardwood Floors with Area Rugs
Posted On January 26, 2021
Rugs are the perfect accessory to hardwood floors. Such flooring types are sought after for their beauty and durability, but they can be prone to scratches and scrapes, and tend to be noisy. A thoughtfully chosen rug is a great match as it can break the monotony of the wood's grains and stains. More importantly, it can accentuate specific areas in a room and absorb sound, allowing you to walk comfortably with minimal noise.
In addition to these practical benefits, an area rug can add warmth and a pop of color to your interiors. It can make your space feel and look cozier and more cohesive. A rug's intricate details and delicate texture can also soften the slick or rugged appearance of hardwood floors.  
If you're new to designing with area rugs, get ready to explore how these fine pieces can bring a whole new dimension to your home. 
Tips for Decorating
Hardwood Floors
with Rugs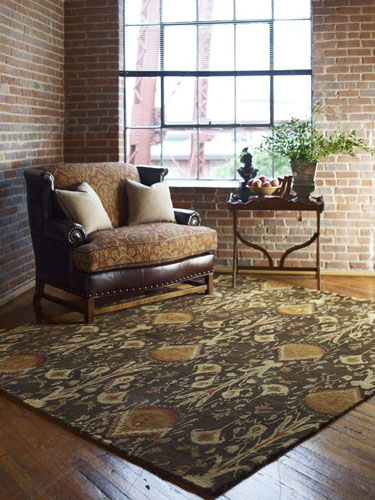 Area rugs can be a great addition to rooms with hardwood flooring. Here are a few rug decorating tips you can do to enhance the appearance of your living spaces.
Know Your
Hardwood Floor
Type
There are various types of hardwood floors available on the market, including ash, oak, walnut, mahogany, and cherry. These types not only differ in appearance but also their composition and durability. For example, red oak tends to be more stain-friendly than others, making it a top choice for homeowners. Maple, on the other hand, is less porous, making it more resistant to dents and scratches. Meanwhile, cherry has a natural reddish-brown color that deepens over time.
Check Your Rug and Hardwood Floor's Compatibility
In addition to being beautiful accessories, rugs act as a floor cover that can protect hardwoods from dents, chips, and stains. This is why it's important to know the compatibility of your hardwood flooring with the rug you plan to buy. A safe choice is a non-staining rug, as there are some rug dyes that bleed when exposed to moisture and water. 
If you plan to put the rug in a high-moisture environment, such as the kitchen or bathroom, opt for rugs with tighter knots, as dyes bond better with the bonds. For living rooms and kitchens where liquid spills are likely, it would be best to choose high-quality, handwoven rugs as they prove to be better at resisting color runs. That also means that your hardwood floors will be stain-free and your rug will remain vibrant for many years to come.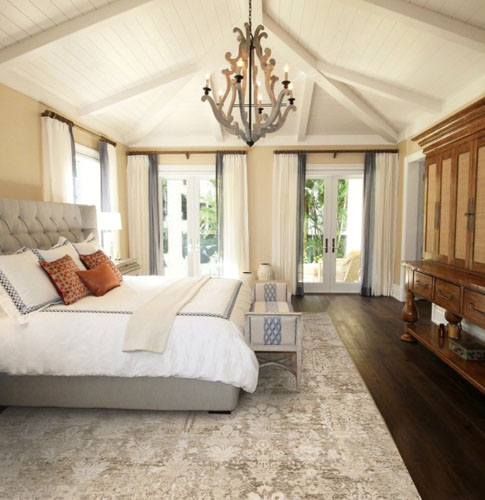 Avoid Rubber Backed Rugs
Rugs with a rubber backside can damage hardwood floors because of their chemical components. They don't allow the floor to breathe and can leave marks or discoloration caused by the sun. This can reduce the appearance and quality of your floor's surface.
Place a Rug Pad Underneath
A rug pad keeps your area rug in place and prevents accidents that could cause spills or dents. Before purchasing one, make sure that it's compatible with your hardwood floors, as some rug pads can cause more harm than good. For example, hardwood floors with a polyurethane, acrylic, or lacquer finish don't go well with a plastic or PVC rug pad. Similarly, synthetic rug pads can damage your floor and may require sanding and resealing to restore it back to its original beauty. 
A natural rug pad or one that uses felt is the one you should be looking for. While both provide additional cushion to your feet, natural rug pads have more excellent gripping strength.
Breathe Life into Your Floors with an Elaborate Rug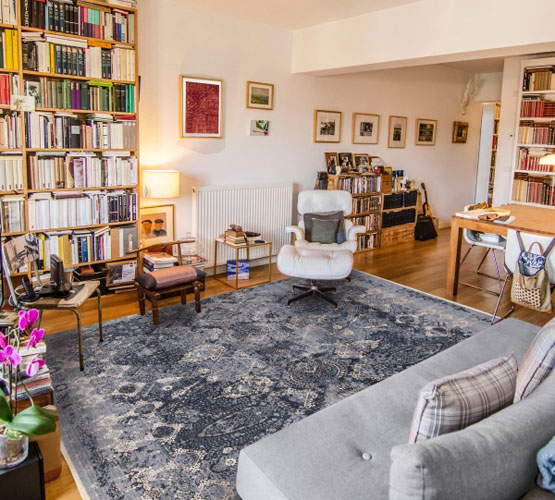 Hardwood floors come in neutral designs and colors that can go with almost anything. They are the perfect canvas or background for a stunning rug. For example, the rich, earthy tones of a mahogany flooring go well with the subdued and faded look of a distressed rug. Or thrown in a contemporary rug with eclectic designs to achieve a more dynamic room. Meanwhile, Oriental or Persian rugs with vibrant color strokes and intricate patterns can add flair to darker hardwood stains. 
Add a Splash of Light
Hardwood flooring in dark hues combined with dark-colored furniture can reduce the brightness of your rooms. You can brighten these areas up by adding in a light-colored area rug. Take, for instance, the warm and earthy colors of cedar or walnut hardwood floors. These can be partnered with a cream or beige rug to make your space appear brighter. 
Contrast the Rug with the
Hardwood Floor
As mentioned above, a light-colored rug achieves an illuminating effect on dark flooring. Meanwhile, contrasting a dark shade rug on a light hardwood floor adds a focal point in your room. It draws the eyes to the furnishing and decors you've placed on top of the rug, setting it apart from the rest.
Soften the Look with Textured Rugs
Hardwood floors can be cold, slick, and hard. The soft and plush pile of a handmade rug adds an area of comfort and complements the polished look of the flooring. Additionally, bare wood floors can also seem flat, and an area rug will add visual interest and textural contrast to it.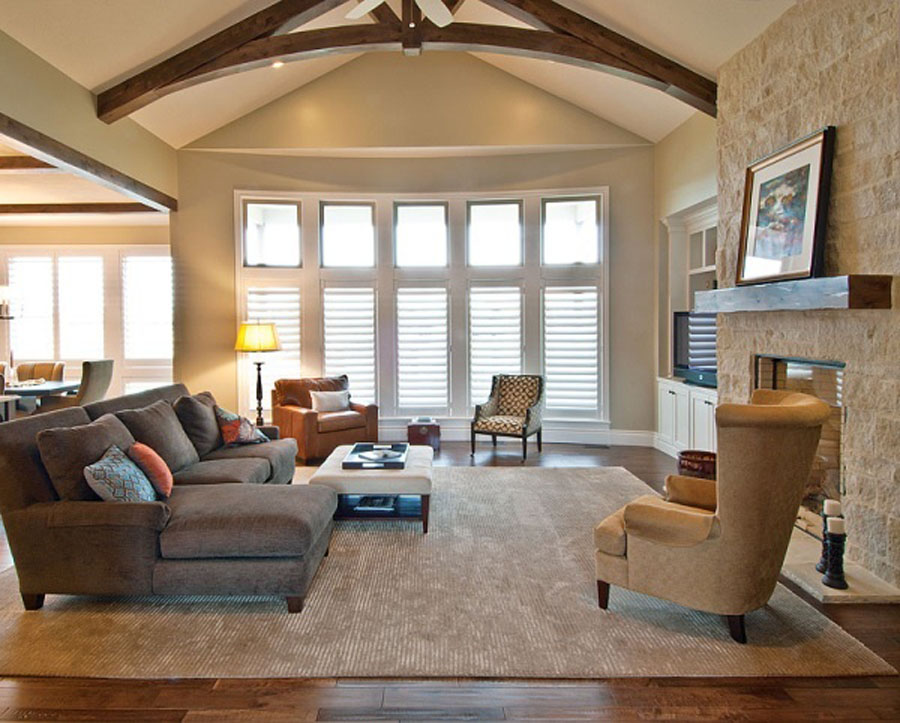 Go Big with an
Oversized Rug 
Oversized rugs can cover large empty spaces. If you have a spacious living room with hardwood floors, for example, an oversized rug can serve as a decorative floor cover that isn't as dull and heavy as a carpet. An oversized rug can also help improve the room's acoustics and provide a warm underfoot for cold days. 
Find the Perfect
Area Rug
for Your
Hardwood Floors
Area rugs are versatile pieces that can be placed in any part of your home and on any type of flooring. Whether it is ceramic, natural stone, laminate, or hardwood, you'll easily find one that can fit in perfectly to your space. With various styles and colors and different shapes and sizes to choose from, you can achieve the look and atmosphere you want. 
Visit Our Showroom
Complement the polished look of a hardwood floor with the plush and attractive area rugs from Cyrus Artisan Rugs. We service the Minneapolis-St. Paul area, and cater to locations such as Sioux Falls, SD, Des Moines, IA, Austin, TX, Scottsdale, AZ & Palm Beach, FL.
Browse our inventory today or visit our showroom to see these pieces up close.