Outdoor Rug Ideas to Elevate Your Patio or Porch
Posted On December 15, 2020
A rug is one of the easiest ornaments you can place to beautify any living space — and we literally mean any living space. Having an outdoor rug lets you create a cozy and inviting haven outside. Whether it's placed in a patio, porch, or balcony, a rug can help set the mood of the space and elevate your outdoor living experience. 
Check out our run-down of outdoor rug decorating tips, which materials are best, and some reasons this outdoor accessory is worth having. 
Choosing Your
Outdoor Rug
When it comes to rugs, the options are endless, which makes the selection process overwhelming. So how do you know which one to get? There are three things you might want to consider when choosing your outdoor patio rug: material, size, and patterns. 
Materials of
Outdoor Rugs
The outdoors is a different environment for a rug. It will be exposed to varying temperatures, receive more foot traffic, and be more prone to damage. And outdoor rugs are made with specific materials that are made to withstand these. These include:
This is the most common material used for outdoor rugs. Synthetic fibers are resistant to mold and mildew that are common outside the house. Its colors don't easily fade even with harsh weather conditions such as rain and sunlight. They are durable and provide vibrant colors, which are perfect for an outside setting.
Just like synthetic fibers, nylon is durable and can withstand high foot-traffic. It is also stain-resistant and very easy to clean. It is, however, prone to becoming hot especially on a sunny day. 
Bamboo, jute, and hemp are all inherently eco-friendly materials. They provide a soft feel to the touch and vibrant colors to create interesting patterns and designs. Because of their natural properties, however, they tend to be prone to fading when placed under direct sunlight. They are also likely to absorb water, making them more prone to mold and mildew growth.
Sizes of
Outdoor Rugs
Here are two rules when choosing the size of your outdoor rug:
Spotlight your outdoor area rug by providing enough space around it. If you have smaller spaces, you can use 8 inches instead of 18. 
Having enough rug space around a table lets you slide in and out of your chair without having its feet go out of the edge of the rug. For larger and bulkier chairs, you may choose to have only its front legs on the rug to bring your outdoor space together.
Pattern of
Outdoor Rugs
Rugs are beautiful masterpieces with a variety of designs and patterns. When sprucing up your patio or porch, you can either base your rug on the theme of your furnishings or make the rug the focal point and work your way around it. 
A porch or patio rug can either have a contemporary look, traditional vibe, transitional theme, or tribal design. It is one of the easiest accessories to give your space that finishing touch or wow factor. 
Rugs also come in various colors. You can create a summer or fall ambiance with red, yellow, and orange tones, or calmer auras with blue, green, and beige hues. You can also go with neutral shades like black, white, and grey that can go with any area.
Tips for Decorating Your Patio or Porch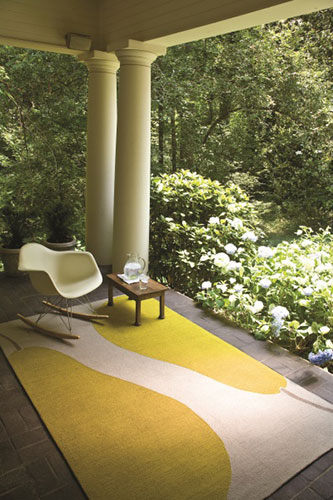 1. Know the function of your outdoor area
What are you going to use your outdoor area for? Will it be for fun barbeques or for intimate dinner parties? Will it be a place for reading a book and having some alone time? Whatever it may be, establishing its function can help you create a more cohesive environment.
2. Create themes with rugs
Bring the beach right into your porch or add vacation feels to your backyard with rugs. Having this theme adds an airy and light atmosphere while being relaxing and calming at the same time. Play around with the style and pattern of your rugs, furnishings, and other decorative elements to give your outdoor area a customized theme.
3. Layering creates depth
One remarkable decorating strategy is to layer rugs on top of one another. Think of it as laying around with complementing textures and colors. Add dimension and boost the visual interest of your outdoor area through rug layering. The base rug should be solid or neutral while the rug on top of it can be with a patterned rug or one with vibrant and striking colors. However you want to style it, your rugs will easily pop out when you have the neutral base rug as a backdrop.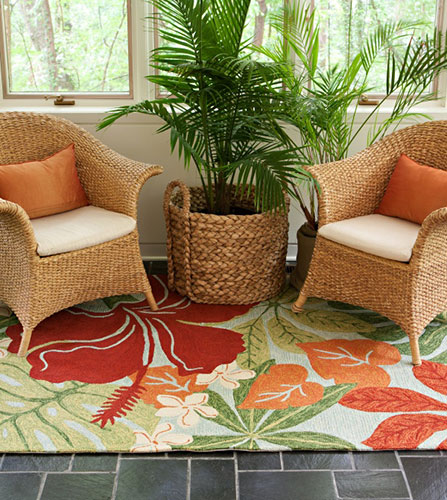 4. Take inspiration from your surroundings
If you are still unsure about how to decorate your patio or porch, you can look around your backyard or front yard for inspiration. Do you have trees and flowers in the area? Do you have wooden beams or concrete pavements? Get inspiration from these decorative elements. Natural details can be great in bringing your outdoor spaces together, while natural textures can provide a theme you can work on.
5. Accessorize your outdoor spaces
Experiment and play around with accessories such as plants and lights. Always remember that you can never go wrong with plants. Whether it's planted on the ground, hanging by a beam, or placed in a pot, plants can make your space even more inviting. 
Lights, on the other hand, add some intrigue, especially at night. It sets a romantic and enchanting mood that will beckon you to sit out there and read a book. Hang some string lights or lanterns and you won't go wrong. 
Benefits of
Outdoor Rugs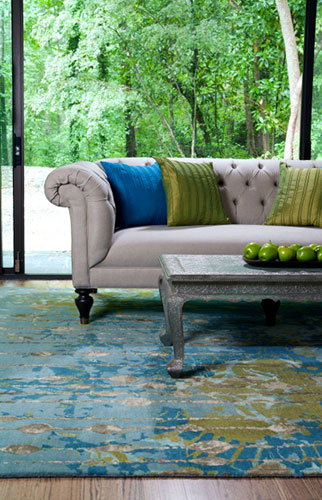 Apart from extending your home outdoors, decorating your patio or porch offers other benefits. Take a look at why an outdoor rug is a must-have:
1. It punctuates the designated seating areas
Patios and porches don't have walls to provide division in your outdoor areas. This can make it difficult for you to define spaces and can confuse your guests. Having outdoor rugs help create and dictate the flow you want. 
This can be useful especially when you have a gathering with friends. One area, for example, may be the place where they get their food. Placing a rug on another area lets them know that this is where you can eat and where people will mingle. It is an area where they can sit back and be comfortable in.
2. It invites barefoot socializing
Rugs are made of durable yet soft materials such as wool, silk, linen, and synthetic materials. Outdoor rugs have that power of inviting you and your guests to go barefoot as it has a warm and soft underfoot. There is something so liberating and freeing about it and it lets you experience a different kind of comfort. Studies have also shown that walking barefoot outside can be great for one's health.
Outdoor areas are typically made of wood or concrete. Placing an outdoor rug prevents you from feeling the roughness and coldness on your feet, getting splinters from wood, or bearing the heat of sun-baked concrete.
3. It ties spaces together
Outdoor rugs work as any other rugs do — bring the space together. It is like the finishing touch that your space needs. Furniture and other materials look uncollected but simply placing a rug underneath everything makes it look polished and well-designed. Even the most boring outdoor setup can be enhanced with the right outdoor rug.
Be sure to scale your rug to your space to maximize its use. Small areas need a single rug to make it feel like it's a whole while larger areas may need more rugs to create a cohesive and harmonious space. 
Decorate Your Patio or Porch with an Artisan
Outdoor Rug
When you use outdoor rugs to beautify your patio or porch, you will surely be spending more time outside. Nothing beats the fresh air, wind brushing through your hair, and sunlight on your cheeks while in the comforts of your own home. 
Enjoy the coziness al fresco by extending your home to these outdoor spaces. Cyrus Artisan Rugs offers collections of high-quality outdoor rugs of varying colors, styles, and patterns. We have pieces that are specifically made for areas with more traffic and can withstand strong weather conditions.
Find the perfect one to level up your decor today!