15 Ways to Make Your Living Room Look Bigger
Posted On April 13, 2022
Does your living room look cramped and cluttered? Are you having trouble maximizing your limited space? It's time to use your limited floor space to your advantage. The key to making a small living room look bigger all boils down to tricking the eye and utilizing your furniture correctly. It's not magic, but rather doing strategic layouts and intelligent styling.
Check out these tips and ideas on how to make your living room look bigger.
15
Ways to Make Your Living Room Look Bigger
1. Maximize every inch of the room
When space isn't on your side, you want to make sure that every part of the room serves a purpose. For example, instead of placing a coffee table in the middle of the living room, you can replace it with a reupholstered ottoman. This furniture can either be a table, footrest, or an extra seat, depending on your needs. You can also put some seat cushions on your windowsills and transform this space into a good reading spot with a lovely outdoor view. 
2. Use mirrors to your advantage
Mirrors can make a space look larger and more spacious than it actually is. Look for a focal point and angle your mirrors toward it to give your living room the illusion of more depth. Light bounces off the surfaces of these accessories and makes your space brighter. You can hang mirrors on the walls or use glass table tops for a more open feel. A mirrored cabinet door works just as well while also hiding your storage.
3. Install flexible seating
Maximize the utility of your living room by having enough seating options for your family and guests. Instead of just using a sofa set, try mixing various upholsteries and accessories, such as a daybed, armchair, floor pillows, and stools. Place all of these on a square rug for additional comfort.
4. Choose neutral furniture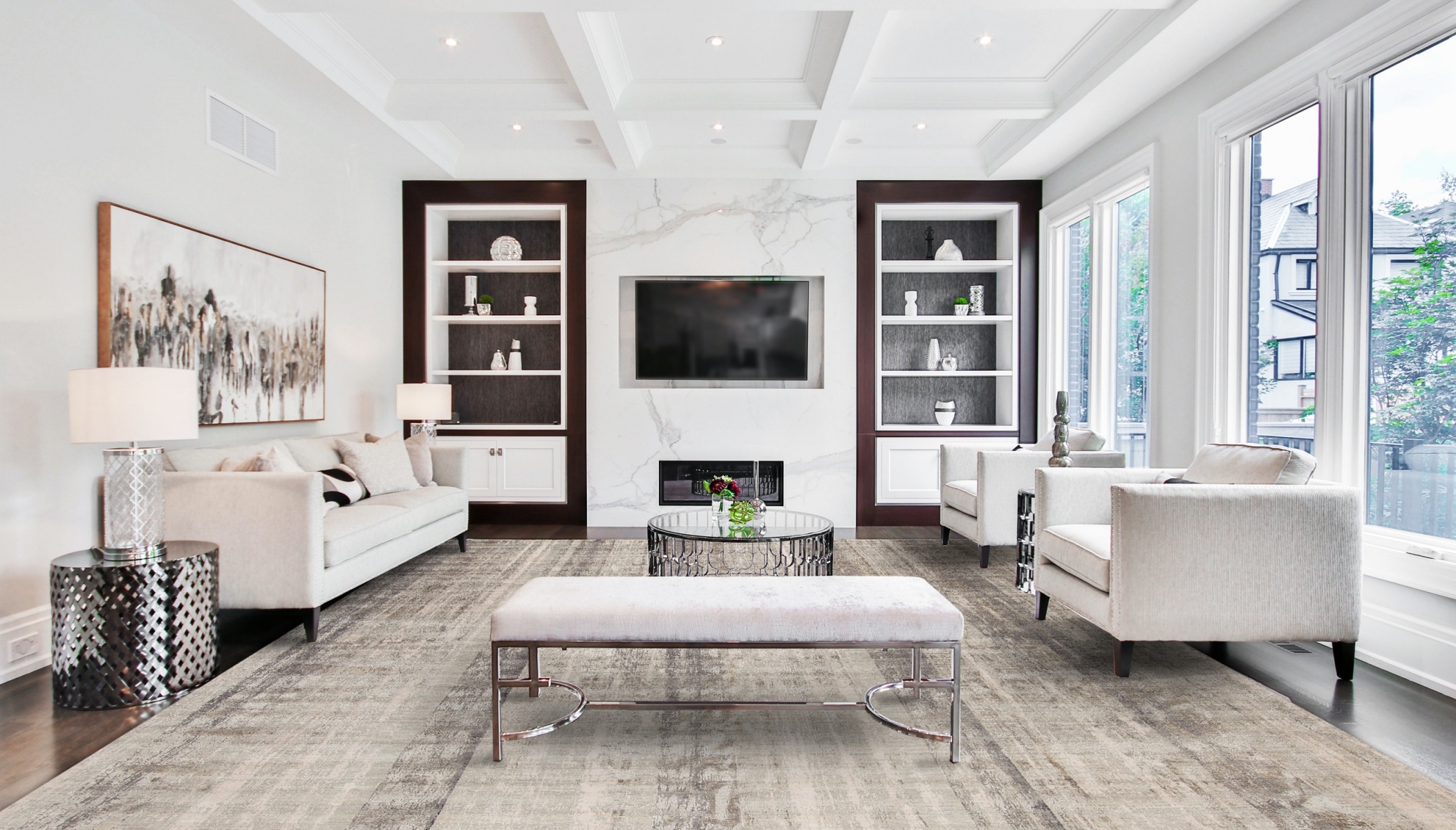 Sofas can make or break the look and comfort of your room. This is why choosing the right size and color for this furniture is a must. A neutral sofa helps lighten your space without making it look plain or dull. You can also play around with the curves and buttons of different sofas or use bold-colored throw pillows as accent pieces for the rest of your living room.
5. Use lighting strategically
Save space by selecting light fixtures that you can mount on your walls or hang above your furniture. The table where you put your lamp can be instead used for books or picture frames. Moreover, sconces bring dimension to your walls and are ideal for small living rooms.
6. Refine your furniture
Large and overwhelming furniture can drain the light from your living room and make it look smaller. Select refined pieces in a lighter tone and more natural finish, such as polished marble or soft timber. Avoid elements that are chunky and those that make a room feel cramped. Instead, use more structured seats and tables for your small room to maximize your space without giving up on style and comfort.
7. Divide the room with rugs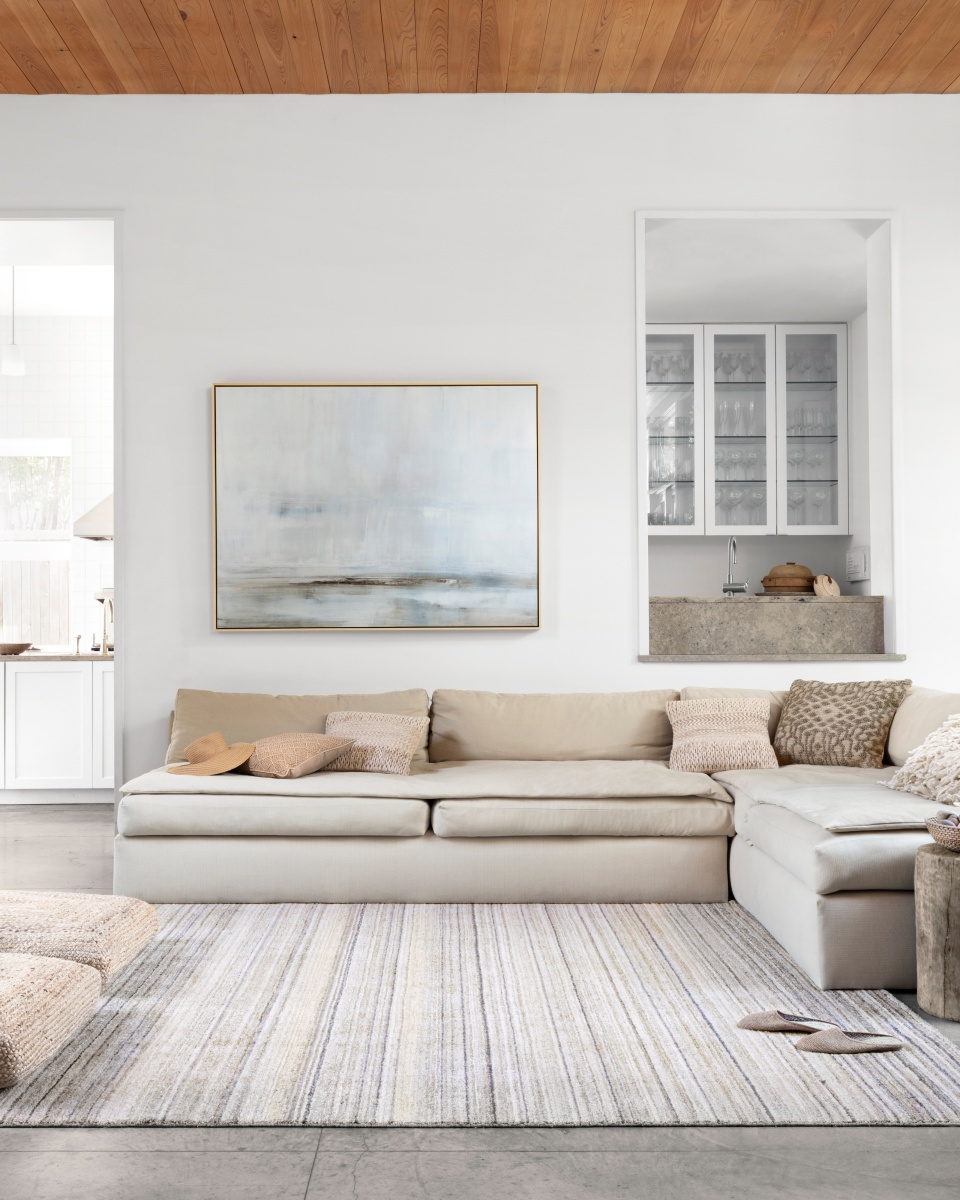 Another trick on how to make your living room feel bigger is to create boundaries and sections using rugs. For example, a rectangular rug can quickly section your sofa and coffee table, while a round carpet designates a reading nook in your living room. While these accessories divide your space, they still pull everything in the room together for a cohesive look.
8. Provide extra storage
Make the most of every inch of your living room and discover ways to add extra storage. For example, an upcycled trunk can double as a coffee table with hidden compartments. Meanwhile, floating shelves are functional and decorative living room essentials. A wide mantel above your fireplace is a clever place to store art pieces or tiny ornaments.
9. Choose the right rug
Other than sectioning a room, rugs add depth and dimension to your living spaces. In fact, they are commonly used to create the illusion of bigger rooms in tight areas. Place the front legs of your furniture on top of the rug to anchor the room together. You must also choose a light-colored carpet to make the room look more spacious. It's best to go with pastels, off-whites, and neutral colors to achieve this effect. 
9. Paint the walls & ceilings white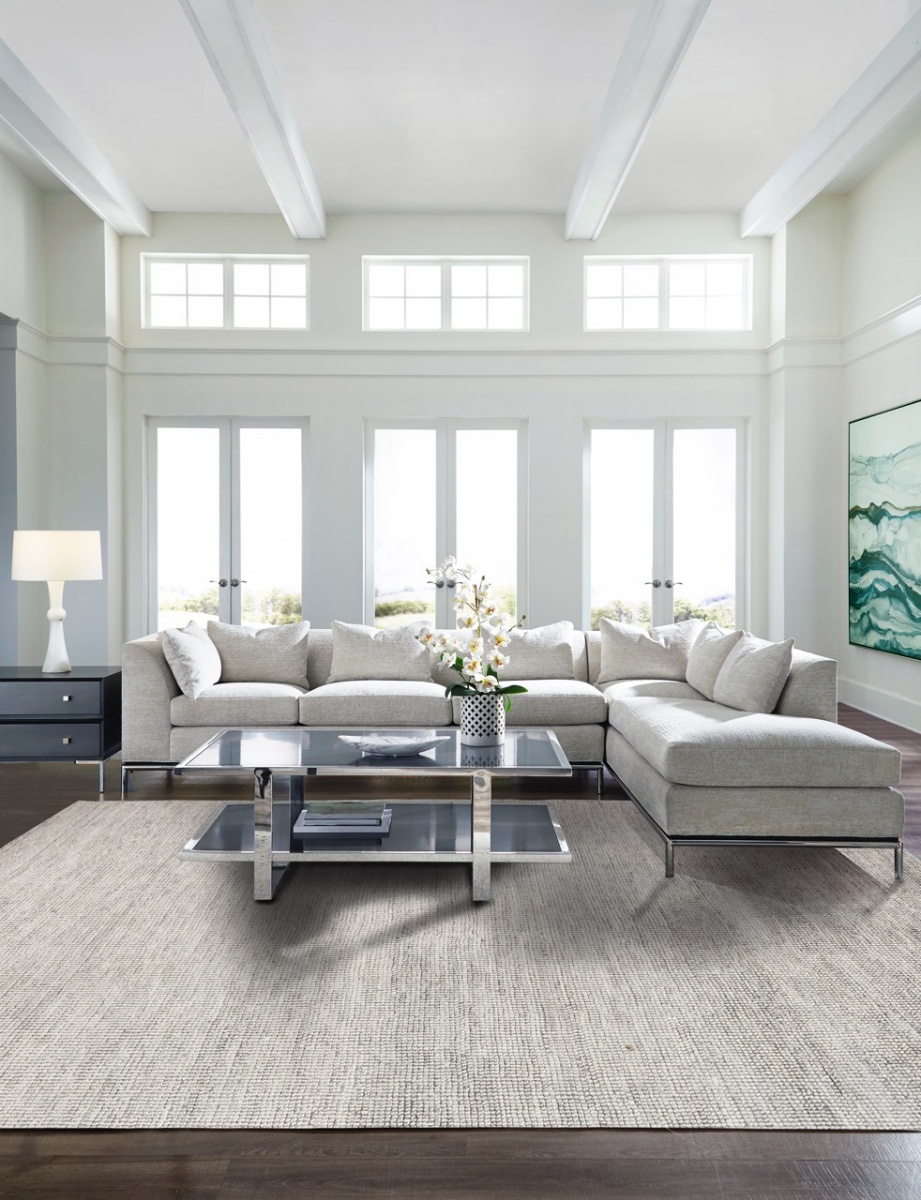 Maintain an expansive living room by keeping the walls and ceilings white. Apart from its clean aesthetic, white framings brighten up your space so you don't feel like the walls are closing in on you. Having a predominantly white interior also helps reduce visual clutter even when you have various artworks and light fixtures as decor. 
11. Install airy drapes
What you put on your windows is vital as it dictates how much air and light comes into your living room. Always go for light and airy drapes to make your room brighter and more relaxing. Get curtains with a pale shade of color and a subtle design if you want to enhance the atmosphere of your space.
12. Pull furniture off the walls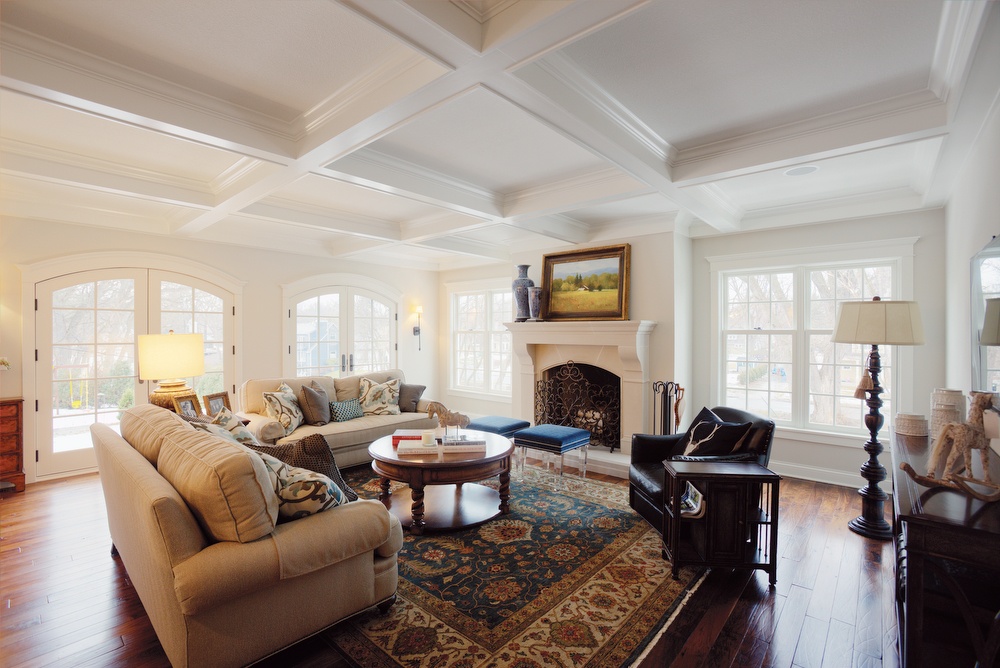 Most homeowners push their furniture up against the walls to create ample floor space in the center of the room. However, this can keep you from actually maximizing your space and make your furniture and other decor look cramped. Rethink your layout and pull pieces off the walls even by a few inches. The space adds an illusion of airiness and creates nooks for intimate conversations.
13. Give your furniture a low profile
Keeping your furniture closer to the ground is another way to make your living room look bigger. The size of the floor-level seating adds a feeling of roominess, creates more overhead space, and adds visual appeal. You can take inspiration from a Japanese-inspired living room when designing your space for that neat, open look. 
14. Emphasize vertical elements
Employ accessories and furniture that emphasize the openness overhead. You can arrange your artwork vertically, install a tall shelf, or choose vertical patterns in your wallpaper or upholstery. This design also enhances the overall flow and movement in your living area.
15. Opt for hanging/suspended chairs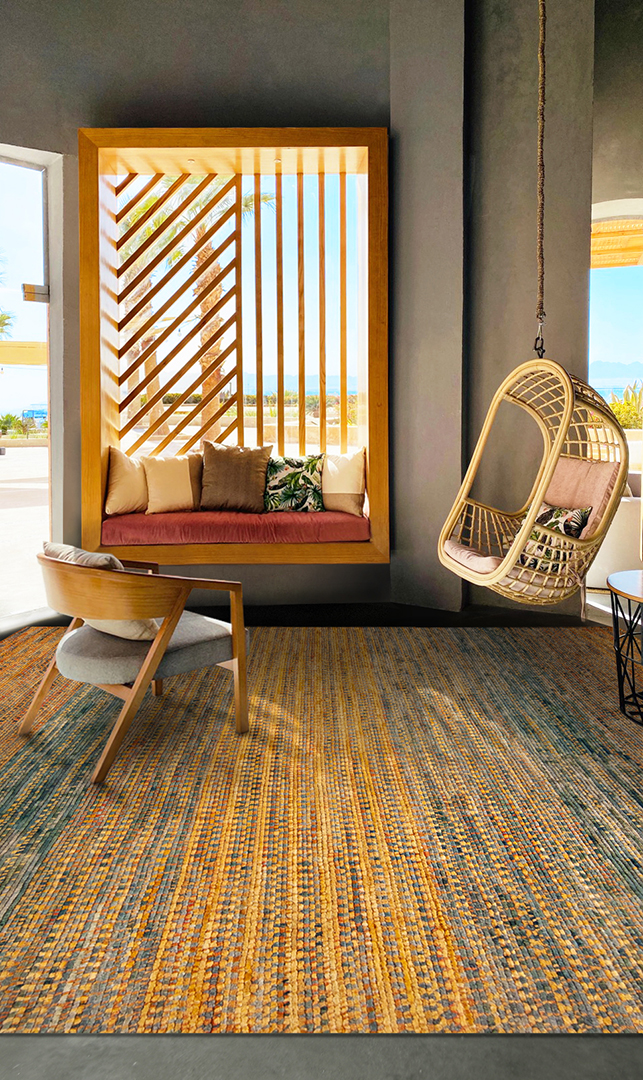 Try an unconventional way to add furniture to your living space. For instance, replace some of your bulky, four-legged chairs with indoor hanging chairs or hammocks. These unconventional chairs not only free up your floor space but they also become an instant focal point in your living room. 
Maximize Your Small Living Space
Living areas are best kept spacious to allow the room to breathe and not be too cluttered. Try these different ways to make your living room look bigger. Know how to design and layout properly to expand your space visually.
Get more design and layout ideas only from the Cyrus Rugs blog.