A Guide to Decorating with Transitional Rugs
Posted On June 23, 2020
Do you want to decorate your interior space with a rug style that artfully blends elements of traditional and modern designs? If the answer is yes, then consider investing in a transitional rug. 
Transitional rugs have grown in popularity in recent years among collectors and homeowners because of their versatility, wide range of designs and price points, and uncanny ability to bring together the most ambitious designs.
What is a Transitional Area Rug?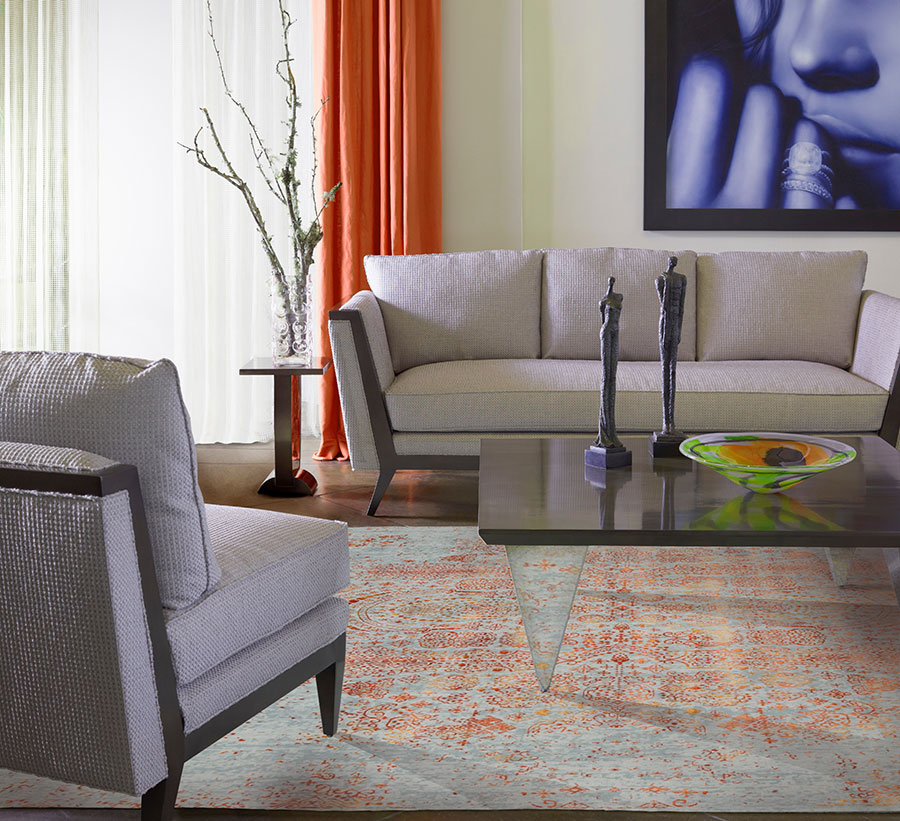 Transitional area rugs fuse elements of traditional and modern rug styles, resulting in finished pieces that look great in many contemporary interiors. There is no strict definition of the style: a transitional piece may combine a traditional design with a modern color palette, or fuse a modern design with a traditional color palette. Some designers are known to update more traditional rug designs with modern elements, such as distressed motifs and colors, to give their designs a contemporary edge.
Due to the wide range of possibilities, a lot of rugs could be categorized as transitional, with some designs defying easy classification. While not always easy to categorize, transitional rugs are popular with many designers and collectors because they work so well with a variety of decor styles.
Reasons You Should Invest in a Transitional Rug
Before you begin rug shopping, you should first take a quick inventory of your room's color scheme. To bring together the look of the room, you'll need to choose an area rug that complements the two to three main colors of the room. You should also choose an area rug that aligns with your aesthetic preferences.
That being said, here are some of the reasons why transitional rugs are such a great investment: 
They're versatile
As previously mentioned, the sheer range of designs, color palettes, and motifs make transitional rugs highly versatile. As they blend traditional and contemporary elements, they're compatible with a wide array of interior design styles, including modern, contemporary, minimalist, and industrial. 
Whether it's bringing balance to your interior space, anchoring the decor, or serving as the foundation of your color scheme, transitional area rugs can fulfill many design requirements. Transitional pieces with bold colors or patterns could function as the main focal point of the room, whereas more subtle patterns and colors could blend seamlessly with the surrounding furnishings and decor. 
They're trendy
Transitional styles are very much in vogue with interior designers and homeowners alike as they work well with even the most eclectic interiors. While it's not advisable to invest in a rug just because it's trendy, the sheer variety of options—from avant-garde to sophisticated—means you're bound to find a transitional piece that suits your budget and aesthetic requirements. 
They set the tone & mood
An exquisite transitional rug with a cohesive design, texture, and color scheme can dictate the tone and mood of your interior space. If you wish to create a warmer atmosphere, for example, you could adorn your room with a transitional area rug with earth tones like orange, orange-red, yellow-gold, and grey-brown. 
This exquisite area rug in warm grey-brown tones from Cyrus Artisan Rugs, for example, will imbue warmth and coziness to your living space, making the room more inviting for its occupants.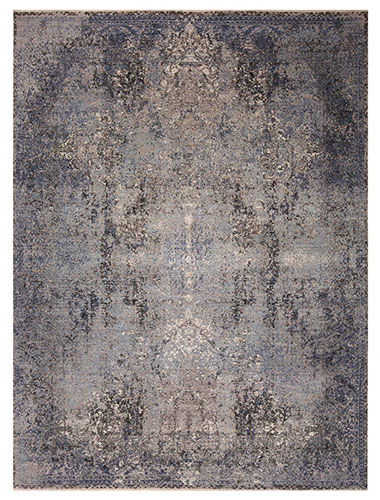 On the other hand, if you want to create a calming vibe, select a transitional piece with subtle prints and cooler hues, like icy-blue, frost, or turquoise. This machine-loomed piece from Samad's Mykonos Collection, for example, would inject a cool, calming vibe to a meditation room or home office, helping its occupants attain mental clarity.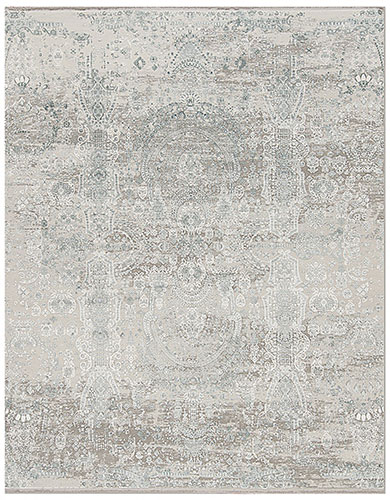 Tips for Decorating Your Interior Space with Transitional Rugs 
Use your rug as a wall hanging 
A beautiful, well-crafted area rug is truly a work of art, and it would look just as presentable on your flooring as it would on your wall. A transitional rug with a striking pattern or color scheme could serve as the focal point of a room—such as a living room, bedroom, or dining room—provided that it is surrounded by subdued furnishings, motifs, and colors. 
This strikingly patterned area rug from Cyrus Artisan Rugs' Vintage Reserve Collection, for example, would look great against an unadorned, cream-colored wall in the bedroom or living room.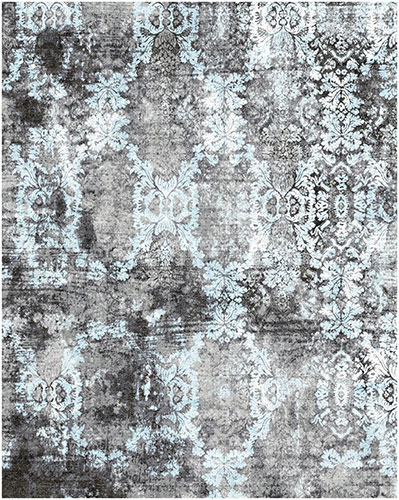 Define or demarcate areas in the space 
Transitional area rugs could be used to separate areas in the space, such as the living room from the dining area. Transitional pieces can also define spaces in large rooms that lack definite boundaries, like studio apartments and large galleries. 
Add variety to large rooms
You can add variety and visual complexity to large rooms by adding two or more transitional rugs. Rugs of the same size can slice a room in two, while rugs of varying dimensions can add variety and a sense of dynamism to interior spaces.
Get inspiration for the room's color scheme
You may use a favorite transitional rug as the foundation for a room's color scheme. On the other hand, if the furnishings and other elements are already established, you can use a transitional rug to accent or tie in the existing colors. 
Experiment with shapes 
Your transitional rug doesn't always have to be rectangular. Consider investing in square, oval, or circular rugs. The final shape of the rug should be based on how you plan to arrange the furnishings in the room, as well as the room's overall dimensions. 
Shop Premium Transitional Rugs Only at Cyrus Artisan Rugs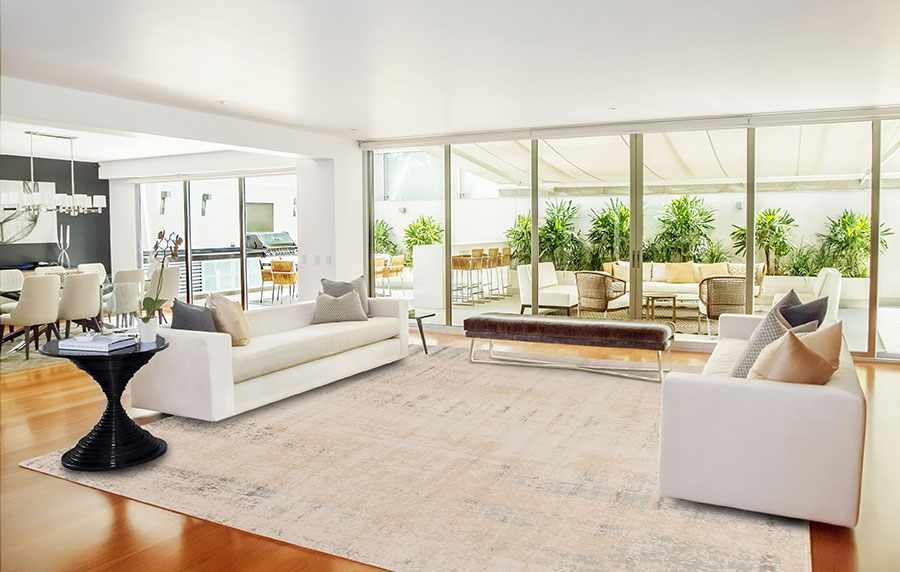 Whether it's your home, personal office, or commercial space, you want only the best rugs from the finest designers and rug companies to grace your surroundings. Cyrus Artisan Rugs offers a wide range of exquisite, hand-crafted transitional rugs from the most renowned designers and rug companies, including Samad, James Tufenkian, and our very own Cyrus Artisan Collections. 
Made from the finest materials (including bamboo silk, sari silk, and wool) and constructed using ancient hand-weaving methods, you'll be investing in a unique work of art that will add artistry and elegance to your designated space.
To discover our complete selection of transitional area rugs and carpets, browse our online inventory. To assess the rugs in person, you can make an appointment or drop by our Rochester showroom, which is located 13 miles from the downtown Minneapolis area.
Our showroom is equipped with large skylights that allow in natural daylight so you can appraise the true colors of the rugs. This way, you can more accurately judge the aesthetic merits of each piece. If you need an expert's opinion, our knowledgeable staff will be more than glad to assist you in any way and answer all of your questions. 
Visit our Showrooms
Visit Cyrus Artisan Rugs Showrooms in: Minneapolis, St. Paul, & Rochester, not living in Minnesota? Visit our showrooms in Sioux Falls, SD, Des Moines, IA, Austin, TX, Scottsdale, AZ & Palm Beach, FL. Choose from our wide range of rugs.