Cape Cod Home Decor Ideas to Try in 2021
Posted On March 8, 2021
Cape Cod architecture is a classic representation of what an American home is. In fact, its design dates back to as early as the 1700s. It first came about when Puritan settlers brought and adapted the idea of an English cottage to America. Its distinct structure and features conserved heat and blocked harsh winter winds. To this day, many homeowners choose its architecture and layout because of its coziness and brilliant design.
What Makes a Cape Cod Home?
Cape Cod homes come in different styles, but there are a few distinct features that make them easily distinguishable from others.
On the outside, they have a symmetrical appearance with a door in the center. Some either have a portico or a veranda that provides a cozy welcome into your home. You can see multiple double-hung windows with shutters on the facade, while the steep roofs have an overhang, triangular dormers, and centralized chimneys. Furthermore, these houses are usually covered with shingle siding in a neutral color scheme to achieve the signature Cape Cod exterior look.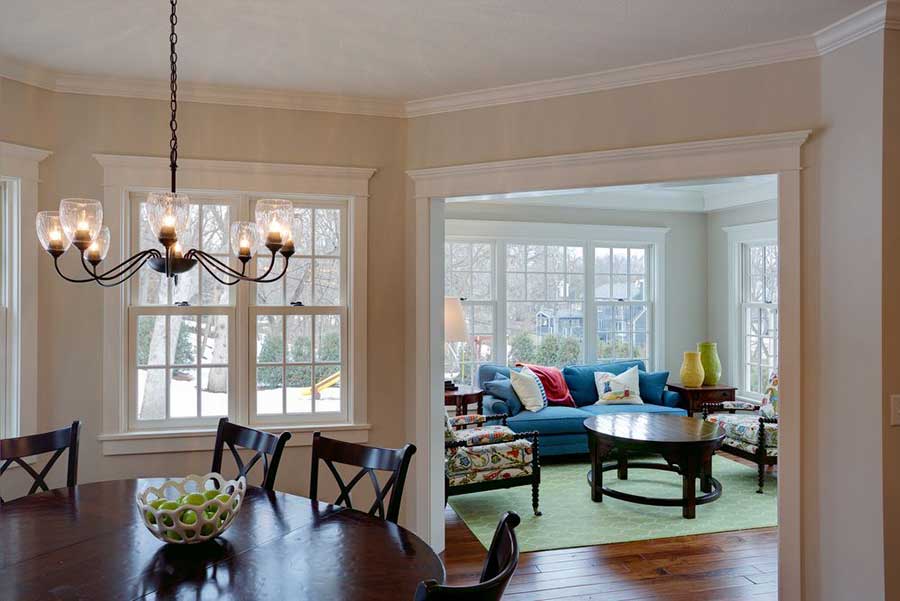 When you step inside, you will be greeted by a layout that features a center hall and staircase. A Cape Cod house is about 1- to 1.5 stories high and has low ceilings. The concept of this type of home is large and open with little aesthetic details.
Room-to-Room Decorating Tips and Ideas
Elevate your home with these Cape Cod decor tips and ideas. With just a few personal touches, you can turn this classic American home into the house of your dreams.
Veranda
Your veranda is a part of your house's facade. It is what guests will see, and it is a preview of what lies inside.
Create an Area of Comfort
Having a few seats and a table is a great way to create an intimate place where you can spend time with friends and family. Moreover, a comfortable indoor nook is perfect for starting your mornings reading while enjoying a cup of coffee.
To create an area of comfort, base your furniture's color on the exterior of your house for a consistent look. For example, if you have white sidings with black accents, your seats can be made of dark wood material with beige cushions. You can also place an outdoor rug in a neutral palette for an additional layer of comfort.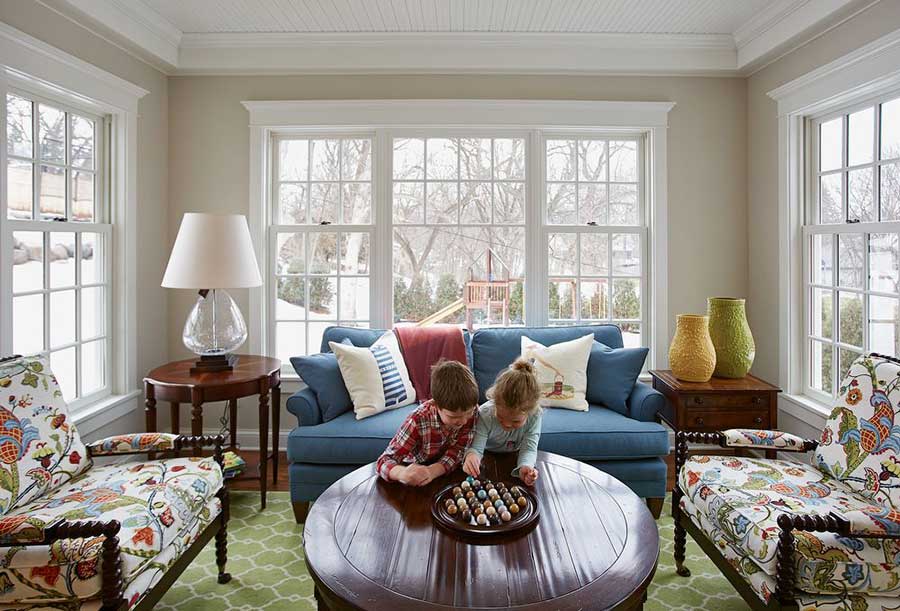 Foyer
Upon entering your house, you will be welcomed by your foyer and, often, a staircase. It links the different rooms of your home together, such as the living room, dining room, and kitchen. Make an excellent first impression with this small area in your home.
Replicate a Beach Day Indoors
When decorating your foyer, use the same tones and hues. Cape Cod homes usually follow a coastal-style color scheme, which is light and airy. So try picturing a warm sunny day when designing your space.
The crisp, bright walls in white, tan, cream, or ecru, for example, are best partnered with hardwood flooring in mahogany, white oak, or walnut. You can also balance out the warm tones with cool blues and greens, which offer a perfect resemblance to the sea and sky.
Add in a Rug to Complete the Look
Rugs are a Cape Cod decor essential that can enhance your foyer's look. Most homeowners place a rug at their front door for a cozy welcome. However, a runner rug can also be placed on the staircase to buffer the floor and your feet and create a textured look.
Hallway
Hallways are narrow areas of your Cape Cod home that can help create a perfect transition from one room to another. Here's how you can make it look better:
Adorn Your Walls with Ornaments
There isn't much you can place in a hallway because of its size, so decorating the walls is the best way to improve its look. You can hang various Cape Cod home decors such as paintings, ornaments, and family photos in your hallway.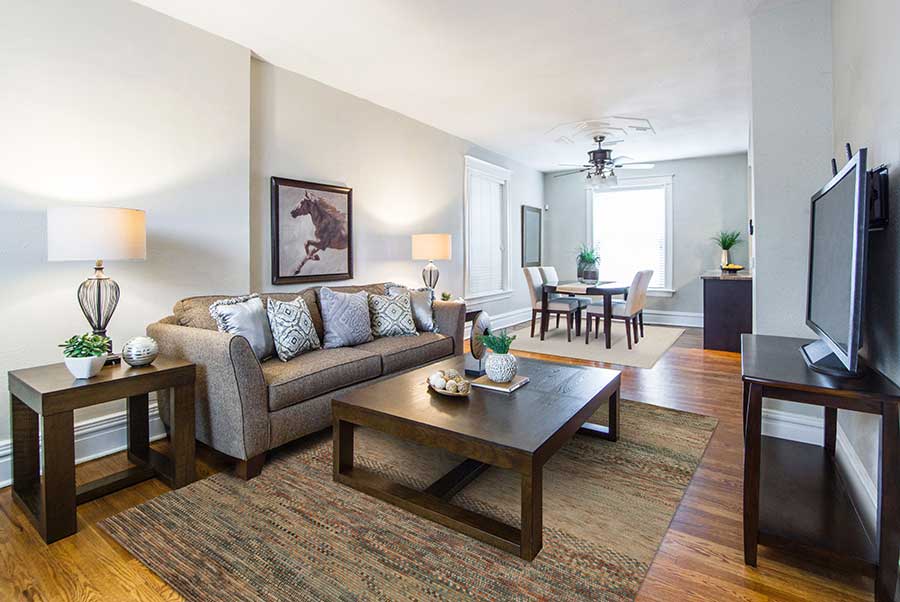 Apart from being great decor pieces, they also make a great conversation starter. You can place other things such as a mirror for an illusion of larger space and a runner rug to breathe life into dull spaces.
Living Room
The living room is where most of the activities in your home happen. After all, it's where you can entertain guests, spend time with the family, or simply enjoy a quiet afternoon alone.
Know Your Style
Before decorating your living room, you need to know what your desired style is. You can then match the color scheme, furniture, materials, and patterns in this style.
For instance, if you're going for a traditional look, you can use Early American furniture such as a Windsor chair, trestle coffee table, and step-back cupboards. You may also paint wooden furniture in pastel colors for a whimsical effect.
Keep it Symmetrical
A significant characteristic of Cape Cod homes is their symmetry. Incorporate symmetry into your living room by placing a three- or four-seat sofa in the middle and putting two single-seaters adjacent to each other. This setup creates balance, making your space look organized and well-kept.
There's Something About Wicker
Wicker is a signature look for a Cape Cod home. Wicker decor and furniture is usually made from materials such as rattan, willow, reed, and bamboo. The aesthetic appeal of this material can bring a beachy touch to your interior. Though it dates back to the Victorian Era, it is a popular option among many interior designers these days, making it both classical and trendy.
Kitchen & Dining Room
Next to the living room, the kitchen and dining room are where people spend most of their time to prepare and enjoy meals.
You Can't Go Wrong with a Marble Countertop
Most kitchens have a designated area where you can take a quick meal or light snack that's different from the dining room. Add more appeal to your kitchen with a smooth, marble countertop that complements the neutral color scheme of your home.
The shiny finish on its surface adds a touch of elegance to your kitchen. Moreover, a marble tabletop can instantly bring a complementary feel to your Cape Cod home.
Maintain an Open Area
Cape Cod interior designs are known for their wide, open areas that lets abundant lighting enter. So transform your kitchen and dining area and make your space look vibrant and full of life. This setup also makes cooking and dining more enjoyable for everyone.
Bedroom
The bedroom is where you can be comfortable while enjoying your privacy. Incorporating the soothing atmosphere of a Cape Cod home allows you to fall asleep easier. At the same time, its rejuvenating vibe provides you with the energy to start your day.
Incorporate Texture
Adding ornaments or furniture in different textures can bring visual interest into your room. Let a headboard made of wicker take center stage in a minimalist bedroom. After all, the natural texture of a wooden side table complements the soft and plush surface of your bed.
Add another layer of comfort by installing a rug to your bedroom. The cottony pile of a rug is a cushion to your feet. These textures also work easily with a Cape Cod home's neutral color scheme, so you won't have a hard time decorating.
Add Your Personal Touch to Your Cape Cod Home
These Cape Cod decor tips and ideas can help you decorate your home with its classic design and architecture in mind. By adding your own personal touch, you can make your space look more modern and unique. Don't be afraid to experiment with different colors, materials, and ornaments to bring personality into your interior. More importantly, remember to "Be faithful to your own taste because nothing you really like is ever out of style."
Visit our Showrooms
Visit Cyrus Artisan Rugs Showrooms in: Minneapolis, St. Paul, & Rochester, not living in Minnesota? Visit our showrooms in Sioux Falls, SD, Des Moines, IA, Austin, TX, Scottsdale, AZ & Palm Beach, FL. Choose from our wide range of rugs.