Decorating with Standard Rug Sizes
Posted On October 28, 2020
An area rug's size can have a dramatic impact on a room's overall mood. Placing a small rug creates an uninviting atmosphere, while an extremely oversized rug can make a room feel smaller. But with the right rug size, any area in your home can feel cozy and balanced. 
Whether you're placing a standard carpet in your living room or a runner in your kitchen, selecting a perfectly-sized area rug is important. It's also your best option as you follow our top tips for decorating with area rugs. So, to help you find a carpet that perfectly fits your space, we've written this rug size guide. Read on for helpful tips on decorating rooms with standard rug sizes.
What are the Common Sizes of Area Rugs?
Typically, brands offer area rugs in the following standard sizes:
3×5

4×6

5×8

7×10

8×11

9×12
Rug makers may also have carpets in multiple sizes. Thus, we recommend checking if the rug you want is available in your desired size. Homeowners often buy smaller carpet sizes for their spaces, and you wouldn't want to make the same mistake when shopping for your rug.
On the other hand, you can customize a rug to your desired size. Custom rugs can go well with certain areas in your home.
How Do You Choose the Perfect Area Rug Size for a Room?
There are factors to consider when selecting the right area rug size, namely:
Your space's dimensions

Your furniture

Your space's function

Your space's overall theme
But it's often best to consider your furniture arrangement, especially if you're placing a carpet in your living room, dining room, or bedroom. For example, some set-ups will show a certain amount of floor around a room's edge. Looking at your furniture layout can help you get the right rug size for your space.
What Size Should You Choose for a Living Room Rug?
When selecting the right living room rug size, your furniture placement is the most important consideration. You can either put your carpet at the center of your living room or your seating area. But your furniture's position isn't the only factor you should consider when finding your ideal carpet size. You'll also need to think about how much space your area rug will cover.
The following sizes are the most common rug sizes for living rooms:
5×8 Area Rugs
These carpets offer enough coverage for the area below and around a coffee table. They won't cover the area beneath couches and other furnishings. As for seating, all furniture legs should be off the 5×8 rug.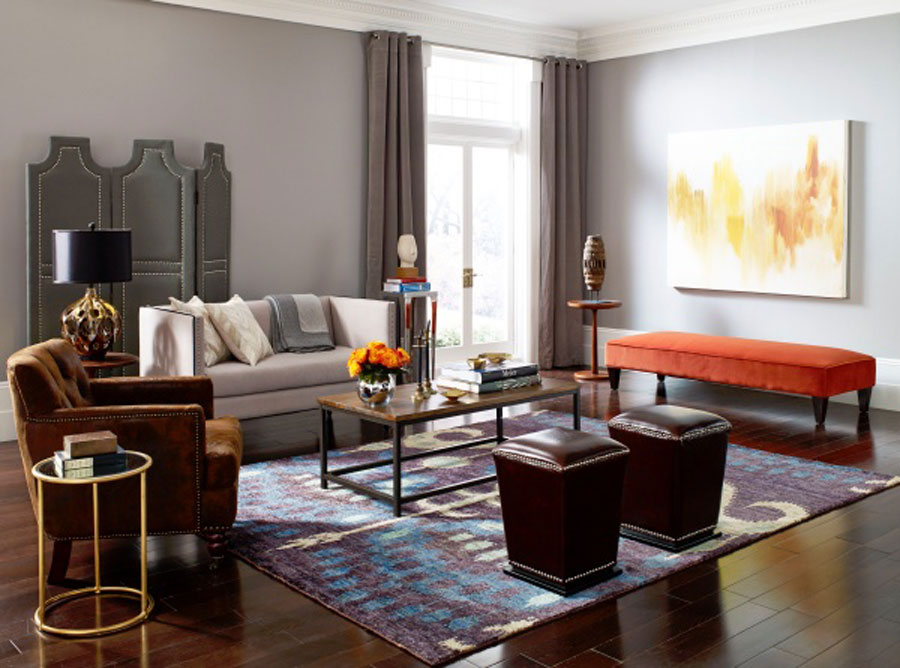 6×9 Area Rugs
A 6×9 rug, such as the Cyrus Artisan Agnes rug, is an occasionally affordable choice that creates a more sophisticated and comfortable living room. Try placing a "floating" 6×9 rug at the center of a smaller living room's seating for an intentional, well-styled look. Plus, remember to keep furniture legs off if you're placing a 6×9 carpet in your living room.
8×10 Area Rugs
8×10 rugs work best in large living rooms. These carpets will let you cover the area under a coffee table and a couch set. Additionally, you can leave 18" to 24" of space on all sides of a big living room—this will give the room a border. Keep two furniture legs on an 8×10 rug as well.
9×12 Area Rugs
9×12 carpets can help cover most of a living room's flooring. You can also place "floating" furnishings on these rugs, with equal space between the pieces. Plus, don't forget to have all legs of your furniture on a 9×12 carpet and leave 12" to 18" of space on all of the living room's four sides.
While you can place a smaller rug in your living room, interior designers often recommend getting a larger carpet. Larger area rugs will allow you to put sectional sofas and other tricky furnishings over them.
What Size Should You Choose for a Dining Room Rug?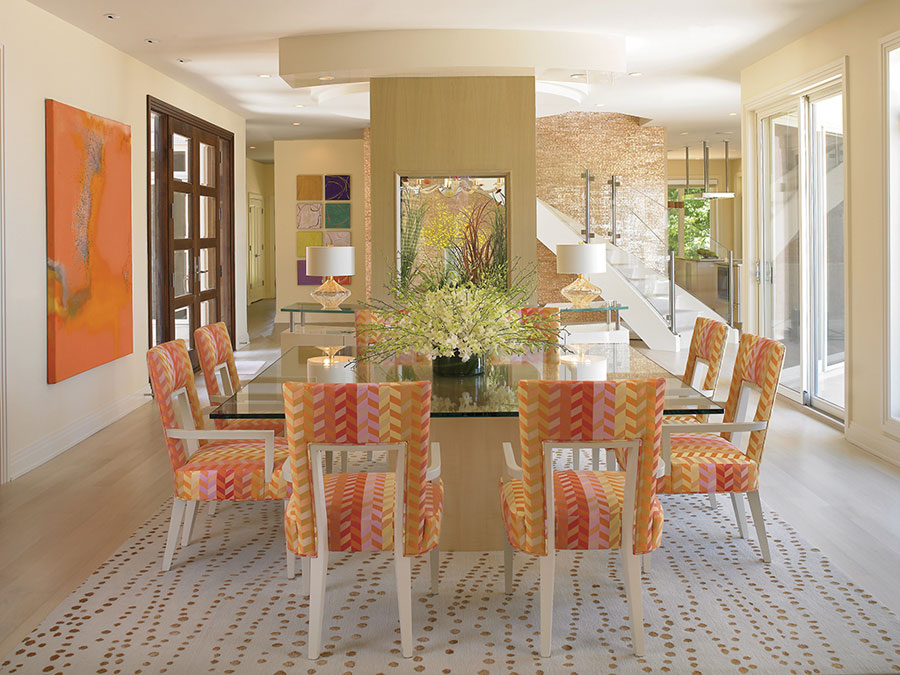 Generally, a much larger dining room rug size is the best choice to avoid tilted, wobbly dining chairs. A bigger carpet should cover the distance at which people pull their chairs back from the dining table. Start by giving your table's length and width an extra 36 inches, or add that measurement to a circular table's diameter.
Meanwhile, round area rugs will complement smaller dining areas and round coffee tables. These carpets will also match the room, give it a cohesive look, and make it pop when paired with curved furniture. Just leave at least 36 inches of space between the table's edge and the rug's end so that your chairs won't go off-kilter.
Standard area rug sizes for dining rooms include the following sizes:
9×12 rugs – for dining tables with eight or more chairs

8×10 rugs – for dining tables with four or six chairs

6×9 rugs – for dining tables with four chairs
What Size Should You Choose for a Bedroom Rug?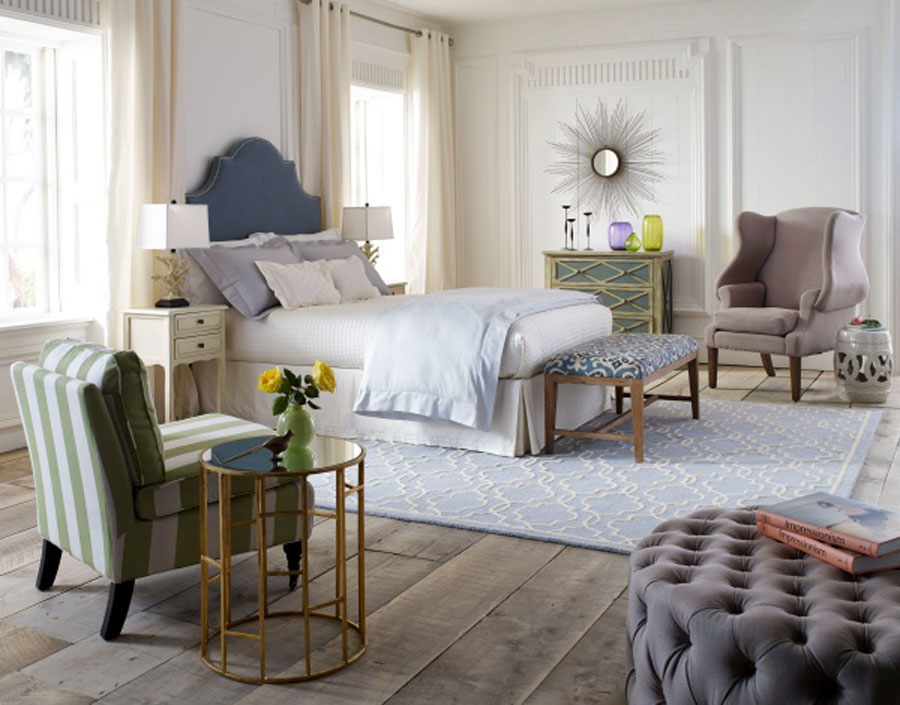 To determine the right rug size for a bedroom, you'll need to measure your bed and any extra furnishings in the space. Here are several rules to follow while measuring your bedroom's areas.
Add 18 to 24 inches to your bed's measurements. This rule applies to both of your bed's sides.

Measure from the outer edges of any nightstands in your bedroom.

Consider any pieces of furniture under your bed, too. Remember to place two or four legs over your bedroom rug.
You can get bedroom area rugs in any of the following sizes:
A 6×9 rug will go well with full and extra-large twin beds, as well as standard twin beds. Meanwhile, an 8×10 carpet is ideal for queen, king, and California king-sized beds. And if your home has a larger bedroom, you can cover the room's extra space with a 9×12 rug.
What Size Should You Choose for a Kitchen Rug?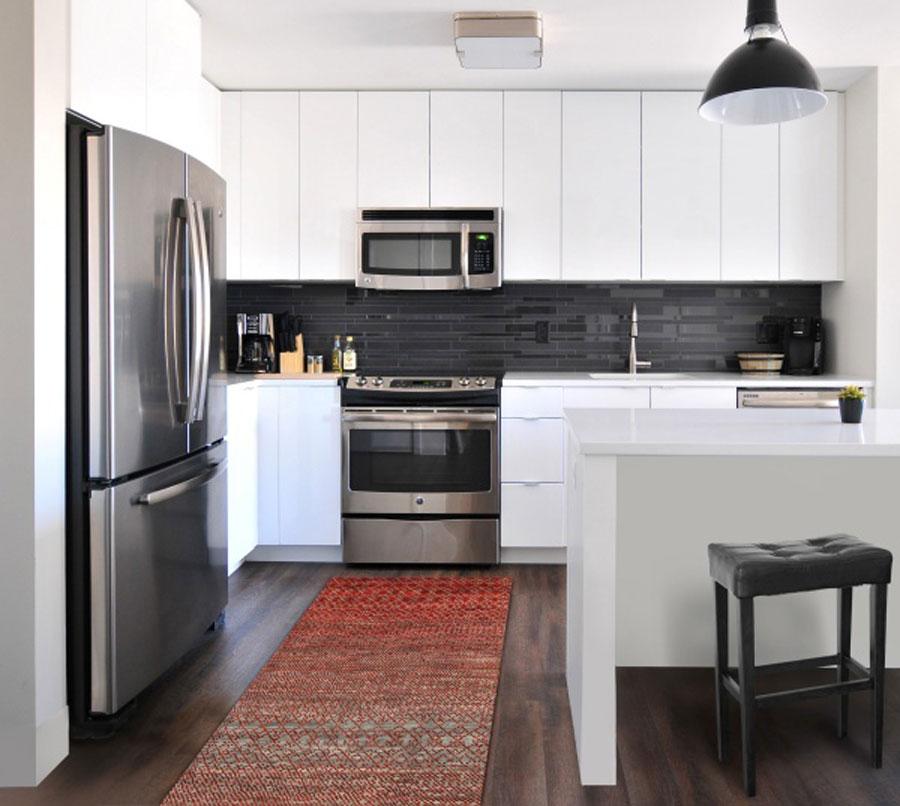 A kitchen rug best complements the space in front of your sink. But before you place a carpet in that area, you should find the right rug size. Your kitchen's size and layout will help you select the best size for your kitchen rug.
Large Kitchens
A big kitchen with an island may need any of the following carpets on one or both of the island's sides:
5×7 rugs

3×5 rugs

Runners
For homeowners with vaster kitchens, the rug sizes below are perfect for those spaces:
9×12 rugs

8×10 rugs

6×9 rugs
Medium-Sized Kitchens
The following carpet sizes will work with medium-sized kitchens:
5×7 rugs

3×5 rugs

Runners
Small Kitchens
Placing a patterned rug can make a small kitchen feel more disorganized than usual. But the area can get more warmth and personality with the perfect carpet.
A 3×5 rug can be a perfect addition to a little kitchen, regardless of its layout. Moreover, a homeowner might want a 2×3 carpet or a 2.5×7 rug runner size in front of their kitchen sink.
Kitchens with Long Layouts
2.5×7 or 2.5×10 standard runner rug sizes will suit galley-style kitchens. A wide galley will let you place a runner across your kitchen's sink side. Meanwhile, a kitchen with a narrow galley can have a runner at the center.
Find the Right
Carpet Size
to Complement Your Space
Getting the ideal rug size can be a challenge. But when you place a perfectly-sized carpet, it'll work wonders for your space's entire theme. Cyrus Artisan Rugs can help you find the best rug size from its curated collection, with eye-catching pieces available in common area rug sizes. Browse our inventory today to get a living room, dining room, bedroom, or kitchen rug in the right size.