How to Decorate a Moroccan-Style Living Room
Posted On November 4, 2020
Morocco is known for its truly unique decorating style—one that's derived from French, Spanish, and Arabic designs. Color, textures, and asymmetrical lines are at the forefront of Moroccan design, along with natural elements from the country's deserts, mountains, and beaches. By incorporating these elements in your living room, you can create a distinct and exotic ambiance in your home. If you're planning to update your living room's look, these Moroccan-themed living room decor ideas are worth a try.
Paint Living Room Walls in Neutral or Vivid Hues
Choosing the right hues for your living room is essential, especially when it comes to the walls. Pieces of Moroccan décor mostly come in deep blues, vibrant yellows, as well as orange, purple, and pink shades. Morocco's deserts and mountains are best expressed through brown, gold, green, and other neutral colors. You can use any of these hues for your Moroccan-inspired living room walls.
Homeowners who are going for an earthy feel can have bright orange walls with a sandy brown trim. But if you're more into a more playful look, a sky blue accent wall and three sunshine yellow walls are great for your space. These vivid colors will make you feel like you're on the beach, even if you're just at home. On the other hand, white or off-white hues can give a living room that neutral, simplistic look.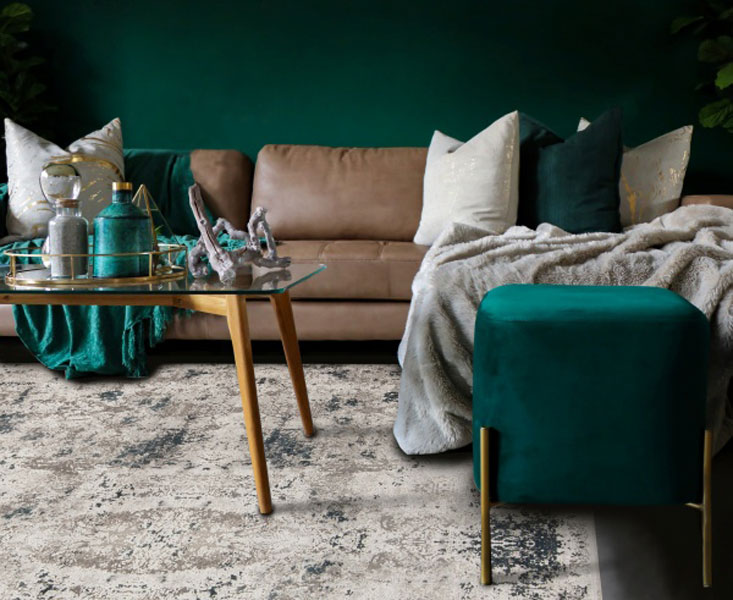 Place Moroccan-Style Furniture
Moroccan living rooms evoke a festive atmosphere, with numerous seating choices that you can incorporate into these spaces. The combination of wrap-around, upholstered sofas, and large coffee tables is the typical option for Moroccan-style living rooms. You can also add leather floor poufs—vibrant hassocks that can turn the space into a casbah—to your living room.
Complementing the pieces of Moroccan furniture above with other seating options is also a great idea. Try placing carved wood or sculptural metal chairs and stools in your living room for extra details. Moreover, an oversized copper cabinet with vintage camel leather can be a perfect storage space for your electronic devices. These pieces of Moroccan furniture can add to your living room's lavish look.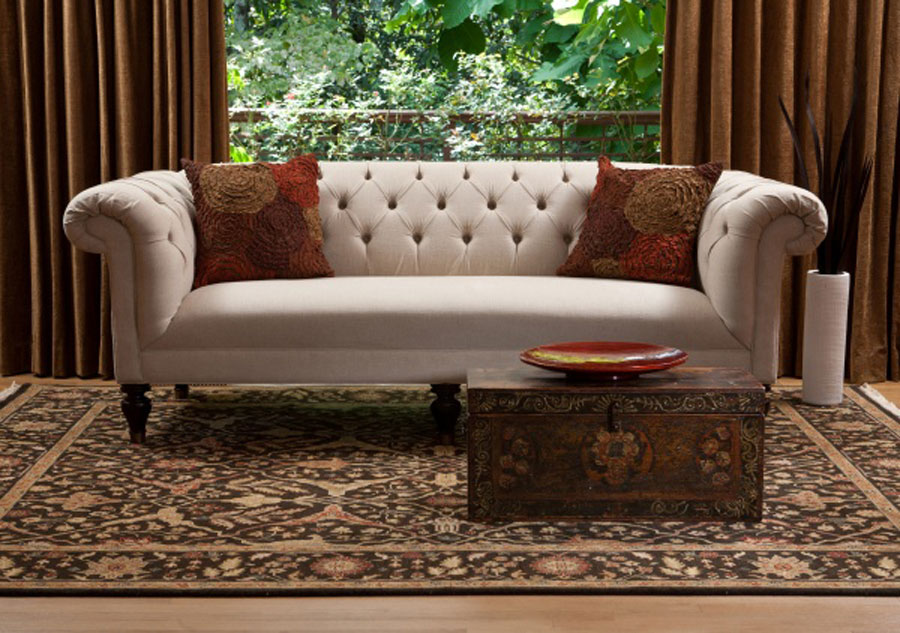 Add a
Moroccan Rug to Your Living Room
A Moroccan rug makes injecting that Moroccan feel into any space a breeze. With rugmakers offering various pattern, color, and texture options for Moroccan rugs, getting the perfect piece for your living room is possible. Plus, the room will look cohesive when it has the best Moroccan area rug.
Handwoven Moroccan rugs feature rich textures, earthy hues, and geometric motifs for a cozy feel and intricate look. Pieces such as the Safavieh Kenya KNY526A and the Cyrus Artisan Creek CRK-23 rugs put these elements front and center. And if you're after a more neutral-colored living room rug, you can settle for a piece like Tufenkian's Moroccan Loom Black White rug.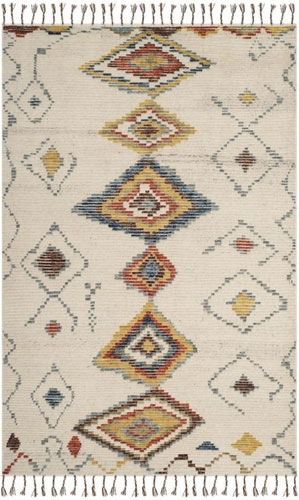 Incorporate Moroccan-Style Lighting
Installing Moroccan light fixtures is another excellent way to bring desert elegance to your living room. Sculptured lights are ideal options, or you can choose among carved chandeliers, table lamps, or wall sconces in silver or gold. But if these fixtures don't fit your preference, lantern-style lights might be perfect for you. These lights will recreate a Moroccan bazaar's atmosphere in your living room.
Traditional Moroccan lanterns come in numerous designs, shapes, and sizes. The vast number of options for these lights makes choosing a fixture much simpler. Here are some tips to keep in mind while shopping for one:
Antique glass and metal lanterns with mellow light will help you give your living room a Moroccan look and feel.

Create an authentically Moroccan ambiance in your living room with copper or gold lanterns. We recommend getting lanterns with clear or jewel-toned glass accents.

You can also get a brighter and cozier living room by hanging string lights around the room's perimeter.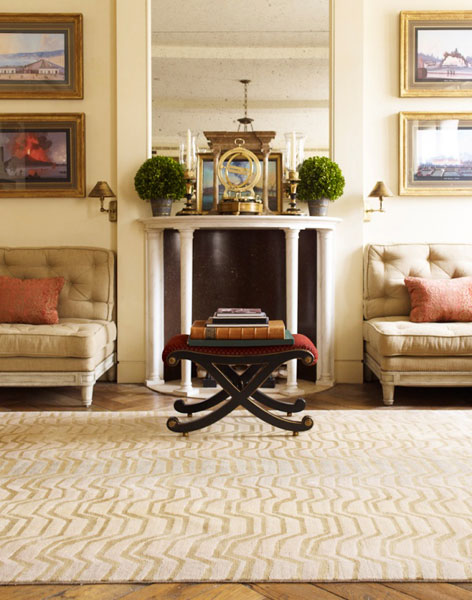 Adorn Your Living Room with Ornate Tiles
Mosaic-style, vibrant tiles are a key feature in Moroccan interior design. These decorations will work best in a living room with a fireplace or mantle. However, this doesn't mean detailed tiles won't suit a standard living room. Covering a coffee table in mosaic tiles will let you discreetly decorate the space with their design.
Colored tiles in a part of a neutral living room can have a huge impact on the space as well. You can simply make these tiles a striking highlight to light up the room. Moreover, tiles with a bit of your accent color make for a unified space. But if you're not big on color, light-colored Moroccan tiles add pattern rather than a pop of color to your living room.
Incorporate Woven Textures & Fabrics
Yet another staple of Moroccan design, sculptural hand-crafted accessories made from natural materials provide a contemporary space with more texture and interest. These accessories also bring a layered, ubiquitous, and multi-dimensional look when combined with other distinct design styles. Thus, woven accessories can help make any room feel more Moroccan, including your living room.
Neutral rugs, pillows, blankets, or poufs offer excellent balance to vivid hues. Plus, these accessories and striking colors make a perfect match. You can create a more grounded and homely ambiance in your living room with neutral-toned throw pillows or elegant leather poufs. Or better yet, go for a cohesive design by placing a hand-stitched, neutral-toned Moroccan pouf in the room.
Along with texture, Moroccan homes incorporate fabrics in their interiors. These homes use lush, colorful fabrics for an elegant and brilliant look. If you want to have fabrics in your living room, an overhead canopy is a great option. It can pull off a comfortable, romantic look when it's crafted from silk or soft cotton.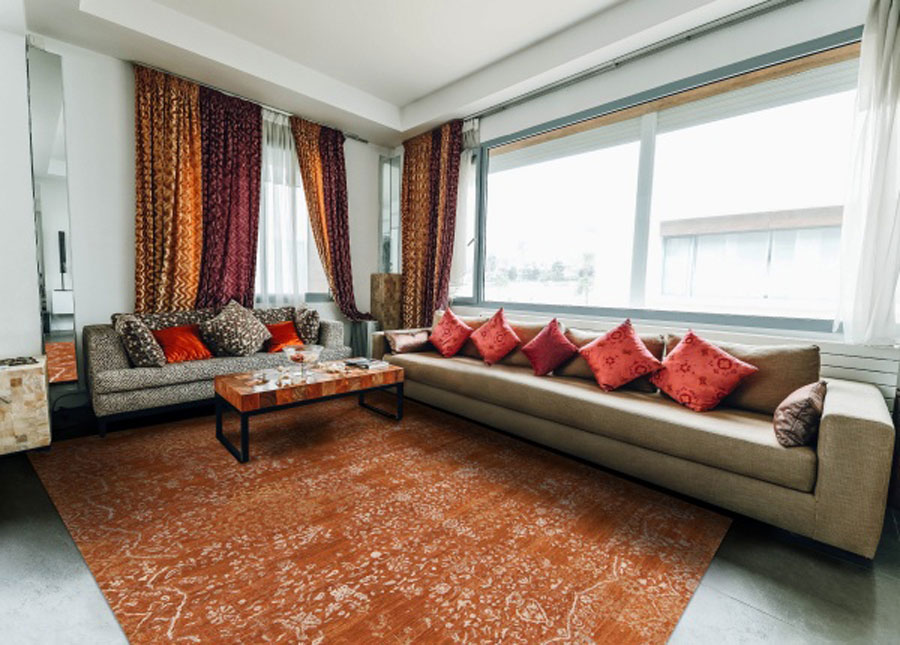 Find the Perfect Moroccan Area Rug for Your Living Room
The features of a Moroccan-style living room are all about creating an uplifting yet relaxing space for conversations with family, friends, and guests. Moroccan area rugs can add this characteristic to your living room through their bold to neutral hues and plush textures.
For a more Moroccan feel in your living room, consider investing an eye-catching rug from Cyrus Artisan Rugs. Browse our online inventory today to get the best Moroccan living room rug for your home.