Decorating Your Home with Greek-Inspired Decor: 11 Ideas
Posted On November 4, 2022
Beautiful blue seas, delectable dishes, and rich culture have drawn many travelers to Greece. The beauty and charm of these elements have even found their way into architecture and interior design, as Ancient Greece is catching the eyes of more homeowners. 
Some may have tapped into their wanderlust and embraced Grecian style or nostalgia for a bygone era driving the spotlight towards Greek history.
The digital inspiration board Pinterest has seen more searches for Greek statues, Corinthian columns, and ancient Greece's aesthetic than ever before. Ultimately, the platform has predicted that these Hellenistic motifs will become even more popular.
If you're considering embracing this emerging design trend, here are several decor ideas you can incorporate into your home.
Go Vertical
Greek interior designers consider vertical lines essential elements of their work. Columns depict these design elements exquisitely. 
Ancient Grecian designers incorporated swelling in the middle of a column's shaft to highlight vertical lines in their aesthetic. This method is called "entasis" in architecture, which helped Greek interior designers correct the optical illusion that made the outlines of columns look concave instead of straight.
You can incorporate vertical designs into your home with a simple vertical indoor garden or a long, thin wall tapestry. These design elements will direct the eyes upwards, creating more vertical space. 
Since most Greek houses have high ceilings, this method introduces the illusion of vertical movement to a home with low ceilings.
Incorporate Greek-inspired Colors
Regarding color, Greek-inspired interior design highlights several hues reflecting the country's natural wonders. Let's look at two ways to incorporate these colors into your interior design.
Bring the Grecian Sea & Sand to Your Home
Blue and white are dominant colors in Greek interiors. You can see them in decor pieces like Greek draperies, rugs, and furniture coverings, filling a home with the energy of Greece's blue seas and pristine sandy beaches. If you find yourself exploring a Grecian island, you may notice homes with blue and white doors, pillars, and even steps.
You can incorporate this inspired color combination into your interiors through beddings and carpets. Complement neutral-colored walls with a blue and white geometric rug and linen bedding to fill a room with some Grecian spirit.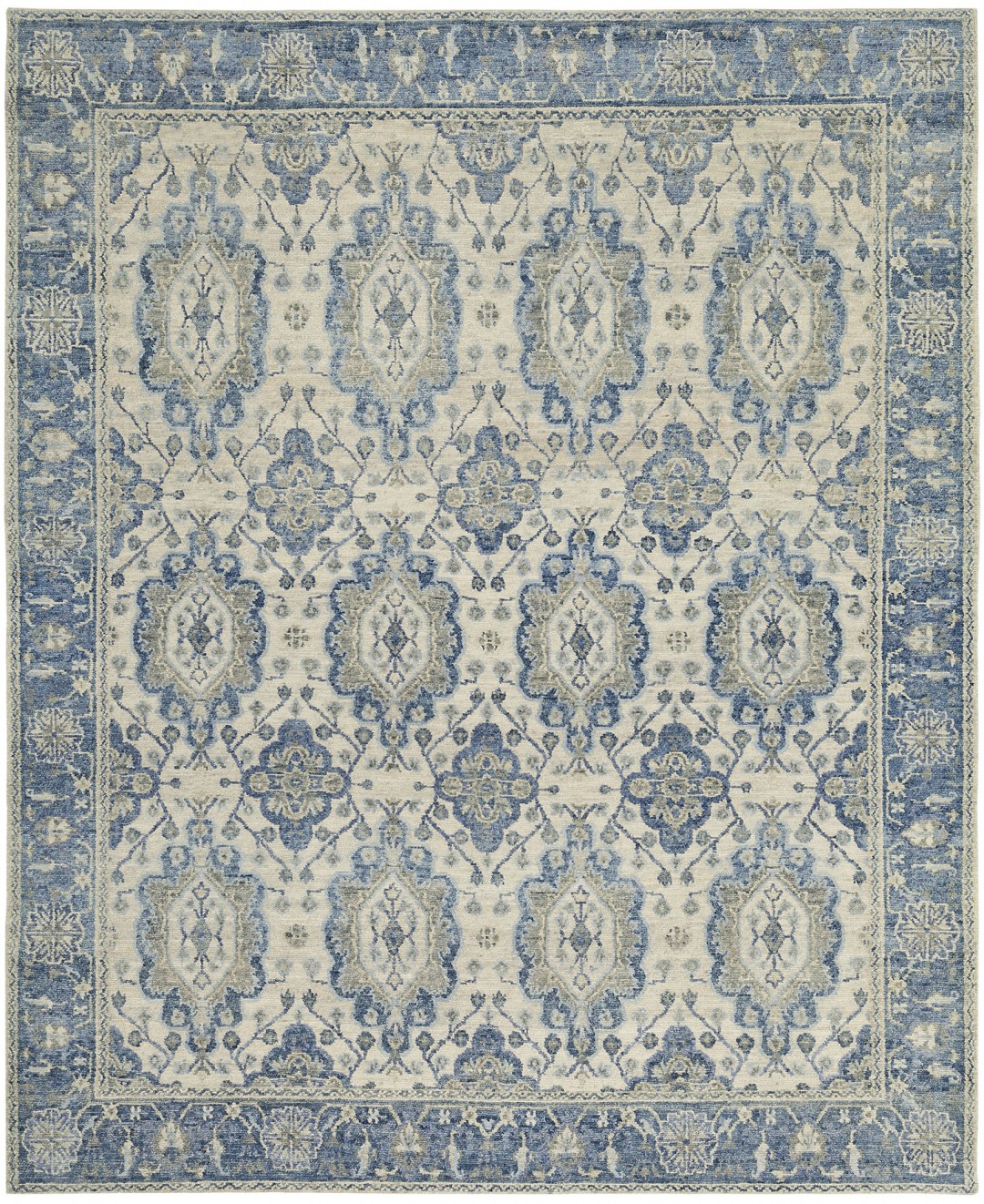 If you're after a rug with the energy of the Grecian sea and sand, consider placing the Cyrus Artisan Accord Sultan rug in your space. Available in brilliant azure, this handmade rug will remind you of Greece's vibrant blues and whites.
Include Natural Hues in Your Color Palette
Along with vivid blue and white, you can incorporate other natural colors into your Greek-inspired space. Hues evoking warm sand, soft leaves, and soil pair well with this concept. 
These colors should ideally be muted and mirror the natural hue of the objects they symbolize. Natural colors should usher the beauty of the Mediterranean seaside into your home. Paint your bathroom in a warm, sand-like shade to bring the beach to your living room, or fill your kitchen with some olive leaf or sage green accents.
Add a Rustic Touch to Your Humble Abode
Many Greek interiors give off a perfectly rustic vibe. The following decor ideas can help you recreate this particular ambiance at home.
Create Exposed Walls
Exposed brick and stone walls are a common (and distinctive) feature of Greek homes. They evoke a clean aesthetic that's simultaneously cozy and welcoming. Moreover, the exposed stone cools the home during the scorching summer.
If your home doesn't have stone, brick, or plank walls, you have two options:
Create a whitewashed brick or accent wall.

Turn the walls around a fireplace into brick or stone walls.
Whichever option you choose, it should give your interior an authentic Greek look.
Go For a Whitewashed Look
Many Greek homes also have whitewashed brick exteriors. This way, the hot sun can't reach the inside. Whitewashed brick is attractive and rustic, making it a perfect complement to an industrial, rustic farmhouse, or other popular modern decorating styles.
If you're considering a whitewashed look, try infusing it onto brick walls around a fireplace. Whitewashed brick can refresh a room's current design while bringing the feeling of summer to the space.
Use Textured Plaster
Like whitewashed brick, textured plaster is a Greek interior design element that reflects sunlight to cool down the home. Its textures and crenellations even capture the beauty of silt and sand on Greece's beaches.
Modern homes usually highlight textured plaster in "popcorn ceilings," a ceiling style resembling popcorn kernels (hence the name). If your home has this type of ceiling, you can consider it Grecian textured plaster. 
Embrace Wood Accents
Greek-style homes also often display raw, natural materials like wood. They comprise the look and finish of decor in these spaces. Here are some pieces of home decor you'll see in Greek-inspired interior designs:
Simple and primarily wooden furniture

Beds and other furnishings with detailed designs and handmade, vintage, or distressed appearances

Wooden tables with metal or mosaic-tiled tops
Adorn your interior with any of these furnishings to highlight their natural materials.
Let Natural Light In
Greek decor typically welcomes natural light and the wonderful outdoors through oversized, simple windows and skylights.
To flood your home with natural light, opt for sheer, billowing curtains that are as unembellished and light as an ancient Greek dress. Muslin, silk and other sheer fabrics in soft, natural tones are perfect for this purpose. 
Or better yet, let enough sunlight into your home with indoor shutters. They allow you to control how much light your interior gets and where it goes and create an incredibly chic and continental vibe.
Decorate with Minimalist Furniture
Greek homes keep things simple with only several pieces of wooden furniture on display. Grecian homeowners have followed Marie Kondo's advice only to keep items that spark joy. You, too, can embrace that philosophy when decorating with Greek-style home decor. 
Choose artisan, high-quality, and durable furniture, preferably those with three legs and warm-toned wood. These pieces highlight natural, attractive lines and finishes that never go out of style.
Put the Spotlight on Greek-Style Decor Pieces
A consistent theme is key to authentic Greek-style interior design. The little details in your interior, like small decor, are integral to its design. 
Start adding Grecian charm to your home with Greek sculptures, figurines, decorative vases, and other pieces on a table or shelf or in a bookcase. And for a classic Mediterranean vibe, place a Mediterranean-themed painting above your living room sofa.
Get Cozy with Area Rugs
Greek homes tend to refrain from wall-to-wall carpeting or rugs. Instead, they focus on tiled floors with timeless beauty and a cooler surface for the feet during hot summers. But if your flooring gets cold, especially in the winter, rugs can soften and warm it up. Additionally, they fit well with your Greek-style interiors.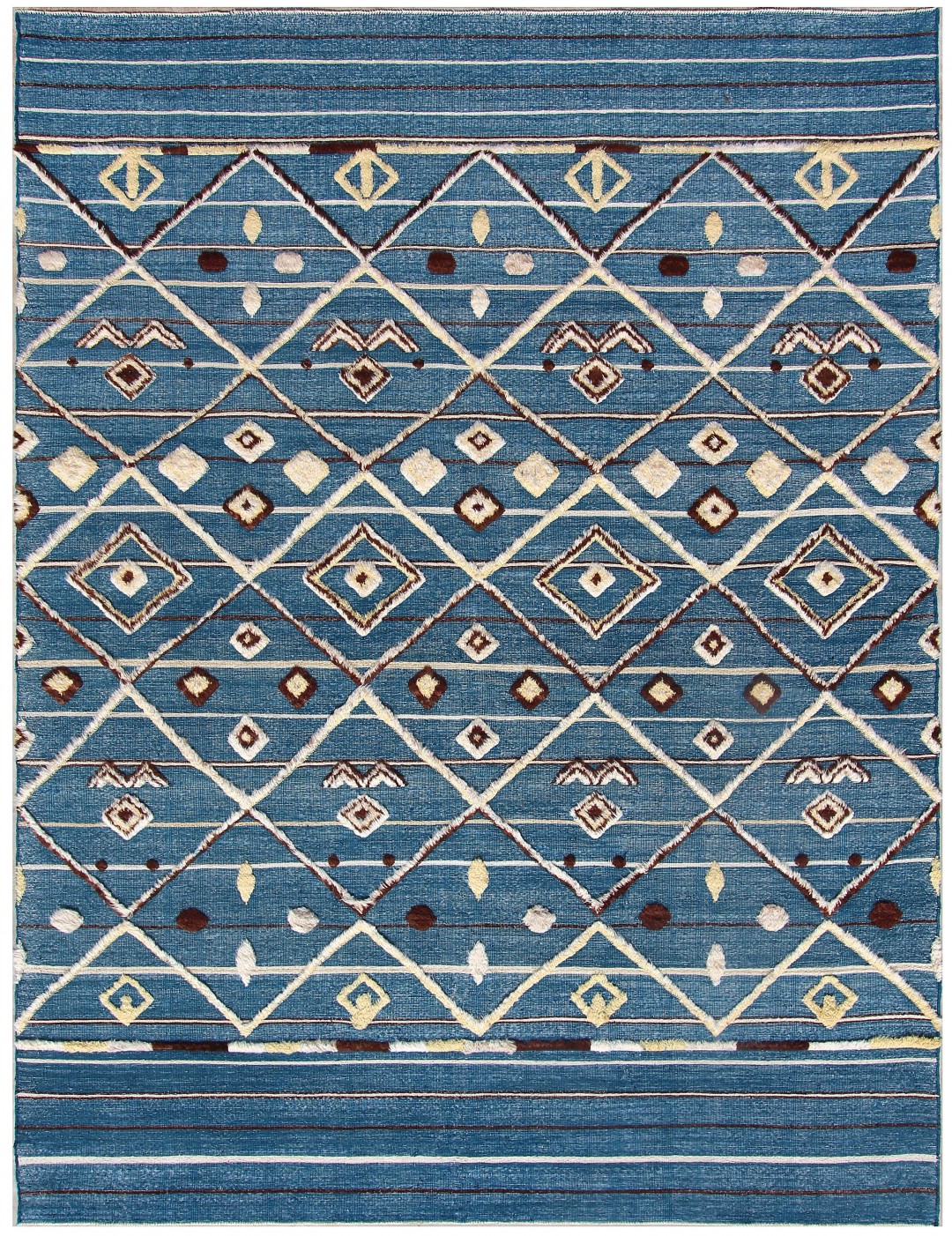 When buying a rug for your home, go for traditionally woven, geometric pieces featuring a blue and white backdrop. For example, you can juxtapose a Cyrus Artisan Creek rug with artistic diamonds against a light color palette. The CRK-14 depicts the Greek seas and sandy beaches through its vivid blues and whites.
Infuse Grecian Charm Into Your Space
Many have embraced Greek-style decorating, making it a design trend we should watch for now. You'll find plenty of Greek-inspired decor ideas when planning to turn your humble abode into an authentic Greek home. The key is to choose which ideas best suit your home and ensure that they highlight the distinctive character of Greek interior design.
Are you planning to update your home's overall style? Find helpful design tips and tricks on the Cyrus Artisan Rugs blog today.