Home Interior Decorating Tips
Posted On November 4, 2019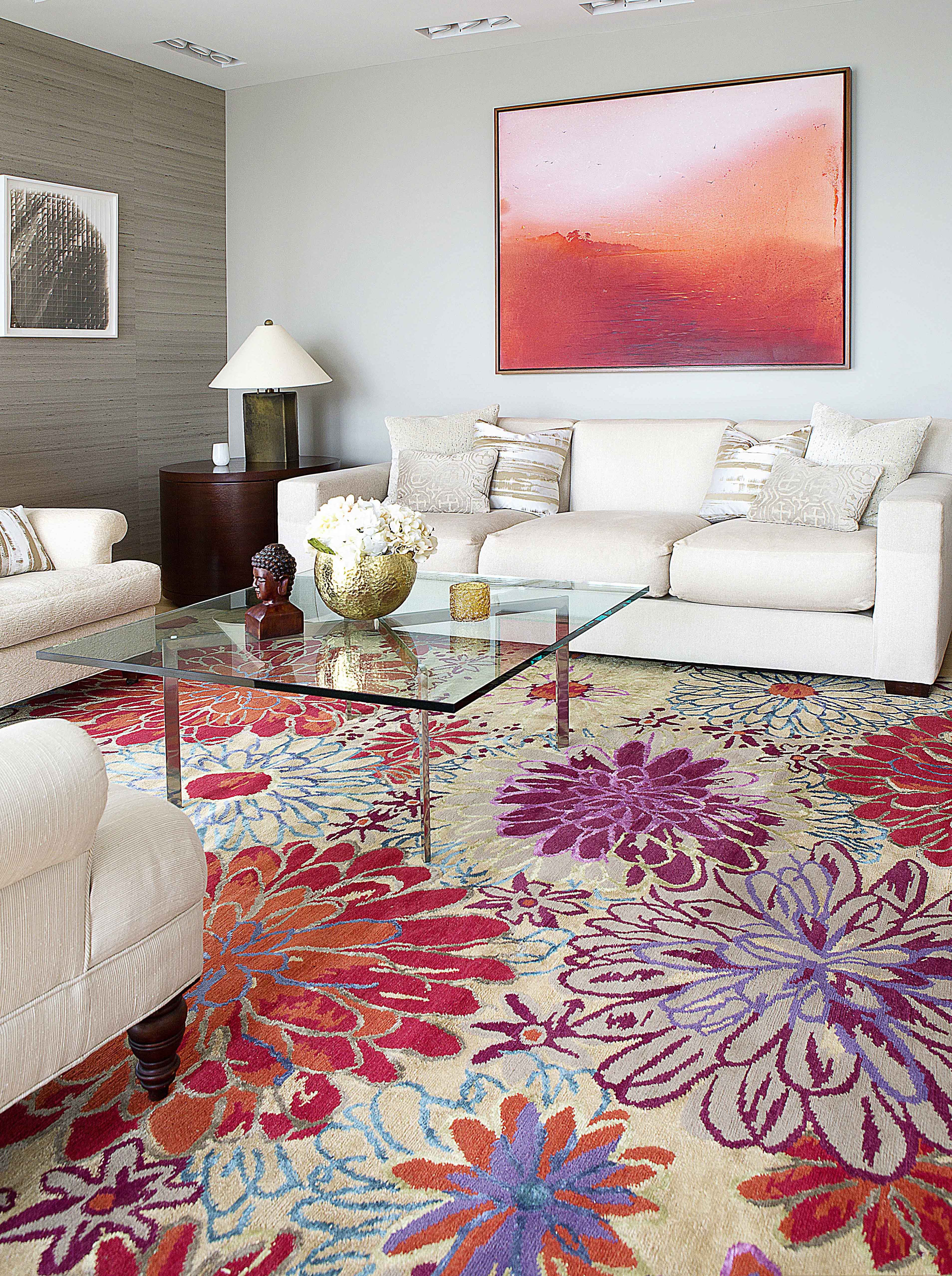 Home decor done right can be practical, beautiful, unique and perfectly you. We have some home decorating tips for you to consider, in order to help you get an easy start on your home decorating ideas. Our home interior decoration tips focus on some major points that can make and break your design aesthetic.
---
Choosing Your Color
Selecting the color scheme and palette that you want for your area rug comes down to personal taste, and the overall vision you have for your specific space. If you have a very modern aesthetic and white walls, a dark rug or a graphic print and burst of color make a nice contrast to the starkly clean whiteness of the room. On the other hand, if your room already has color and patterns in the decor or on the wall, it is better to select an area rug in more muted colors and with a subtle design. If you have children or pets in the house, it is wisest to choose an area rug in darker colors that will not stain easily and will effectively hide marks from dirty feet. The more pattern present in the rug, the less difficult it is to maintain. Similarly, the more colorful a rug, the more depth it adds to a room.
The Meaning of Rug Colors
In the Persian rug making tradition, different colors symbolize various universal qualities and principles. Red is the most often-used color in traditional Oriental rugs. Red symbolizes beauty, courage, power, luck, joy and faith. Green is the holy color of the prophet Mohammed. Therefore, it was used sparingly in traditional rugs and placed in areas less likely to be walked on. Green symbolizes Spring, life, renewal and hope. Blue represents power, aloofness and solitude. It also refers to the afterlife. Orange signifies humility and piety. Yellow symbolizes the sun and the joy of life. White represents purity and cleanliness. Black (traditionally only used in outlines) means mourning, death and destruction. Gold symbolizes power and wealth and Brown represents fertility.
Rug Color and Home Decor
Of course, in today's world, the most important role played by color in rugs is the way it complements the furnishings and wall colors in your home. On this website we have an amazing and sophisticated system for categorizing and sub-categorizing rug colors to allow the shopper to browse rugs by predominant color and shade. Try it for yourself; just click on any category, then on "Browse by Color." If you choose, for instance, Red Tones, every rug in that style that has a shade of red as its primary color with come up. That way, if you are looking to match a particular color in your drapes or couch, you can quickly see if we have a good match for you here.
Vegetable Dyes vs Synthetic Dyes
It's a common belief that rugs colored with vegetable dyes are superior in color and quality to those colored with synthetic dyes. Actually, this is a gross oversimplification, and there are many exceptions and seeming contradictions to this rule. For instance, some vegetable dyes can fade sooner and even shorten the life of a rug. The many ingredients that go into rug dyes are often a combination of natural and synthetic, and a given color or shade can rarely be determined to be purely natural or purely synthetic.
Plants Used to Make Rug Dyes
The most commonly used plant sources for making rug dyes are: indigo for blues, madder root for rusty reds and larkspur for golds and yellows. Dyers use depleted dyes to create lighter and softer colors; the first dying comes out brighter and darker, and each subsequent dying comes our progressively lighter and more subtle. Dye makers also combine these three basic colors to create other colors, for instance, indigo + larkspur = green; indigo + madder = purple.
Decorating With Area Rugs
When decorating a room, sometimes it is best to start from the bottom up, and really take cues from the colors that are present in your rug when selecting the color scheme for the whole area. For example, you can use the rug to help select paint colors. Then it is easy to use the corresponding paint chips when shopping for decorations. As long as colors coordinate between rugs, pillows, and throws, different patterns can be used through out the room.
Decorating With Traditional Rug Styles
Fitting traditional rugs into your unique home decor is easier than ever; with the multitude of designers, patterns, and color schemes, decorating with oriental and traditional designs can enrich the look and feel of your home. The size is just one factor to consider when selecting the perfect traditional rug to decorate your room or home. Generally speaking, a traditional rug is characterized by oriental, Persian, or old world motifs. The interior design of traditional rugs are characterized by intricate or repeating patterns, while the outer border of the rug can feature a floral or geometric print. Some of the most beautiful traditional designs feature a medallion in the center, with complex floral patterns surrounding. Depending on the look you love best for your own living space, the amount of choices can be overwhelming. The best thing to consider before selecting the perfect traditional rug is the desired color scheme, and whether or not you would like a more old-world folk charm with geometric patterns, or rather a soft and lovely floral design.
Take the Time to Select the Piece That Fits the Atmosphere of Your Home
Whether you are selecting your oriental carpet for your master bedroom, as a runner in a hallway, or for your living room, the first step in building a beautiful room around the artisan carpet is to consider the dimensions of your room, and select traditional area rugs that for proportionately. This sounds like common sense, but many times a rug can be so beautiful with the colors of a specific room, but if it is too small or too large, placement and overall look of the room can become awkward.
Intricate Designs, Luxurious Materials, & Deep Colors Enrich Your Interiors
When you are trying to come up with more interior decorating ideas, it is important to consider the hues and tones in your furniture. If you have wood floor, select traditional rugs that highlight and enrich the color palettes of your space. Traditional rugs and oriental carpets characteristically use a dominant background color with pattern highlighting, ancillary colors within the dominant shade. The dominant color of traditional area rugs indicates whether or not it will work in your room and if it complements the colors you have in your furniture and decor. For example, rich and deep navy backgrounds with a variety of colors in the interior pattern nicely complement neutral furnishing and walls. Then, you can play with throws, lamps, and pillows to highlight the other accentual colors in the rug. On the other hand, traditional area rugs with a lighter, neutral background and richer, more dominant colors within the interior design can fit a variety of room shades and hues in wooden floors. It is ultimately up to you and what atmosphere you are looking to create for your own interior. Take the time to find the perfect piece for you, as there are many fine traditional rugs to select from, and luxurious oriental rugs are investments and pieces that will last for generations to come.
Choosing Your Style & Material
When selecting an area rug, there are a variety of styles to select from including traditional, contemporary, transitional, and tribal. There is also a variety of fibers to consider when selecting the perfect area rug for your home that will both withstand wear-and-tear while also fitting within your budget. At Cyrus Rugs, we offer only fine handmade rugs, using premium wool, silk, and luxurious blends of the two. However, other area rugs can made using synthetic polypropylene fibers, 100% wool, wool and cotton blends, and linen.
Contact a Rug Expert
Save yourself the time in choosing the right rugs for your home. Visit Cyrus Artisan Rugs Showrooms in: Minneapolis, St. Paul, & Rochester, not living in Minnesota? visit our showrooms in Sioux Falls SD & Des Moines, IA. Contact rug experts to help you in designing your home.