Lapchi Rugs: Bringing Custom-Made Artistry into Your Home
Posted On July 29, 2020
The best works of art are hung on walls and displayed on shelves. Spectators have no choice but to marvel at their beauty, operating under the understanding that they can "look but don't touch." 
But sometimes, artworks are simply too good to resist. They might even seductively whisper that you caress their tactile surfaces or curl your toes in them. 
This is exactly what sets custom-made Lapchi Rugs apart from the rest. The brand's artisanal and contemporary rugs are handwoven by master weavers using dyed Tibetan wool and Chinese and Indian silk. Made from premium materials, it's impossible to resist their luxurious feel, making them a priceless addition to any home. 
The true appeal of Lapchi Rugs lies in their ability to bring balance and harmony to any indoor space. Their styles range from modern to classic traditional, breathing life into rooms with their unique colors and textures. But more importantly, these area rugs can bring delight, pleasure, and well-being to any household—much like owning a work of art from a famous artist.
Lapchi Area Rugs: Revolutionizing the Handmade Rug Industry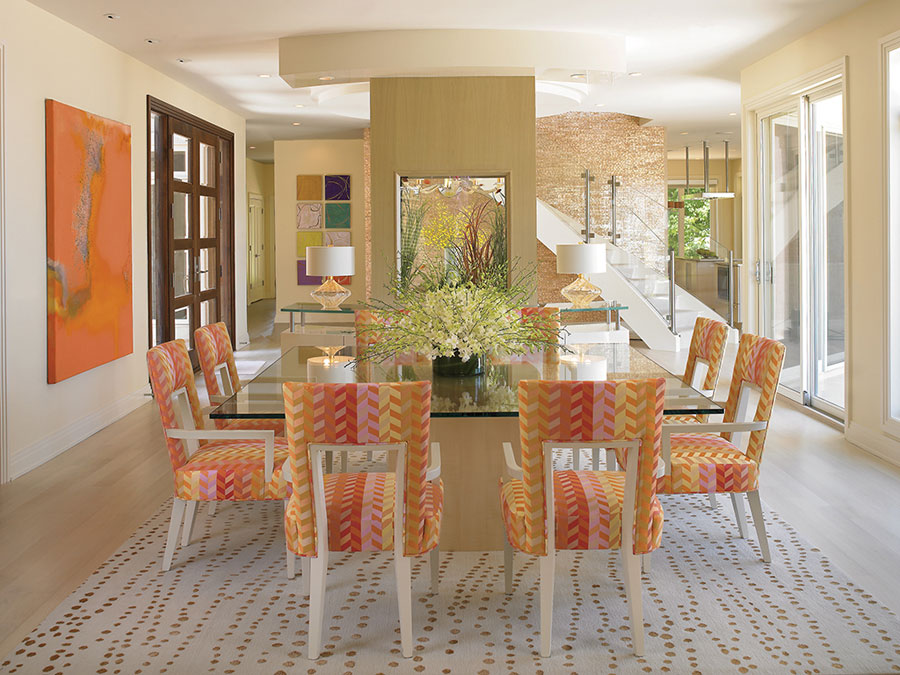 Lapchi translates to "abode of creative energy" in Tibetan. The name of the brand itself echoes Lapchi's core belief: that the perfect rug for any space should be made specifically for a person's needs.
The company wasn't the first to fashion made-to-order rugs, however. Rather, Lapchi was the first to create a business model based on custom-made rugs. Partners Salman Khan and Kerry Smith founded the business in 2001 with a clear objective: to disrupt the dominant business model in the handmade carpet industry that relied on significant inventory but had limited financial returns. 
But what exactly made their new business model so different? Lapchi dealers would typically purchase rugs in different styles, giving interior designers free rein to customize for size and color. Manufacturing took place in Kathmandu, where a team would oversee the production of the carpets. Through this approach, dealers no longer needed large amounts of capital to purchase rugs upfront, showing that barriers of entry into the industry could be quite low. 
Since then, Lapchi has sold over 6,000 carpets to professional firms, hotels, and high-end residential customers, including the hotel chain Ritz-Carlton and Oprah Winfrey. 
Individual Creativity & Expression in Design
Lapchi's Nepal Rugs demonstrate a sophisticated level of design virtuosity. Its aesthetic is based on the concept of mixing color, pattern, and texture to create true works of art.
Kerry Smith, co-founder of Lapchi Rugs, acknowledges the power of beauty when crafting handwoven rugs—but acknowledges the limitations that go along with it. "Lapchi makes beautiful rugs," he shares. "But nobody has a monopoly on beauty. Beauty is part of the cost of entry. Beauty is not a strategy."
As one of the pioneers of custom-made rugs, Lapchi follows a rigorous design process. It includes milestone sign-offs to ensure proper color and quality, and digital renderings and sample strike-offs to deliver nothing short of exceptional. 
Lapchi rugs are made in Nepal, where a community of weavers carries out the ancient tradition of Tibetan hand-weaving. The entire process is done by hand, which lends unique attention to detail. The result: luxurious, handwoven carpets of the finest quality.
But this isn't to say that Lapchi isn't pressing ahead with innovations. As a nod to today's fast-paced world, it launched an atelier website featuring a color generation software that lets users see what their rug will look like online. Furthermore, the brand also offers a "quick ship" program where customers can get their rug of choice within three days, instead of having to wait for four months for a custom product.
Lapchi Rugs expresses its philosophy of sustainable business through its partnership with GoodWeave, a non-profit that works to end illegal child labor in the carpet industry.
Adorn Your Space with Tibetan Wool and Silk Rugs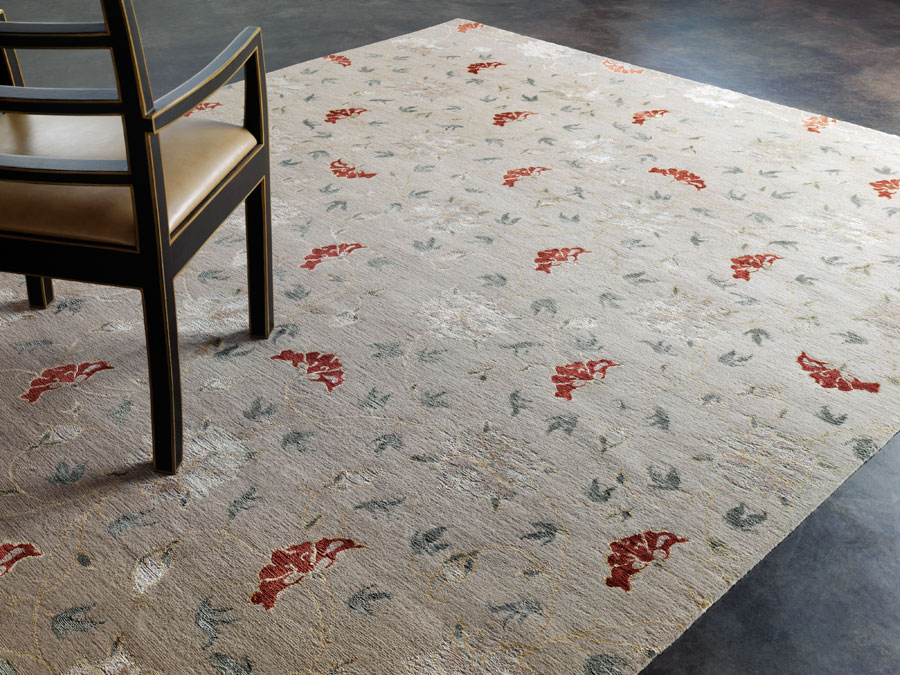 Interior design can be a rather complex process. After all, designing interior space covers everything from picking out curtains to deciding where to hang a chandelier. Rugs play a crucial role in dictating the design of a room because it could help harmonize different elements within a space or add an element of surprise.
It helps to think of area rugs as shoes to a well-coordinated outfit. One simply doesn't go about selecting the best outfit for a night out then leaving barefoot—wearing shoes help complete the look, the same way a carpet does.
People with a passion for design choose Lapchi carpets because of their quality, beauty, and longevity. These rugs are hand-knotted using time-honored weaving methods and are colored using the small pot dyeing technique, giving them vibrant colors and unique textures. But what truly makes Lapchi rugs stand out is their artistry. 
A Striking Visual Pathway
Lapchi's bold and floral designs provide an excellent visual pathway that can guide the eye to connecting rooms. Add character and warmth to hallways or corridors to prevent them from turning into dead spaces.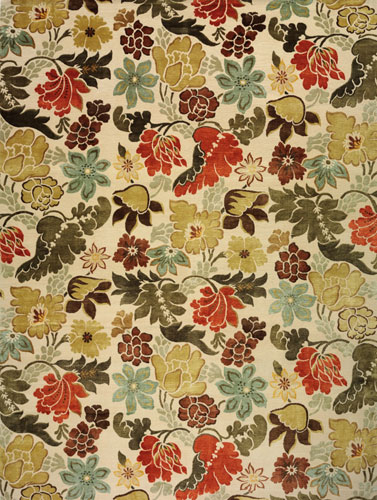 A Lapchi Broadleaf Rug features a distinct pattern of flowers and leaves, giving the impression of a vibrant trail when placed on the floor. The frosted green color of a Lapchi Thalia Rug, on the other hand, will turn heads with its subtle leaf illustrations and neutral palette. 
Layering Color & Texture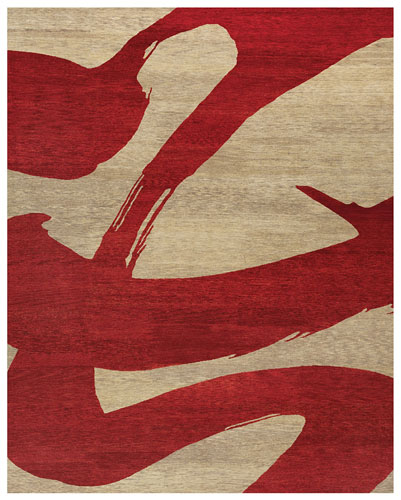 Sometimes, large, open spaces will benefit from layering certain aspects of your design to break the monotony. One way is by angling and layering one rug on top of the other to create a striking effect. 
The best way to go about adding a layer of texture and color is by adding the Lapchi Sutra Rug to the room. Its bold, red patterns provide a stark contrast to wooden and cool-colored furniture. To maximize its impact, consider layering these rugs to create a centerpiece and command attention to a table or sofa.
A Decorative Piece of Art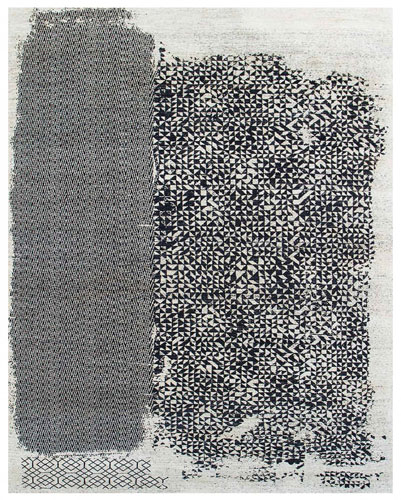 As previously mentioned, Lapchi rugs are works of art in their own right. The brand's monochromatic handwoven carpets are as good as a Picasso because of their cubist appeal. On top of that, adding them to the walls can give the room a more cohesive look. 
Lapchi Dapple Rugs and Lapchi Tortoise Rugs are great choices for wall hangings since their designs look like a splash of paint. The Lapchi Pattern Mix 5 Rugs, in particular, looks more like a painting because of the connected lines and Pointillist design.
Shop for Lapchi Area Rugs Online at Cyrus Artisan Rugs
Looking for genuine Lapchi rugs in Minneapolis? Cyrus Artisan Rugs is the premier dealer of handcrafted Nepalese rugs and Tibetan wool and silk rugs in the Minneapolis-St. Paul metropolitan area. Our inventory includes the finest Lapchi rugs with modern and traditional designs. Renowned for their tactile surfaces and striking designs, these exquisite and utilitarian works of art will breathe new life into your interior space. 
Visit our showroom in Rochester, Minnesota, to preview our collection first-hand. If you wish to customize a specific design, our design experts will be more than glad to assist you. Get in touch to make your appointment.