Pantone's 2021 Colors of the Year: Ultimate Gray & Vibrant Yellow Illuminating
Posted On January 11, 2021
2020 hasn't been an easy year. In this year alone, we've wrestled with the harsh realities of the COVID-19 pandemic, economic distress, and social upheaval. 
Even though it's daunting to think of what the future holds, the Pantone Color Institute's newly selected Colors of the Year for 2021 might just provide us with the conviction to stay positive for what lies ahead. On December 9, 2020, Pantone announced its Colors for the Year for 2021: PANTONE 17-5104 Ultimate Gray + PANTONE 13-0647 Vibrant Yellow Illuminating. 
These two colors are independent yet complementary, representing unity and mutual support. When used together, they express thoughtfulness with the promise of a ray of sunshine — which is just the hope we need to get through these trying times.
A Signal of Hope in Darkness
Pantone's Color of the Year has always been the result of a trend forecast based on popular hues. But this year seems to be an exception because the color choice seems to reflect a marketing message more than a trend.
The combination of dull, familiar gray and lemon skin yellow seem metaphorical. After all, the gray of cloudy skies, sidewalk cement, and bed linens capture the bleak reality of being cooped up at home over the past year. In fact, Ultimate Gray could very much describe the state of our collective consciousness, with heavy feelings of ambiguity and irresolution.
In contrast to Ultimate Gray, Vibrant Yellow represents the rising of the sun over a dark landscape — a subtle reference to the ray of hope that comes with the possibility of a vaccine.
An Appropriate Color Choice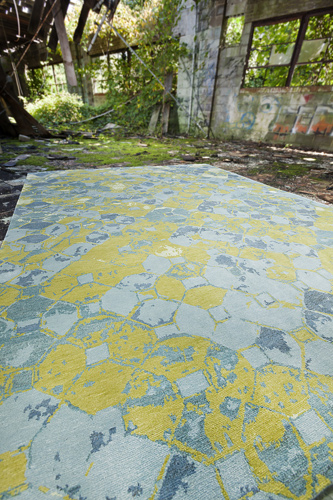 This interpretation isn't far from the truth. In fact, Pantone explains that Ultimate Gray and Vibrant Yellow best express the sensitivities of the current climate. 
In particular, Vibrant Yellow is a bright and cheerful color that exudes vitality; it's a warm color that represents solar power. Ultimate Gray, on the other hand, is a bold, dependable shade that reflects a solid foundation. Even though it's a neutral color, Ultimate Gray offers a quiet assurance, encouraging feelings of resilience and composure. 
It's the first time in 22 years that Pantone has selected two colors of the year. In 2020, Classic Blue was handpicked as the Color of the Year because of a prediction of a strong blue trend in design.
The Color of the Year isn't just some passing trend either: Pantone's ability to forecast popular hues is a strong marketing force that will influence designs in fashion, textile, and furniture. So by next year, you can expect yellow and gray rugs, exterior paint, toothbrushes, nail polish, and accessories to be all the rage.
Designing with Ultimate Gray & Vibrant Yellow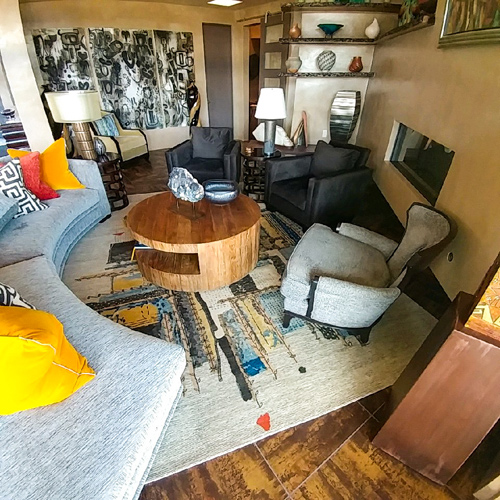 After a rough year of staying sheltered indoors, designers are optimistic that those planning a home upgrade will incorporate the optimistic color palette into their space. 
Designer Cortney Novogratz from The Novogratz shares that the two colors have always been a staple in their products. "Yellow makes you happy and gray is the perfect neutral," she shares. 
LA actress and designer, Arden Myrin, is also on board with the Ultimate Gray and Vibrant Yellow trend. In fact, she has just recently painted the door to her Silver Lake bungalow yellow. "It makes me so happy every time I see it," she says. "I am a firm believer that life can be hard enough, your home should be hopeful and joyful. What a wonderful decision to pick two colors."
If you're also keen on designing with Pantone's 2021 Colors of the Year, we've provided some useful tips below.
Use Yellow as a Focal Point
Vibrant yellow provides a stark contrast against gray so use its brightness to your advantage. For example, you can add a touch of flair to your fireplace by adding a lick of yellow paint. This way, you can inject a sense of energy into your room and give classic designs a modern twist. 
To make your room truly command attention, adorn your space with a yellow area rug, white furniture pieces, and monochromatic artworks.
Make Subdued Shades Appear Dominant
Did you know that pale gray and yellow can create an ultra-light and crisp ambience in your household? Start it off with a light backdrop or neutral rug with subtle patterns and white chairs. Add decorative accents by using yellow fabrics and accessories. 
Even though these are subtle shades, you can make them look dominant with the way you arrange your furniture and display pieces. For example, a slate gray coffee table will truly stand out when placed on top of a light yellow rug.
Experiment with Colorful Patterns
If you're on the more daring side, consider incorporating decorative pieces with colorful, geometric patterns into your space. For example, you may opt to choose pillowcases with yellow, geometric patterns to give your dark grey sofa a fresh look. You might also want to keep your space cool by painting your walls a light gray. 
If you want to take your retro design game a little further, you can also choose wooden tables and chairs to accompany the look and add a textured look to your space.
Choose Floral Patterns
If you want to create a harmonious country vibe, consider designing your room with floral patterns. The perfect balance of primrose yellow and lead gray in your wallpaper can give your room a classic, chic look, for instance. You might also want to design your walls with floral landscape paintings and use light yellow teacups to bring a pop of color into your space.
To break up the color scheme, consider adding wooden decorative pieces, gray rugs, or painting a section of your space a light gray (such as your chimney) for an overall harmonious look.
Keep It Simple
Sometimes, it doesn't have to be complicated. If your space already has gray walls, let your furniture do the talking. For example, a mustard yellow sofa can instantly breathe life into your space. Or if you want to keep your room serious, add drama and depth by installing dark, charcoal accent pieces. 
Enhance the Look of Your Space with an Area Rug
Welcome Pantone's Color of the Year for 2021 and choose Cyrus Rug for your interior decorating needs. Our top-quality rugs are brimming with personality and style so you can breathe life into your space and stay positive for the year ahead. We carry gray rugs and yellow rugs, but we also offer a customization program so you can create your ideal rug. Browse our inventory and shop with us today.