The Art of Rug Layering
Posted On June 8, 2022
A rug is one of the easiest ways to give your space extra visual appeal. But why pick just one out of the many rug styles available? Feel free to experiment and follow our interior decorating tips to achieve a layered rug look that suits your home.
Area rug layering adds a bit of sophistication to any area and protects your flooring from damage–making your space look clean and cohesive. But how exactly do you layer your rugs to make your room look better?
With the help of some key interior design concepts, we've listed some ideas you can try out so you can explore the art of layering area rugs yourself.
Go Out Of Your Comfort Zone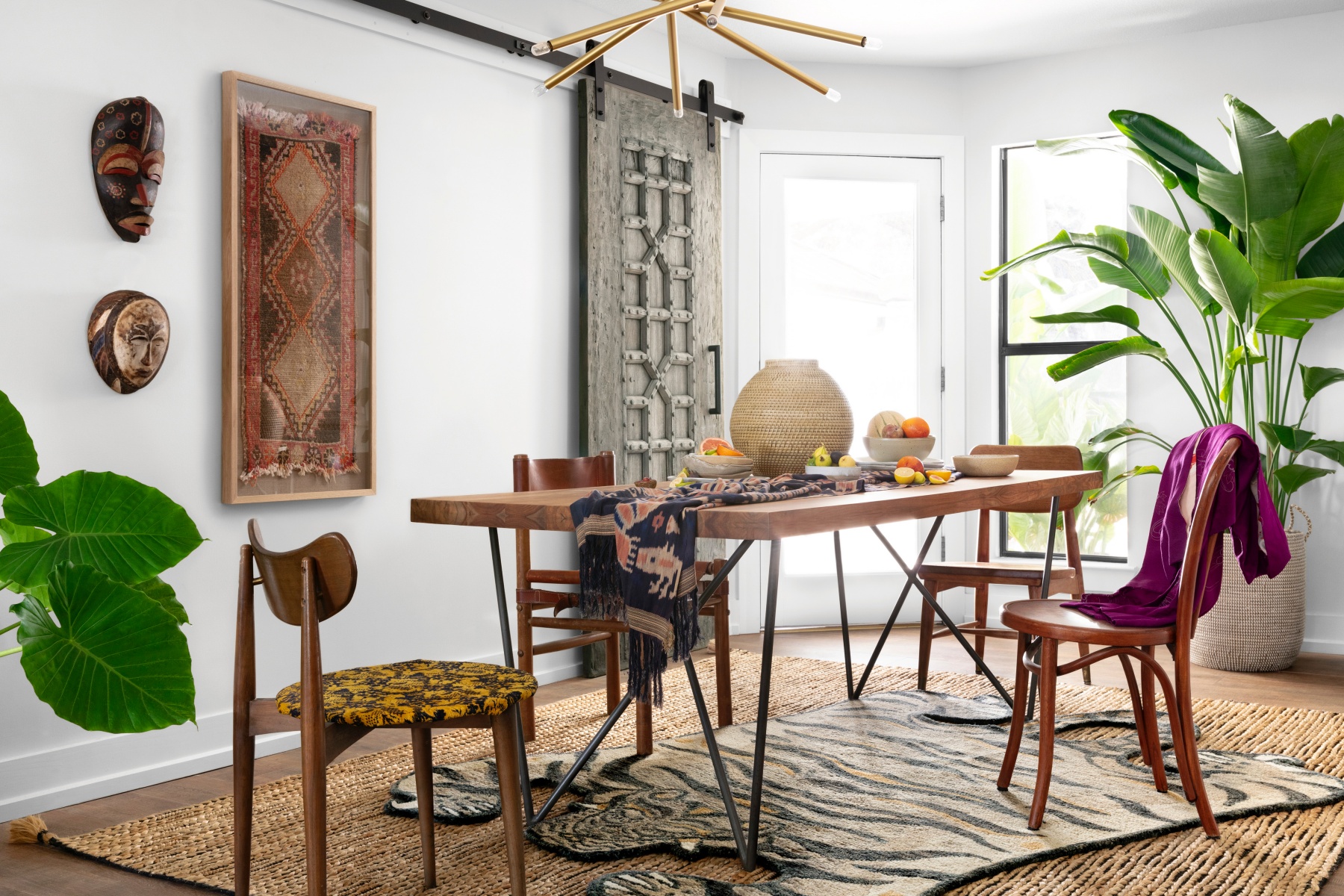 Sitting rooms and bedrooms aren't the only places to layer carpets together. Try going out of your comfort zone and consider placing rugs over other rugs in unconventional areas like the hallway or kitchen, especially if those rooms have hardwood floors. 
Just make sure to assess the space's design beforehand so these pieces can blend in seamlessly with their interiors. Here's a handy design note–rugs with bold patterns will complement minimalistic rooms, while solid and patterned pieces will look great in areas with wallpaper or bold designs.
Create a Focal Point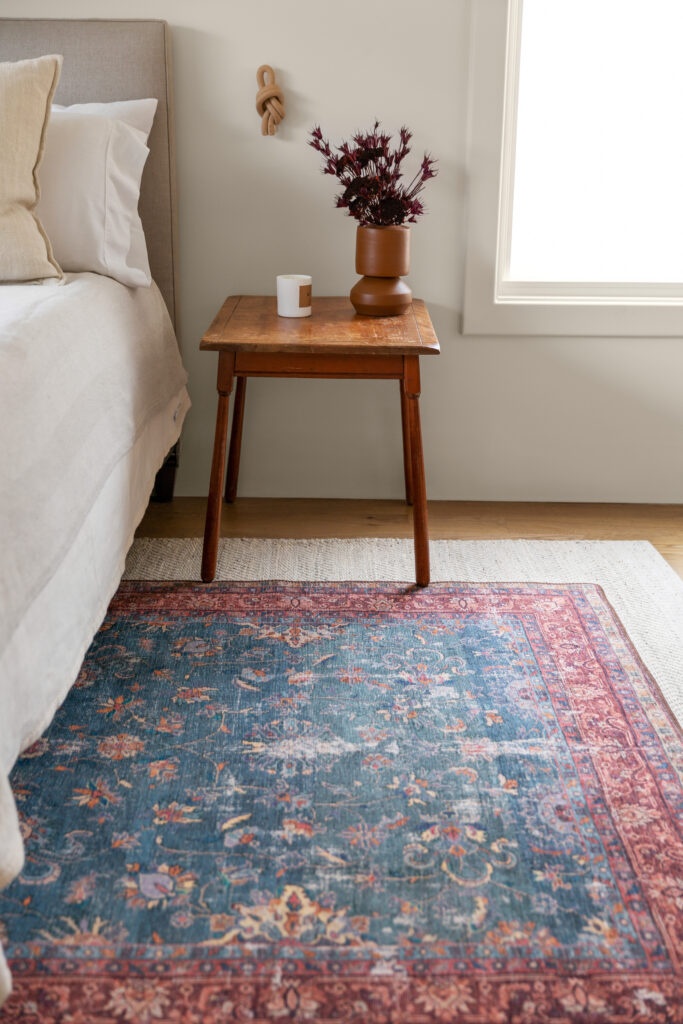 Rug layering helps direct the viewer's eyes toward a specific area in your room. This method works well in open-concept settings since it anchors the space and creates definition between different areas and furniture pieces. 
It's even more effective when using pieces with contrasting hues and patterns, allowing you to emphasize eye-catching furniture or other decorative accents in your home.
Turn your favorite furniture into a focal point with these rug layering design tips:
Place a vividly patterned rug on a neutral-colored one.

Add a light-colored rug on top of a dark carpet.

Install dark-colored rugs on a light-colored piece.
These tips work best when using a large rug that's visible under your furniture. If you're working with a smaller rug, install it at an angle that'll keep it noticeable.
Harmonize with Size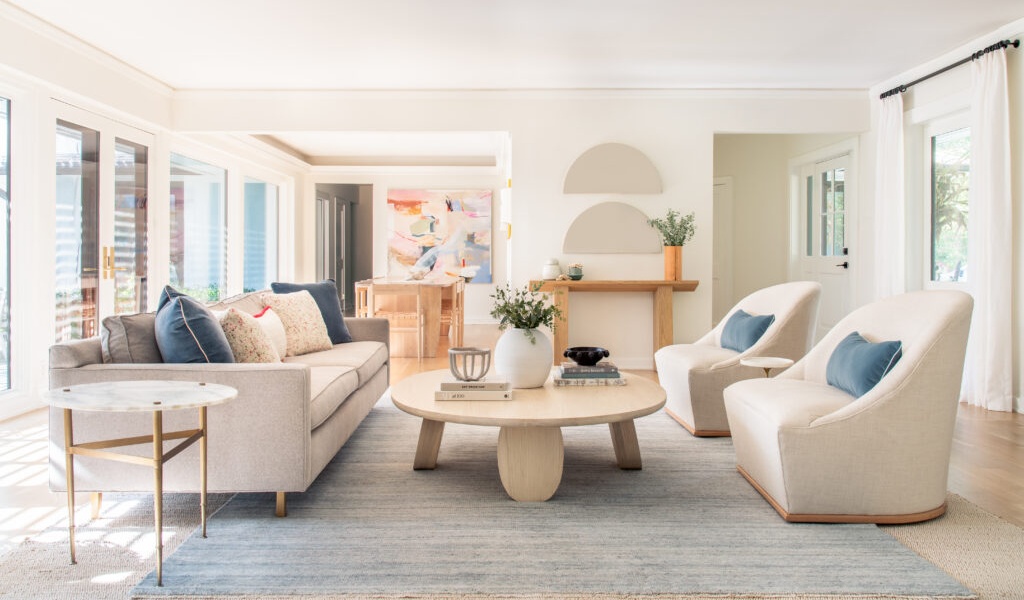 Invite a sense of coziness and comfort into large spaces with layered rugs that serve as effective anchors for furniture pieces and command attention no matter how vast your interiors are. On the other hand, smaller rugs placed in the middle of the room can help ground and define a smaller area. 
As a general rule of thumb, standard area rugs should have around 10 to 20 inches of bare floor between your rug's edges and your interior walls when installing your carpets. Achieve a sense of balance and harmony by ensuring your furniture sits on top of your rug. 
Experiment with Rug Placement
You can also play with your space's lines and angles. Try directing the piece above your base rug at the area you want to highlight or placing it at a 45- to a 90-degree angle. Also, make sure your larger base rug aligns with your furniture and set your smaller accent rug at another angle. Look at your placement afterward and decide whether to go with it or place it elsewhere.

Inject A Pop of Color
Injecting a pop of color into your interiors livens it up without much effort, and layering rugs allow you to do this without going overboard. For example, you can layer a neutral color over a vibrant one to create a sense of depth and visual interest. Don't forget to choose complementary colors that match your interior decor to keep a consistent overall design. 
Play Around with Patterns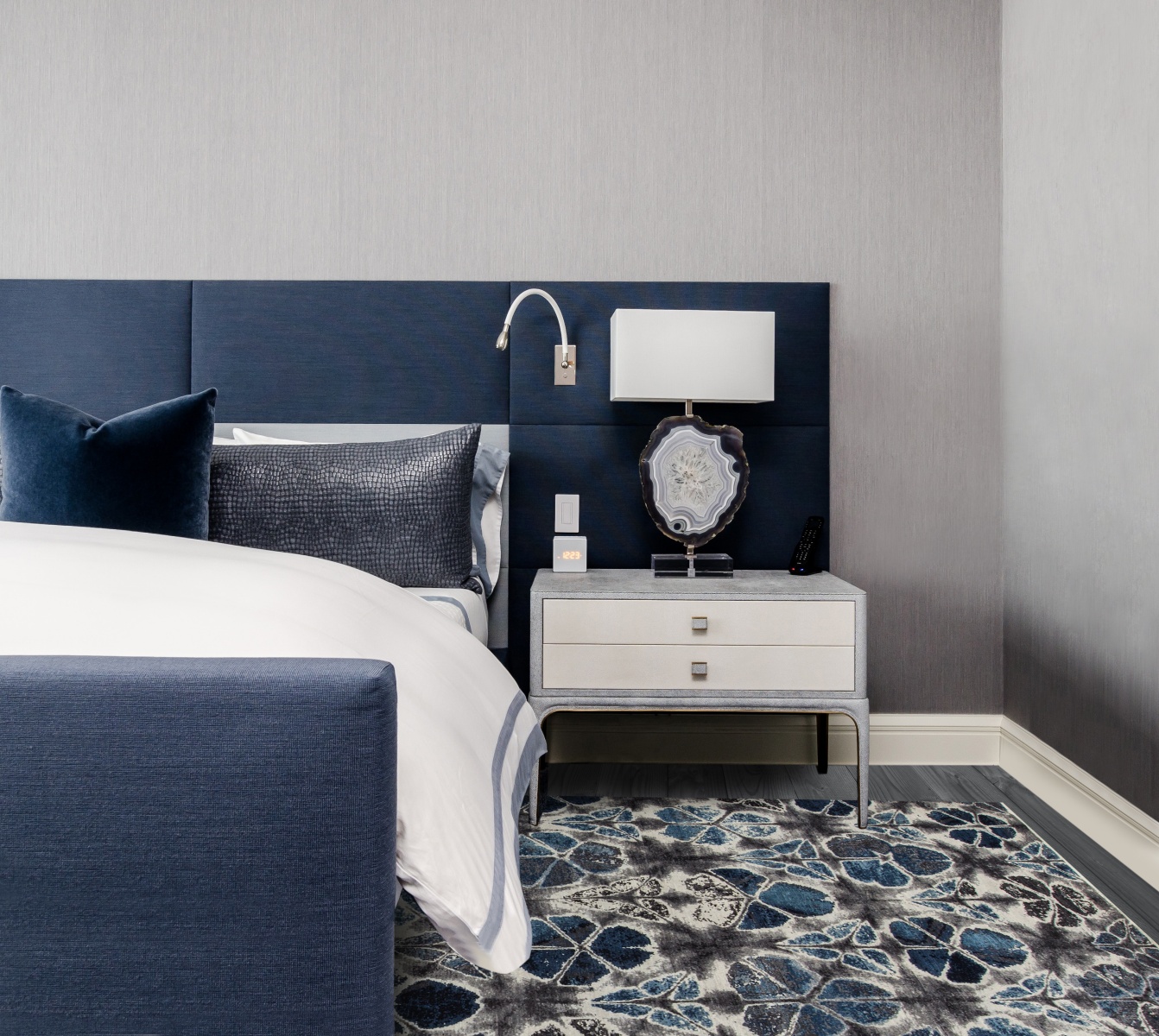 Bold patterns are a little intimidating to work with, but they can do wonders for your space when applied correctly. Start by complementing the most prominent pattern on your base rug with smaller patterns on the top rugs. Choose tones with the same intensity if you're opting for a pattern-on-pattern style to tone down its severity.
You can also go with tone-on-tone patterns for a cohesive look. This way, your space can gain depth and character while maintaining its style.
Think About Texture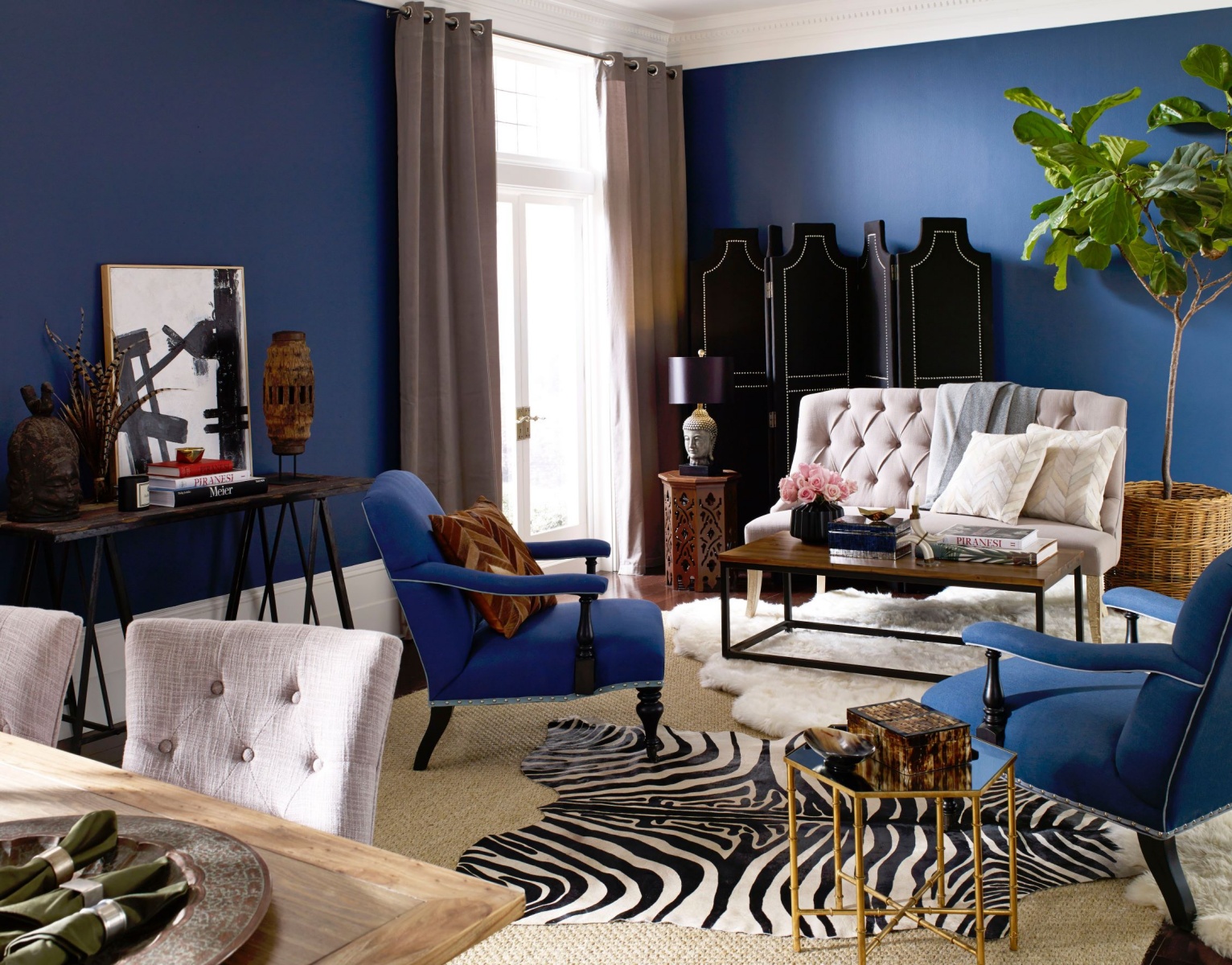 The texture of your pieces is another factor to consider when layering them. You can add patterned carpets over natural fiber carpets to emphasize texture. But if you feel a little daring, look into layering rugs with different textures. It lets you subtly turn any room into a more attractive space. And like tone-on-tone patterns, textured rugs over each other can give your interiors more depth.
Here are some texture-on-texture combinations you can try:
For an eye-catching, subtle look, try layering a cowhide or sheepskin carpet on a piece of jute or sisal carpet.

Another excellent texture combination would be for you to place a soft rug over a

flat-woven piece

.

Put a jute rug over a wool rug to add interest.
Welcome Nature to Your Space
If you have a sisal rug, a patterned rug over it introduces a hint of the great outdoors to any room. This layering technique works in spaces connected to alfresco areas and roots your home to nature while creating a more playful design. Additionally, a pattern on a sisal carpet gives your room extra character and warms it up.
Mix In The Old with The New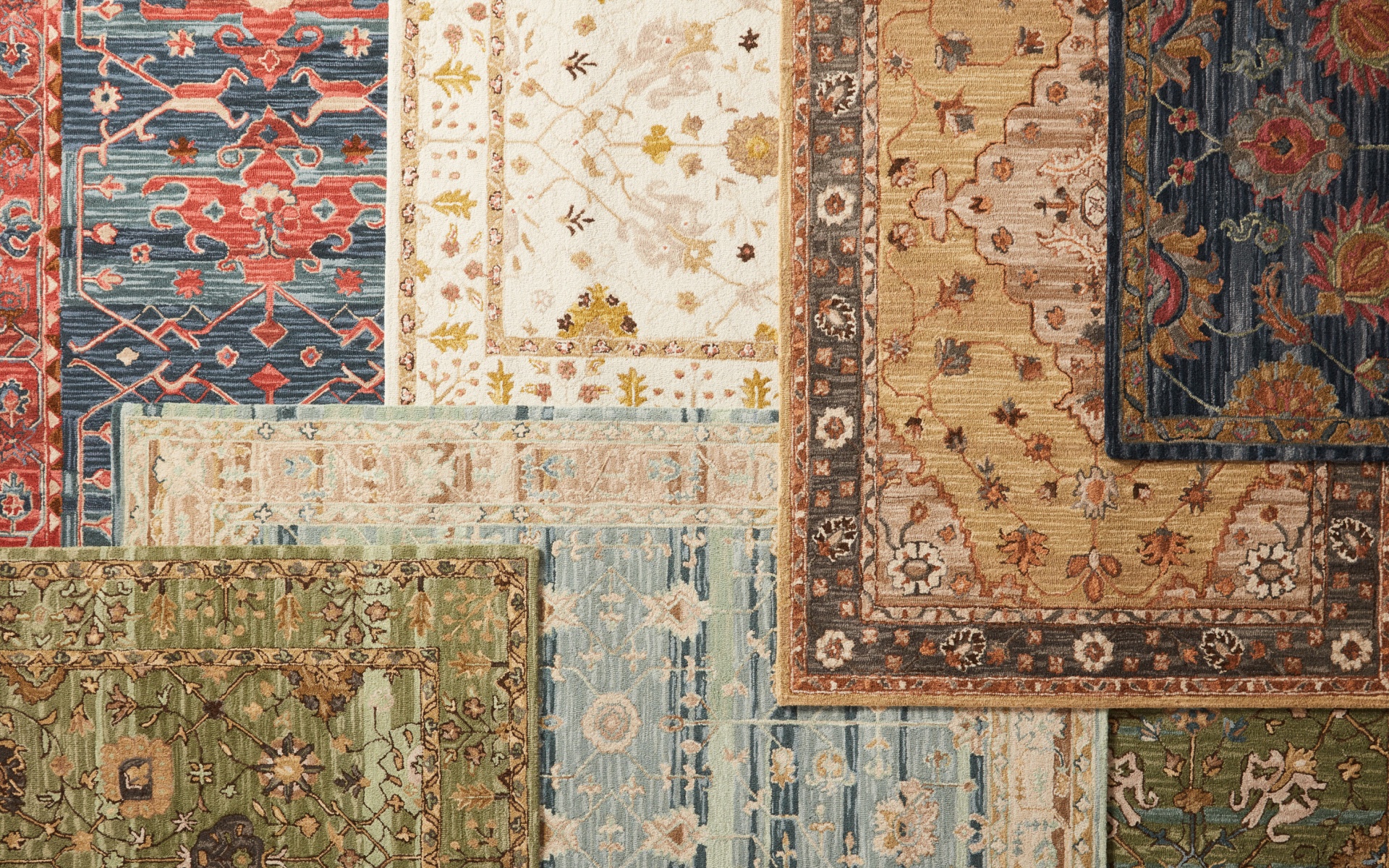 Want to decorate your space with smaller-sized or torn rugs? Go ahead and layer them. If the antique rug you treasure doesn't fit your home, but you love its colors and design, place it over a sisal rug. For something different, a big base rug with vintage Persian and sheepskins above it will do. This mix means more pattern, color, softness, and texture.
Combining worn rugs with other rugs can work too, but make sure the chosen rug is still in relatively good condition. As you layer an "imperfect" rug, avoid placing it in a high-traffic area like a hallway or kitchen.
Decorate Your Space with Layered Area Rugs
When it comes to layering rugs, you don't have a strict set of rules to follow–have fun and figure out what works best for your space!
Achieving a layered rug look offers various design opportunities and lets you create visual interest and add depth to your space. Keep it fresh and rotate your rugs regularly if you want to change the look of your interior.
Cyrus Artisan Rugs can help you find the best rugs for layering. Our inventory includes eye-catching area rugs in various styles, colors, and patterns. We service the Minneapolis-St. Paul area and cater to rug collectors and enthusiasts in Sioux Falls, SD, Rochester, MN, and Des Moines, IA.
Reach out to us if you want to customize your carpets to complement the design of your space. Find the perfect rug and visit our website today.