Traditional Interior Design Ideas for Your Home
Posted On April 23, 2021
Traditional interior design is largely influenced by classic pattern preferences from the 18th and 19th centuries. Warm and timeless, this style combines all the elements of the room to make it homely and cohesive.
Neutral walls with moldings, cozy furniture, and traditional area rugs are just some of the elements you'll be using when you're going for a traditional interior design. Of course, to make the room suit your unique style, you shouldn't confine yourself to the traditional layout alone.
You could try incorporating modern elements into it to bring out the best of both worlds. What's more, you'll also need to decide what décor you're going to follow. Traditional interior design includes concepts taken from France, England, Europe, and the Far East.
Each of these places has a distinct presentation to them that makes them unique. It will be up to your individual preference how you'll arrange the space. But at the center of it all are symmetry, consistency, and predictability. While you may be thinking that those elements are boring – and they can be – these are actually the strengths of traditional interior design.
Here are elements you should pay attention to when you're going for this interior aesthetic:
Wall
Floor patterns
Furniture
Woodworking
Traditional area rugs
Overstuffed sofas
Clear or patterned pillows
Exquisite draperies
Walls, flooring, and traditional area rugs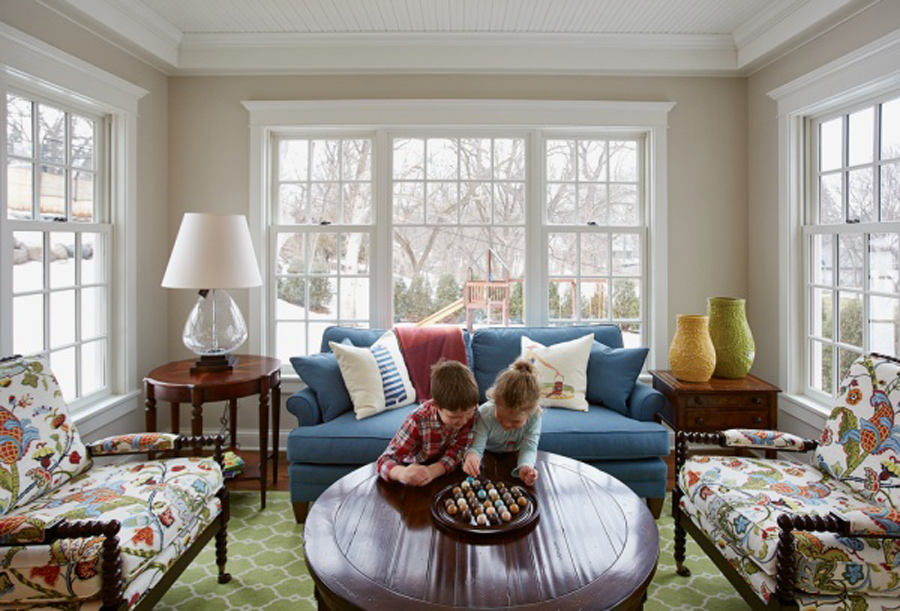 Walls and floor patterns serve as the backdrop for any traditional interior design ideas. Think of them as the canvas for the painting you're about to draw. As such, you'll usually want them taking on shades of white. Cream, beige, vanilla, ivory, and Navajo white are just some of the options you can choose from.
However, you can also elect to paint your walls with bold colors. People do this as they want the wall to act as an accent to highlight specific furniture or accessories.
Meanwhile, traditional interior design usually uses wood for the flooring. This is to bring a dark and rich quality to the space that enhances its luxurious feel. Maple, cherry, Merbau, walnut, and mahogany are just some of the woods that are commonly used. What's more, they are often lacquered so they give off a luxurious and captivating elegance.
And of course, traditional area rugs are also added in. One of the reasons for this is that this floor covering makes a room appear larger. Conversely, it can also scale down a room's appearance and make it more cozy and intimate.
Aside from size illusions, rugs are also great at unifying a room's color schemes. This is especially true when the shades and patterns are all over the place. Persian and Oriental traditional area rugs are just some of the most common types you'll find in homes with this classic design composition.
Furniture for traditional interior design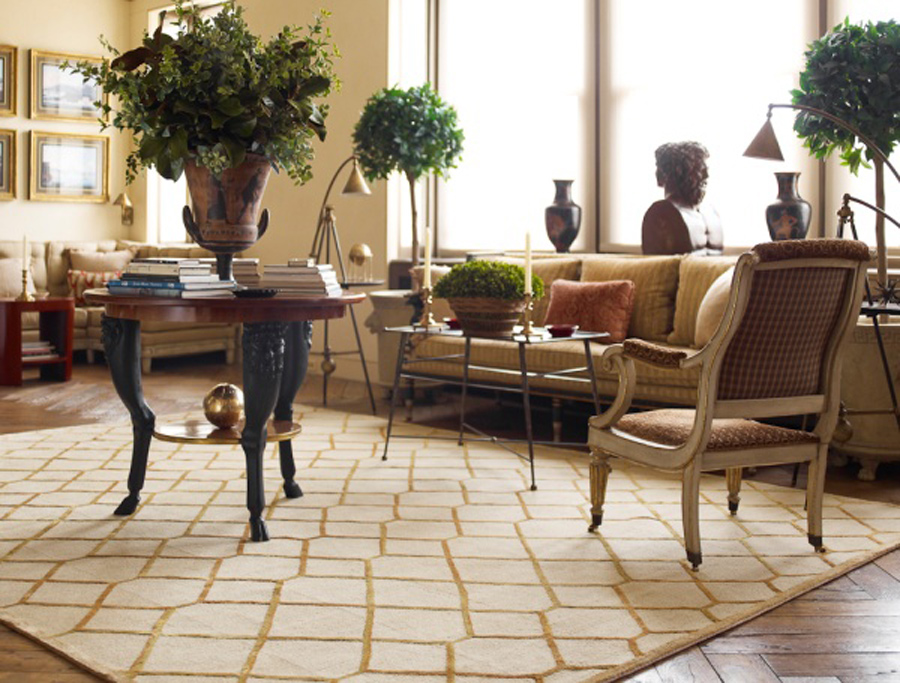 Now that the backdrop has been set, it's time to think about the individual elements of a space. Furniture will play a critical role in this. From sofa and recliners to sideboards and coffee tables, traditional interior design ideas favor furniture that is striking and sumptuous.
There is nothing minimalist about this approach. This isn't surprising since traditional interior design draws a lot of influence and inspiration from the regality of royalty. Carved wood, claw-footed tables, antiqued-style chest, and winged-back chairs are just some of the most common furniture you'll find.
Each of these elements will add elegance to a particular space. And thanks to the neutral backdrop of the walls and the richness of your flooring, your furniture will be accentuated. However, it's important to remember that their design shouldn't clash. Instead, they should complement each other.
Pillows and draperies
Moving on, your pillows, draperies, and upholsteries should match your interior's entire layout. So what sort of fabric do you need for traditional interior design? Silk and velvet are usually favored.
As for patterns, you can choose between plaid, damask, floral, or paisley. You can also opt to add trims to your pillows and curtains for that added luxurious appearance.
Of course, all of these should complement or accentuate the traditional area rug of your choosing. If you chose patterned pillows and draperies, your area rug should take on a muted motif. But if they are neutral, your rug should be the one taking on the pattern design. This is to tie the room together and create an aesthetic cohesion for all the present elements.
Accessories for traditional interior design ideas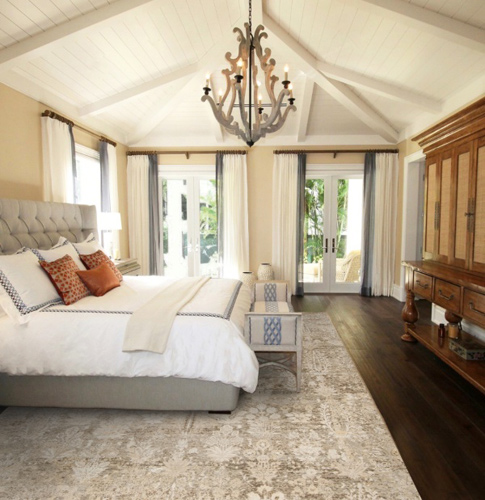 With regards to the accessories, traditional interior design often includes classic clamps and clocks, curved candelabras, ornate bowls, and clear or patterned vases. Most of these accessories will have a carved design reminiscent of the style artisans favored in the 18th and 19th centuries.
Finally, you should also consider adding a mirror to your space. Mirrors are an excellent accessory to add more dimensions to a room. That's doubly true if the room is tight and a bit stuffy. Hallways and corridors are also perfect locations for these accessories as they add depth and width to the space.
Hanging them at the side of a window will accomplish the same thing. What's more, it'll also reflect the natural light that will boost a room's aesthetics. It can even make exquisite furniture and elegant paintings stand out if you install them opposite these elements.
A Reflection of the Past
Traditional interior design allows you to enjoy the calming and luxurious atmosphere of the 18th and 19th centuries. Whether you've chosen France or European style, you'll find yourself taken back in time when lounging in a room with this layout.
And the best part is that you don't have to limit yourself to these concepts. You can add your modern spin to it. Maybe you want to install a MicroLED TV on the wall beneath your traditional area rug. Or maybe you want to tone down the classical feel of a room and add a modern open space to it.
Whatever your preference, your only limit is creativity. The most important part is bringing the past into the present and creating a homely space for you and your family to enjoy.
Visit our Showrooms
Visit Cyrus Artisan Rugs Showrooms in: Minneapolis, St. Paul, & Rochester, not living in Minnesota? Visit our showrooms in Sioux Falls, SD, Des Moines, IA, Austin, TX, Scottsdale, AZ & Palm Beach, FL. Choose from our wide range of rugs.