8 Ways to Divide a Studio Apartment
Posted On December 6, 2022
Maximizing your living space no matter how big or small, is essential if you want a more comfortable living area. Studio apartments tend to look cluttered and cramped due to their limited space. But you can still make your home look open and spacious without needing a major design overhaul. 
Whether you're aiming for a minimalist look or want a bolder and louder design for your studio, you can achieve your desired look by choosing the right elements for your small home.
Here are eight tips on how to section a studio apartment efficiently.
Use Curtains or Bookshelves as Walls
Curtains are more than window coverings. They are the easiest ways to divide rooms in a studio apartment. You can use them as barriers or doors and put them virtually anywhere around your home. You can even choose different prints and textures that would work well with your existing decor. Lastly, curtains make your space look more open and cozy.
If you're not a fan of curtains, you can instead have different open shelving units as your room dividers. These shelves are a great option for small apartments since they function as walls and additional storage.
Use Glass or Foldable Partitions
Speaking of walls and divisions, you can also opt for glass partitions or foldable dividers for your space. Glass partitions can make your small apartment look bright and spacious.
Foldable dividers or screens are also a good option since you can put them aside when not in use or if you want more room. These dividers can have woven patterns and similar designs that can still give your space more character and variety.
Create Sections in Your Space Using Area Rugs
Textiles have a bigger impact in smaller spaces. This is why most apartments use area rugs to divide zones between rooms. For typical spaces, using numerous carpets can be too much. But for apartments with smaller floor plans, area rugs can help define the different areas in the space.
Using different rugs for your bedroom area, living room, and dining area will give a different visual feel for each space, even if you don't have defined barriers for each zone. You can mix and match your rugs by using different sizes, colors, and shapes. You can use a dominant color for each zone in your studio to define these spaces even more.
The Cyrus Artisan Afghani Aryana Bakhtiari Rug, for example, is a tribal rug that's easy to mix and match with the rest of your space.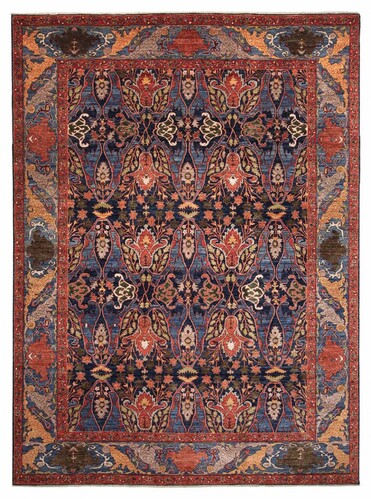 If you want something more subtle, you can use the Accord Sultan Rug for your bedroom or living room for that relaxing atmosphere.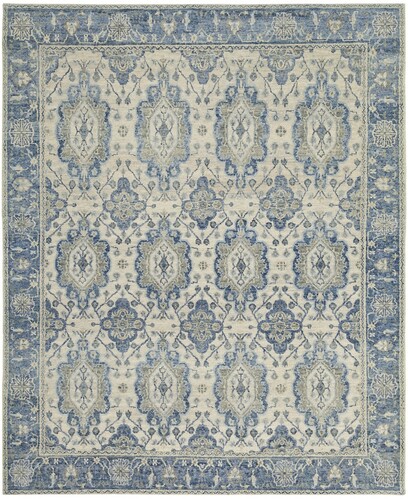 Use Pendant Light Fixtures
Instead of using bulky lamps and chandeliers, you can use pendant lighting instead. These lightings are often suspended from the ceiling by a metal rod, cord, or chain, saving you a lot of floor space. This is why this type of lighting is one of the best and most efficient ideas to divide studio apartment areas.
Pendant lights are stylish and versatile space savers. They also provide more light due to their elevation, making them ideal for particular spaces that are otherwise dark or dimly lit with conventional light fixtures. Lastly, pendant lamps and lights are much more stylish and affordable options, giving you more bang for your buck when decorating your space.
Get Multifunctional Furniture
Multipurpose furniture is a great space-saving option for your home. Most of these pieces of furniture reduce clutter by double as storage containers. You can get stools that are also boxes, foldable sofa beds, and ottomans that can be used as side tables. 
Also, Since your furniture has more than one function, you save money by not having to buy additional pieces for other uses around your space. Use multifunctional furniture to maximize your space while still keeping it looking chic and organized.
Raise your Bedroom
Another tricky aspect with studio apartments is having the bedroom area in the middle of the whole room. Instead of moving your bed and putting it against a wall or corner, you can raise the floor of your bedroom area. This will provide you with additional storage under the bed and also set your bedroom apart from the rest of the living areas in your apartment.
You can also use more of the draperies and curtains mentioned earlier to separate your bedroom area from other areas in your space for more privacy.
Color-coordinate Each Section in Your Space
Divide and color your studio apartment if you want to section areas other than using rugs and furniture. Use warmer tones for your kitchen, dining, and living room area, where you'll often have people. Reserve your blues, grays, and greens for the bedroom or your study or office area.
You can use specific rug and carpet colors for defined areas in your studio apartment as well. If you want something less obvious than using colored rugs, you can add subtle hints of your preferred color in a room. You can use different shades of blue for your pillows and bedding or use warm lighting and subtle orange hues for your dining area.
Consider a Floating Wardrobe or Closet
Floating closets forego standard doors and panels for storing and hanging your clothes. You can still keep seasonal clothes in boxes for storage, but for the rest of your wardrobe, a floating closet can be a great choice. 
It makes your clothes part of your home decor and saves you a ton of space. Having a floating closet also contributes to the open concept of your home, making your space look even more cozy and airy.
Have a Stylish and Spacious Studio Apartment with Ease
Decorating a small space without having it look too cramped can be tricky. The small floor plan leaves much to be desired at first glance, but with the right furniture, layout, and design elements, you can make your apartment look bigger and more open.
These types of spaces push you to be more creative in decorating since you need to make it have a cozy and airy look without making it appear cluttered and even smaller than it already is.
For more interior design and decorating tips, check out the Cyrus Artisan Rugs blog today.