Decorating with Orange: 7 Ideas That Can Work for Your Home
Posted On January 20, 2022
From apricot to spice, from sunset to tangerine—orange comes in all shades and sizes. Whichever shade you choose, it's guaranteed to add passion, warmth, and energy to your home.
Decorating with the color orange can be tricky at first. But once you strike the right balance, you can achieve a delightfully vibrant room that radiates warmth and cheerfulness. In this article, you will find different ways to sprinkle touches of orange throughout your space.
How to Decorate with Orange
: Color Combinations
Orange is a standout color due to its natural vibrance, making it ideal for accent pieces. Because of this, there are many ways to mix and match this cheerful hue.
Since it's an eye-catching color, orange is typically paired with more muted tones. Favorites often include neutrals like gray, beige, and white. These colors go well with orange since the muted hues serve as a backdrop to the pop of color that orange brings. The neutral tones balance out the vibrant hue, creating a sight that is easy on the eyes.
Using the color wheel is also an excellent way to know how to use orange. For example, blue serves as a high-contrast pair to orange, as these two colors are complementary. It gives off a classic, timeless vibe reminiscent of the 70s or 80s aesthetic.
This vibrant color works well on its own, too. With the right combination, you can successfully pull off a dominantly orange-colored space. The key lies in using different shades and tones of orange to add variety and balance. For instance, you can paint the walls with a mellow orange hue like carrot and accentuate them with decor in deeper shades of orange like amber.
7 Tips for
Decorating Your Home with Orange
Now that we know which colors pair well with orange, it's time to start decorating our place! Here are seven exciting ways to get started:
Adorn the Walls in Orange
If your walls feel bare, add a splash of color with orange! A bright orange accent wall adds visual interest and character amidst neutral hues. Placing one in your living room sets a warm, welcoming ambiance that's perfect for socializing.
If you prefer patterned pieces, you can use orange-colored wallpaper. It comes in a variety of fun designs that you can install and remove on your own.
Opt for Orange-Colored Furniture
Want both functionality and style? Consider infusing a touch of orange in your furniture items. It's an effortless way to add color in an otherwise dull space.
For example, you can switch your shelving cabinets with ones that have orange back panels. If you have a reading nook or a home office, try lining the bookshelf in rust or spice things up by topping the room off with a soft pastel orange armchair. Then, complete the look of your space using other accent pieces and decor in different shades of orange.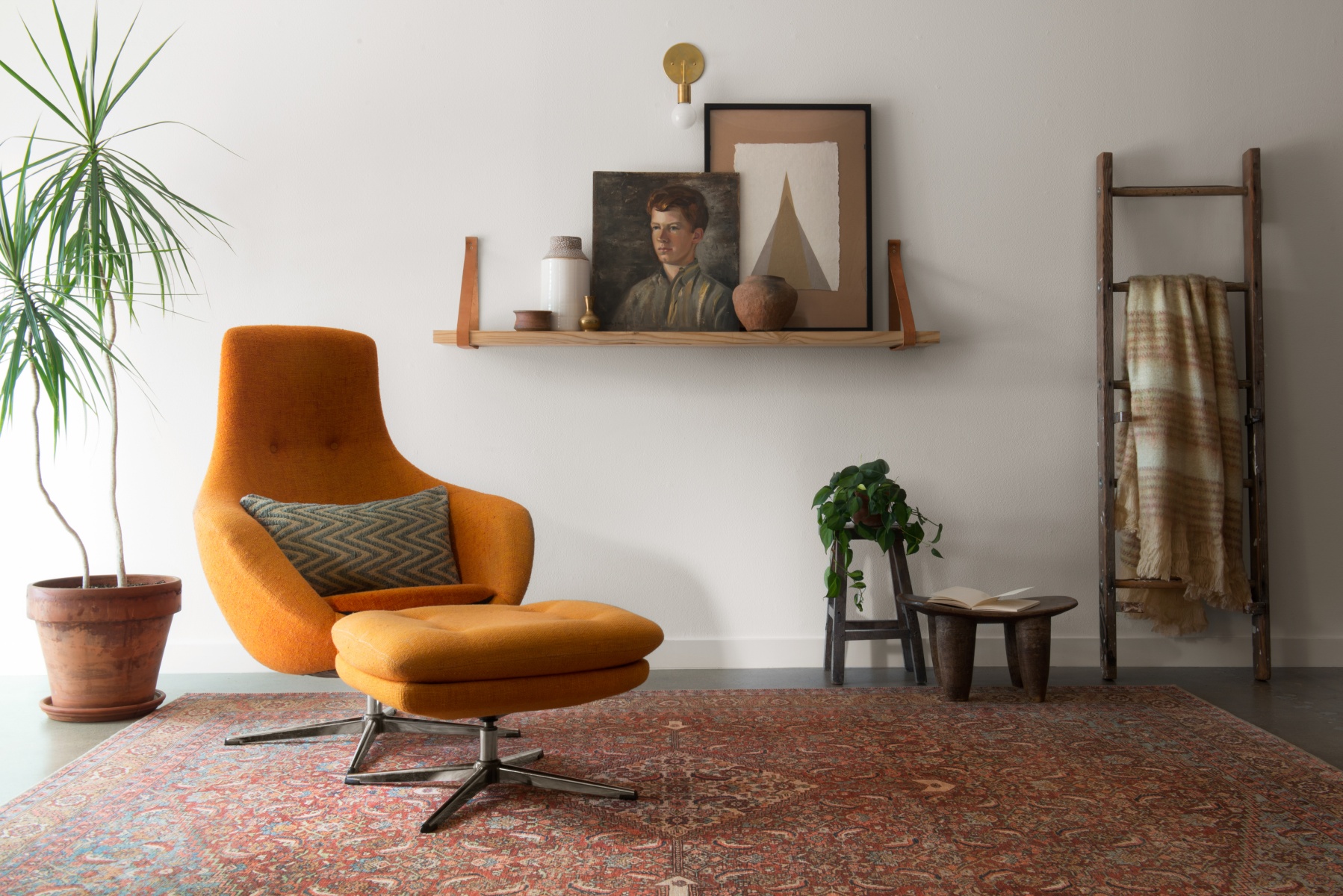 Since orange is a warm color, it's an ideal pick for cozy seats. Pair it with soft cushions, and you'll have comfortable chairs that you and your guests will enjoy lounging around in. For example, welcome your guests warmly with a plush burnt orange sofa in the living room. You can also add pumpkin-colored couches and chairs for extra seating. 
For your dining room, you can pair an elegant wooden table with bright orange chairs to add a fiery flair. Swap your larger furniture with tall tables and contemporary bar stools with rust-colored accents if the space is too small.
Accentuate Using Orange-Colored Furnishings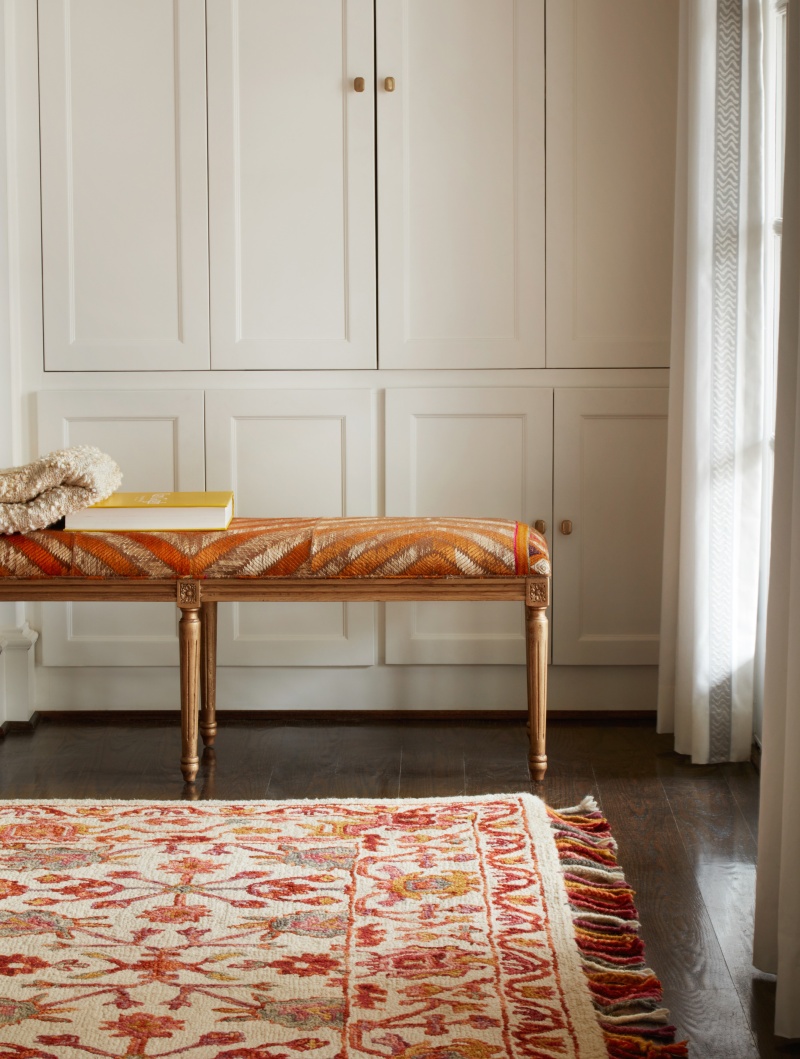 Just like with any vibrant color, orange hues are best used in small, subtle touches. How can you do that? You can use tasteful furnishings and ornaments to your advantage.
For example, adding tangerine throw pillows gives a nice pop of color to white or light-colored armchairs and couches. You can also hang a vibrant sunset painting on your wall as a standout piece.
Bring life to your kitchen by placing a vase of marigolds or carnations in the center of the kitchen aisle. You can also consider swapping your pillowcases with peach-colored ones to break the monotony of the neutrals.
Drape the Windows in Orange
Want a change of pace in your window panes? Try changing your curtains to a shade of orange. This color will invite warmth from the outside and brighten your space.
You can use a thin curtain with a lighter shade of orange during hot days. Add an extra razzle-dazzle by lining them with orange ribbons. During cold weather, you can then switch to thicker curtains with earth tones during colder weather to make your space feel warm and cozy.
Choose Warm Lighting Fixtures
No matter how big or small your space is, you can never go wrong with extra lighting. Brighten the room like nobody else by using accent lighting with a tinge of orange.
For example, set a rejuvenating spa-like ambiance in your bathroom using apricot candles or lamps. They both emit a warm, orange glow that sends you to peaceful bliss.
You can also illuminate your modern bedroom with an orange lampshade. As for the living room, consider installing a unique citrine pendant lighting in the ceiling, which works both as a stunning centerpiece and a functional fixture.
Warm the Floor with an Orange Rug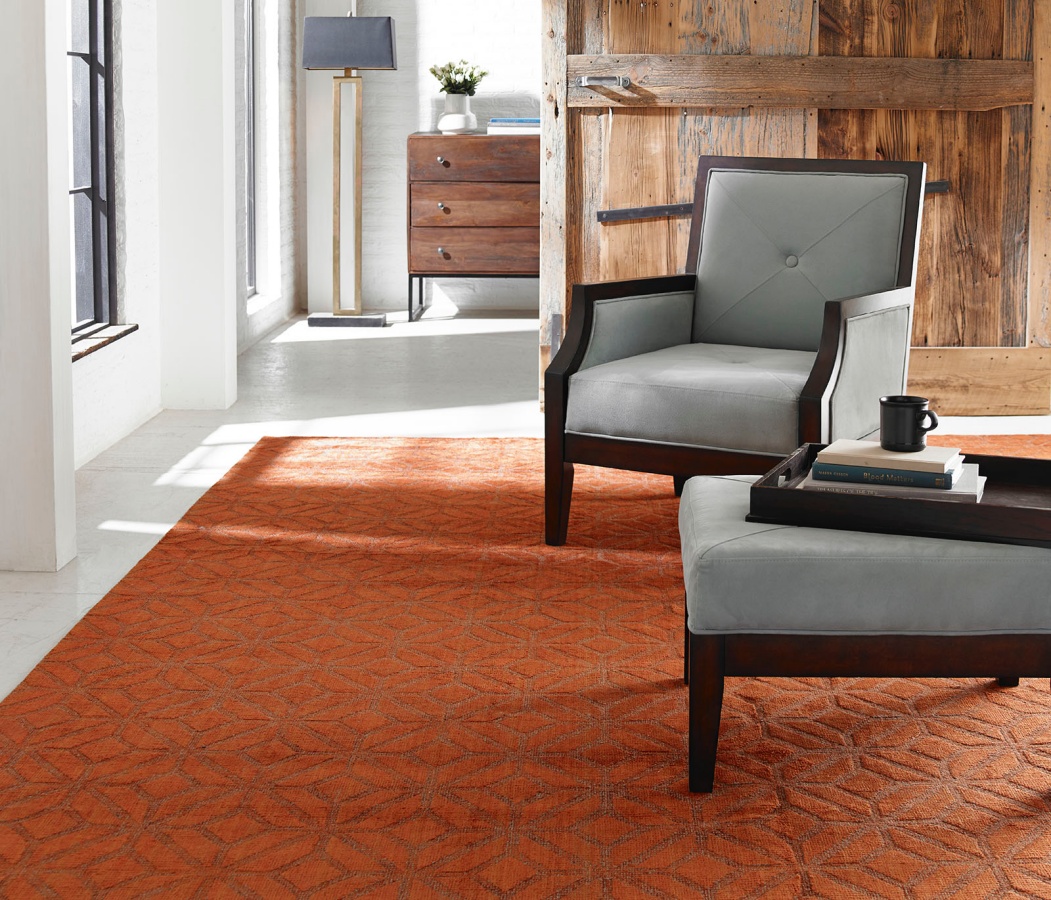 Lastly, don't leave the floors lonely! Anchor your space with a rich orange area rug. This color works well with both light neutrals and charcoal greys, so you won't have a hard time finding the perfect area rug.
For example, this burnt orange Cyrus Artisan Mildred Chalice Rug exudes timeless grandeur perfect for an elegant traditional-style living room. Meanwhile, this blaze orange Cyrus Artisan Gunya Anemone Rug adds a touch of understated artistry to your home office.
Color Your Space in Splashes of Orange
Orange can be challenging to work with at first. Fortunately, there are many ways to make use of this vibrant color in your space. With the right know-how, you can turn your home into a warm, inviting space that ignites passion and creativity in you.
Find more interior design tips and tricks in the Cyrus Rugs blog today.