How to Care for your Rug
Posted On November 4, 2019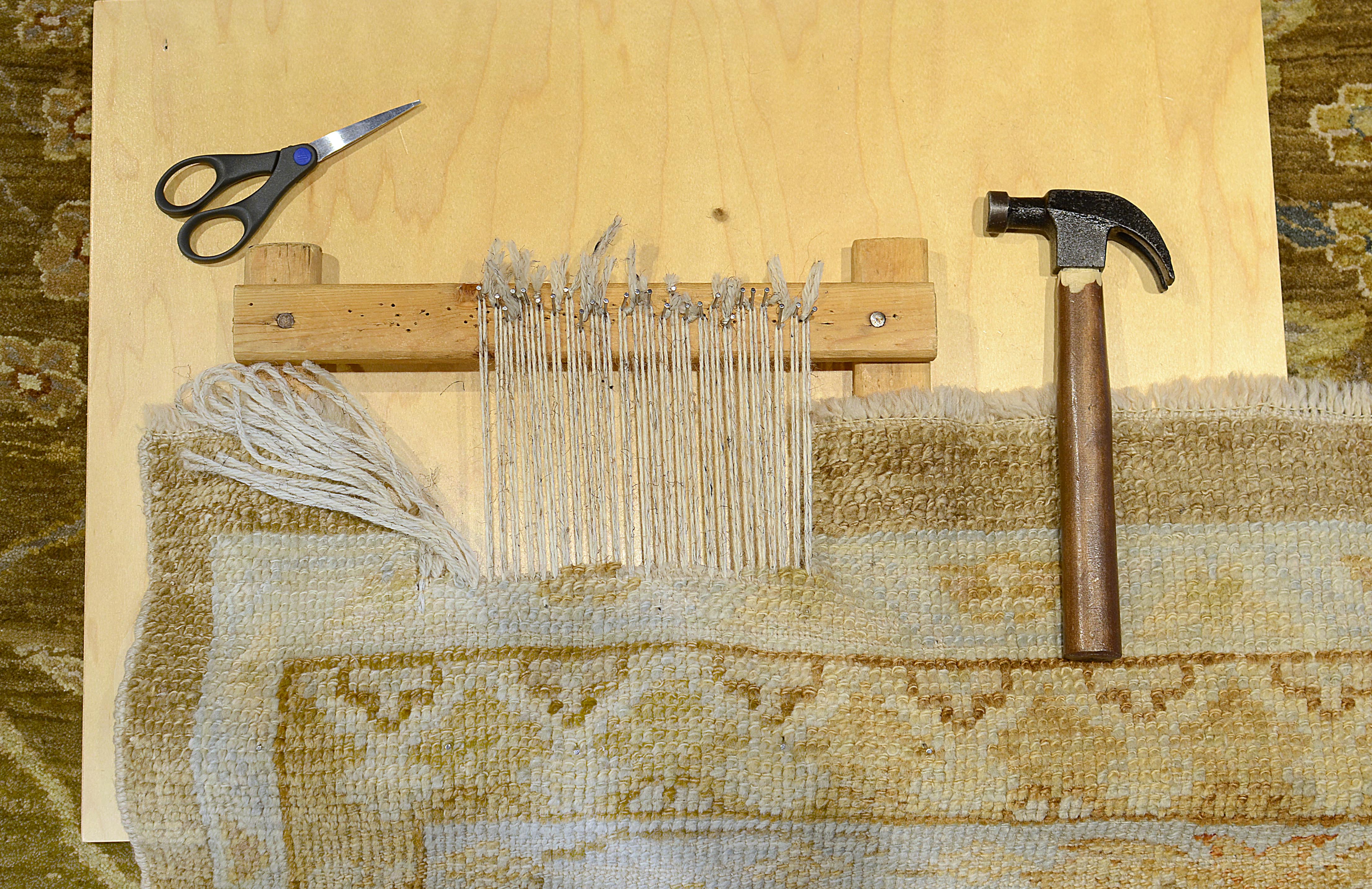 A quality handmade area rug is a true work of art and can last for decades or even generations. How long your beautiful rug lasts will depend largely on how well you maintain it. Following are five helpful tips for how to care for your rug and maximize its life.
---
Contents
---
Rotate Your Rug
While handmade rugs are generally quite durable, rotating your rug will prevent any one section from wearing out faster than the rest. We recommend that you rotate your rug at least once every 6 months; however, if it is in a high traffic area it's best to rotate it at the end of each season, so four times a year. Besides minimizing wear, rotation of your rug will also ensure that no part of it is overexposed to the sun.
Vacuum Your Rug
Over time, a rug will accumulates dirt and other tiny particles, which when walked upon grate against its natural fibers. To minimize the damage caused by these particles we recommend that you vacuum your rug at least twice a week, and even more often for rugs in high traffic areas. Before vacuuming, gently sweep the rug with a straw broom to help loosen any dirt or dust. Use the suction nozzle of the vacuum rather than the power head, and vacuum in the same direction as the pile. Vacuuming both sides will also prevent moths from settling in; however, avoid the fringes as they can be easily damaged.
Moving & Storing Your Rug
How you store your rug directly impacts its lifespan. First, make sure that your rug is clean, as this will reduce the chance of moths inhabiting it during storage. Roll your rug widthwise and relatively tightly, starting from the end opposite the direction of the pile. Wrap it in heavy, breathable paper such as that used for archiving, and tie it with several pieces of ribbon. Store in a cool, dry place, laid down and out of direct sunlight; and if you have a cedar trunk, store your rug in there as moths hate cedar. Regardless of where you store your rug, check on it every few months to ensure that it is staying in good condition.
Keep Your Rug Away from Direct Sunlight
The sun is not a friend to your handmade rug. Direct sunlight can potentially cause enormous amounts of damage, especially to the colors. Before you decide where to position your rug, be sure you know how much sun it will get, and keep in mind changes caused by the season and time of day. Avoid positioning your rug anywhere that will see more than minimal direct sunlight. Using blinds or curtains can do wonders to help protect your rug, especially if you keep them drawn anytime the room is not in use. If you are looking to protect a particularly valuable rug it is well worth investing in UV protective coatings for your windows and skylights.
Use a Rug Mat / Rug Pad
For the sake of your handmade rug as well as your safety it's a good idea to invest in a rug mat. This will help your purchase retain its shape and therefore its value, as well as provide an extra layer of padding and protection. Your mat will also prevent the rug from sliding, reducing the chance of anyone slipping and injuring themselves.
Proper maintenance of a handmade area rug doesn't have to be costly or time consuming. With a little foresight and some regular attention, your rug is sure to give you years of enjoyment.
Pads provide additional protection for hardwood floors.
To protect the surface of hardwood, avoid adhesives containing harsh chemicals that will potentially damage the finish on your wood floors. Here is another DIY project which has long-term benefits to protect your investment in your rug and your home using a pad rather than architect's rulers.
Follow These Simple Steps To Keep Your Rug In Place With a Pad on Hardwood Flooring
Using measuring tape to measure the length and width of your rug, lay the vinyl or rubber nonstick rug pad on a flat, clean surface to measure and cut the pad to correspond with the size of your rugs.
Use a light pencil or chalk to mark the measurements on your wood surface. Then, take the area in by 1 inch around the entire perimeter of the measurements you made on the pad. This is  crucial step because you do not want the edges of the pad to show from below the rug. Use heavy-duty scissors when cutting through the pad.
Place the pad on the desired flooring location in a way that the nonstick rubber or vinyl surface is against the wood.  Lay the throw rug on top of the nonstick pad and adjust it to evenly fit the padded surface. It will stick to the top of the nonstick pad so you may need to pull and tug at it lightly until it fits evenly on the pad.
A Rug Cleaning Expert – Not a Cleaning Expert
If you take good care of your handmade rug and have it cleaned properly, it can last as a family treasure for generations. But improper cleaning can damage it over the long term and shorten its life. Only a rug cleaning expert—not a cleaning expert—can know the strength of the color and fiber, based on the origin, construction, and foundation of your rug, and determine the proper cleaning technique.
Handmade wool and/or silk area rugs are meant to be walked on—and are durable enough to be cleaned with care. Over time, dust becomes embedded in the fibers of a rug, even when the piece hangs on a wall. Fringes can become soiled and matted, and colors often become dull under an accumulation of dust and dirt.
Contact a rug cleaning expert in: Minneapolis, St. Paul, & Rochester, not living in Minnesota? visit our showrooms in Sioux Falls SD & Des Moines, IA.
Clean your rugs about once every five to seven years. If your rug is in a high-traffic area, you may need to clean it more often.
The Cyrus process for cleaning rugs starts with a thorough inspection, noting any damage or stains that may need special attention. Next, they will recommend any repairs, which you can order before the piece is dusted with a powerful but gentle vacuum to loosen and remove particles. The piece is then submerged in fresh, pH-balanced water and a specially-formulated solution, and hand brushed to clean the fibers.
After a final rinse, the rug is aired in a special drying room with a controlled climate for quick, clean drying. As a result, professional cleaning will preserve and enhance the look and value of your rugs, significantly extending their lifespans.
Cyrus is proud to have the best cleaning department in the Twin Cities area with decades of experience handling both new and antique rugs. Once a rug is dropped off at the showroom, the turnaround time for cleaning is usually a quick 10 days. Alternatively, they can pick up and deliver your rug for an additional fee. Please contact the showroom for details and estimates.
Visit Cyrus Artisan Rugs Showrooms in: Minneapolis, St. Paul, & Rochester, not living in Minnesota? Visit our showrooms in Sioux Falls, SD, Des Moines, IA, Austin, TX, Scottsdale, AZ & Palm Beach, FL. Choose from our wide range of rugs.