How to Design a Mid-century Modern Living Room
Posted On August 6, 2021
From the 1930s until today, the mid-century modern style remains a timeless classic for a good reason. It may not be the grandest interior style, but its charm lies in its simplicity and functionality. It's inspired by the features of a Bauhaus style during the postwar era. Some of its most noticeable features include sleek lines, geometric shapes, organic forms, and open spaces. 
Incorporating these elements into your living room can create a neat and cozy space for you and your guests. If you're wondering how to design a mid-century modern living room this is a good place to start.
Keep It Clean & Simple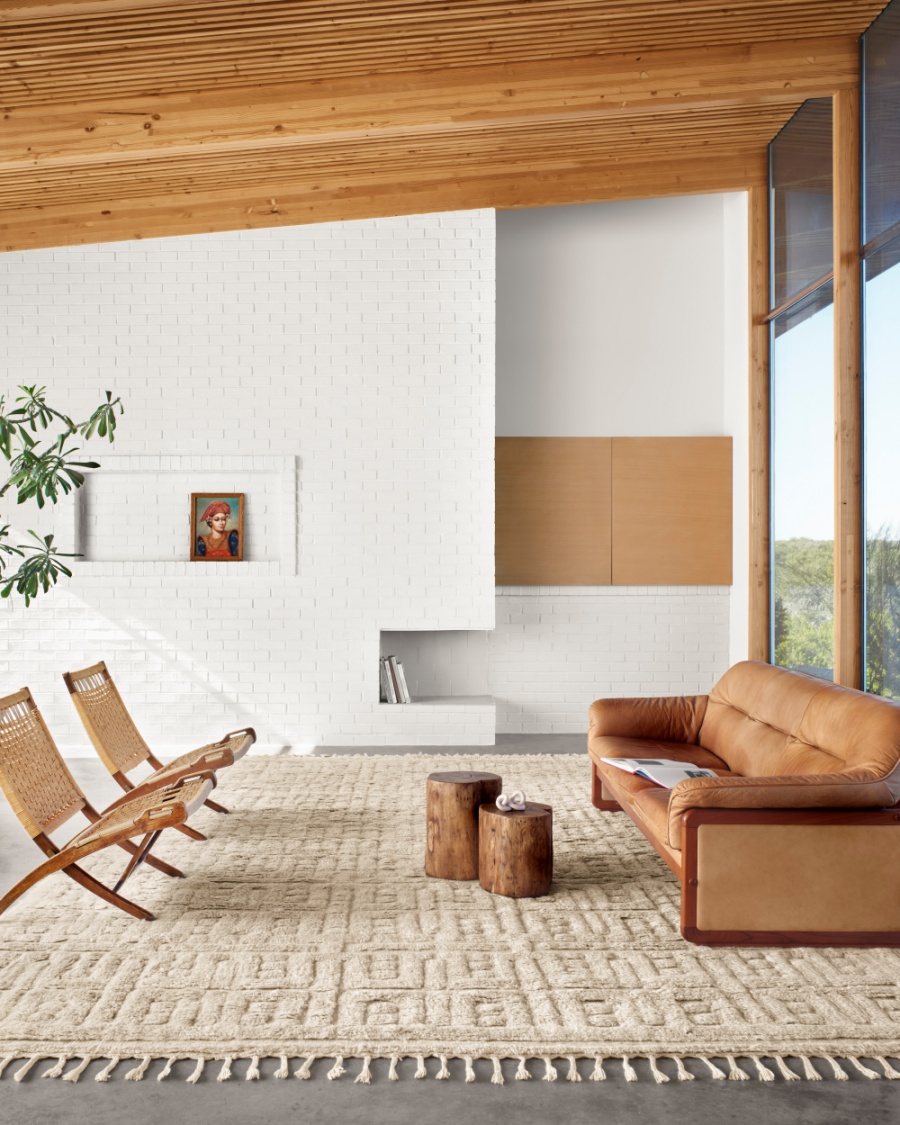 The saying "keep it simple" rings true with every mid-century modern living room. It's all about geometric lines, comfortable furnishings, and open spaces to achieve a comfortable, casual look. Every element follows a horizontal line that seamlessly flows inside the living room. 
Consider choosing sleek, minimalist furniture over heavily ornate pieces for a clutter-free area. Tapered leg furniture, for instance, creates a "floating effect" and the illusion of more space. Feel free to decorate — just make sure you don't overcrowd your living room.
Experiment With Colors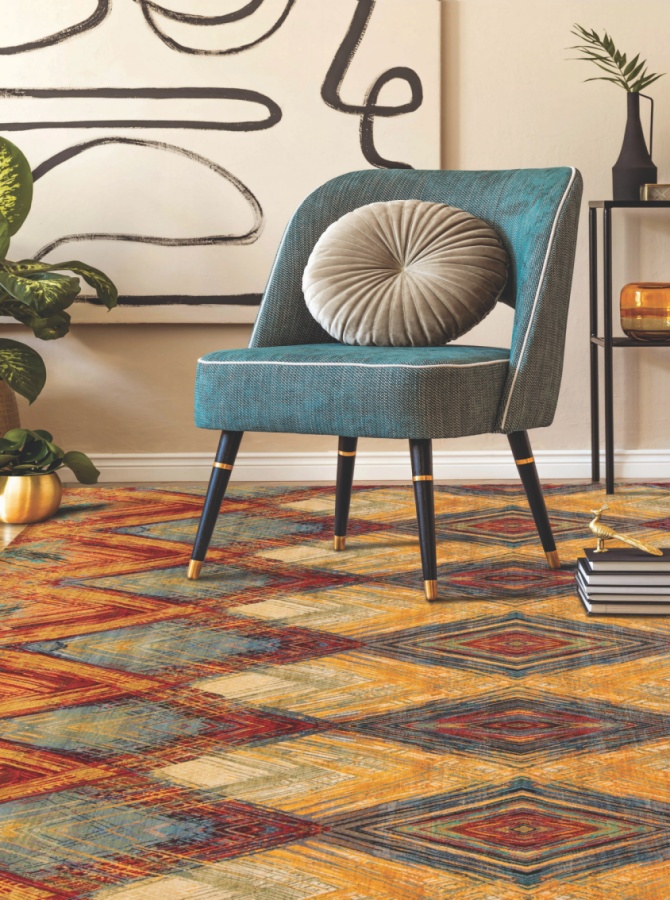 The mid-century modern style features a flexible color palette — vibrant hues from the '50s, earthy tones from the '60s, and other bold colors.
If you want a nature-inspired interior, you can't go wrong with avocado green, muddy brown, and mustard yellow. If you're feeling a little playful, choose bright colors like pink, sunny yellow, or turquoise. For a richer color scheme, you can opt for rust, orange, burnt sage, or bold red.
We recommend starting with a neutral color as your base and then adding one or two accent colors on your upholstery and statement pieces as you go along. This way, you can create a clean, cohesive look without drowning your room in too much color.
Decorate with Mid-Century Modern Furniture
The best type of furniture for a mid-century modern living room contains straight lines, smooth curves, and organic shapes that create an open, relaxed atmosphere. Some examples are the iconic Eames chair, tapered leg chairs, coffee tables with geometric patterns, and wooden furnishings.
Consider choosing a chair with tapered legs or curves for an effortless mid-century look. Woven ottomans, low sofas, and plastic shell chairs are also great seating options for you and your guests.
Coffee tables are usually found in mid-century modern-inspired living rooms. You can choose from a variety of materials and shapes, like a walnut coffee table or a metal table with a glass surface. For additional storage space, you can place wooden storage cabinets on the side of your living room.
Incorporate Natural & Synthetic Textures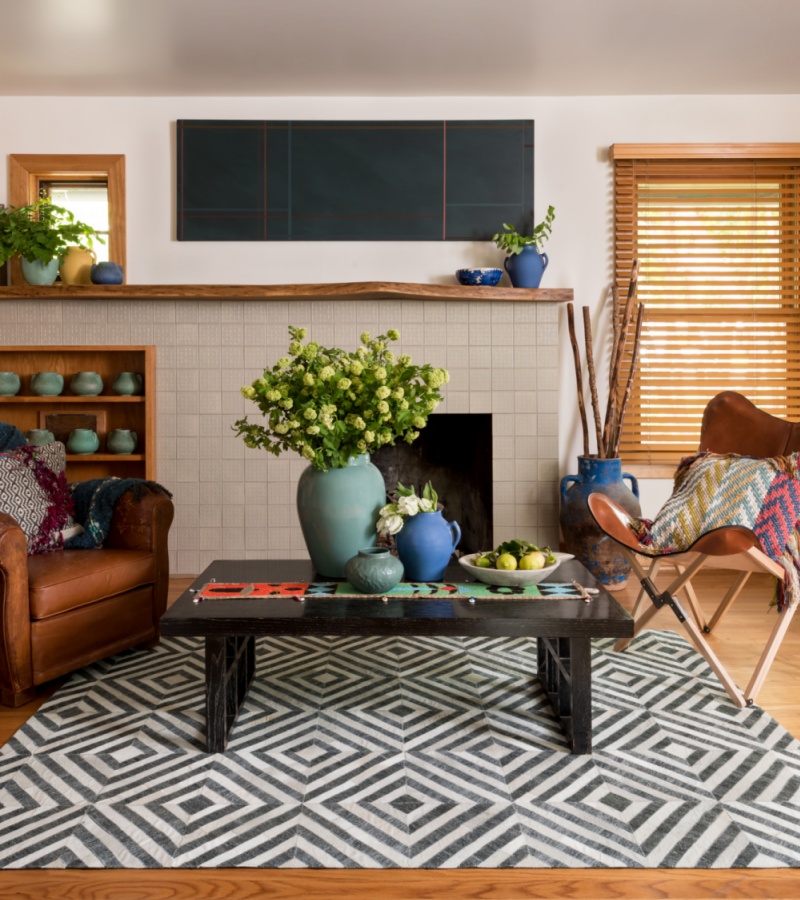 Textures play an important role in creating a mid-century modern look. Man-made materials (i.e., plastic, vinyl, and fiberglass) from the new age are combined with natural materials (i.e., wood, glass, metal, and marble) to create contrast and visual interest. For instance, you can place plastic chairs with lush cushioning near wooden pieces for an interesting mix of textures.
It's best to select a combination of textures that suits your space's overall look. For example, wooden and vinyl furnishings generally evoke an earthy atmosphere. Meanwhile, metal and plastic pieces can create a unique, futuristic vibe.
Adorn Your Space with Statement Pieces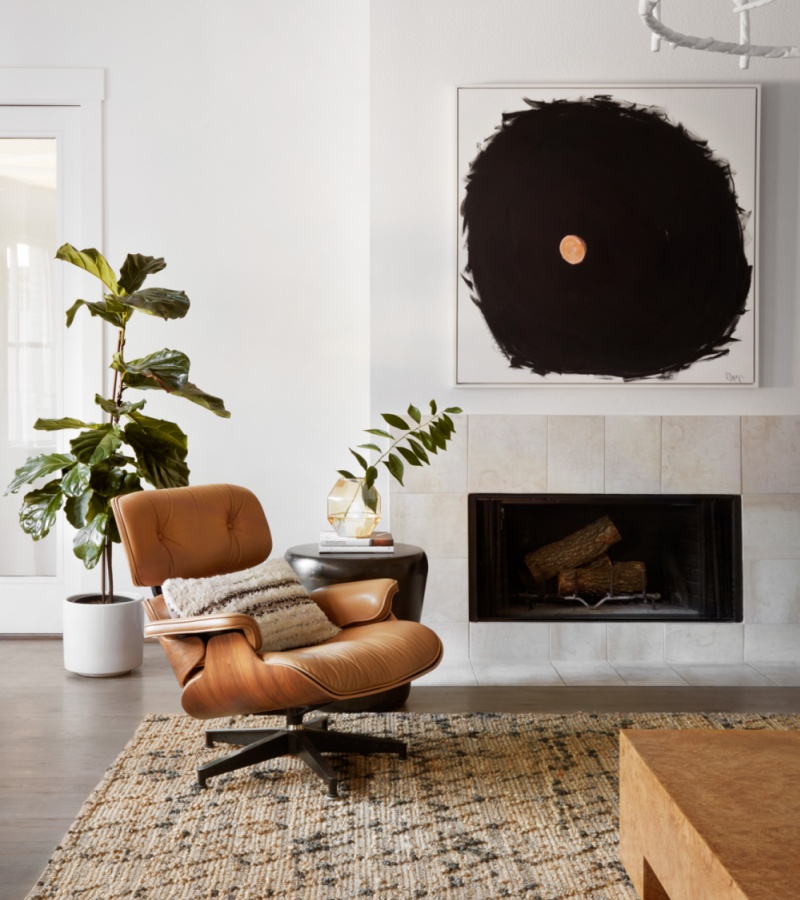 Mid-century modern design is all about minimalism, but that doesn't mean it has to be dull. Spice up your living room with carefully selected statement pieces. Simply placing a few standout pieces in the right places can make a strong visual impact.
For example, you can hang a vintage-inspired print or a mid-century art piece on your wall to create visual interest. Or try replacing your throw pillow covers with patterned textiles to brighten up your sitting space.
If you're looking for a more functional piece, consider using a geometric shelving unit. It can double as a storage space and decorative piece to your living room.
Cushion Your Feet with a Modern Rug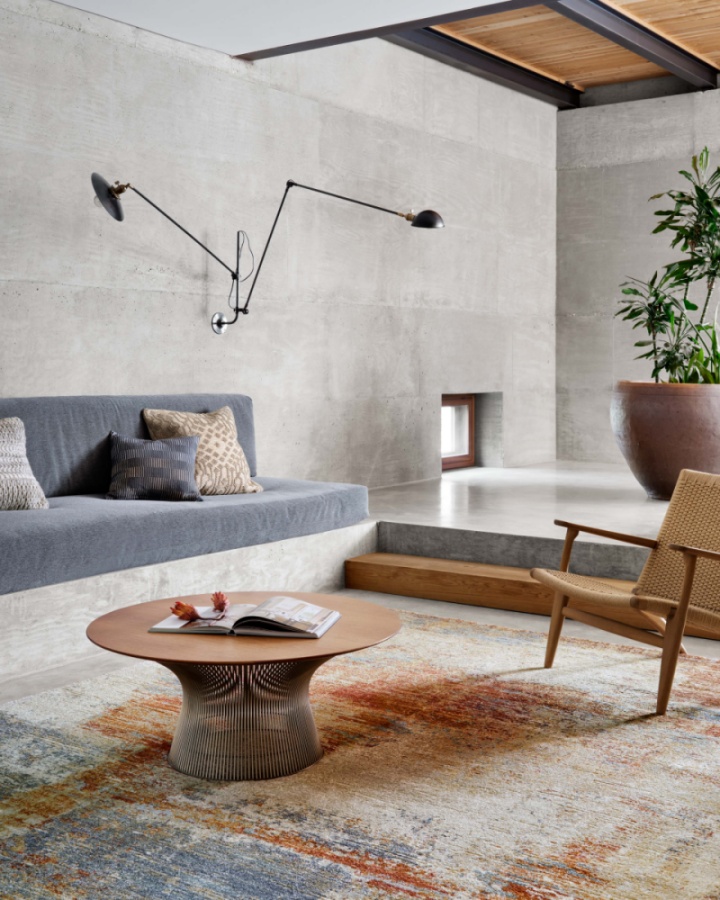 Modern rugs make a great addition to your living room because they're practical and aesthetically pleasing. They offer comfort and add an elegant touch to your floor. For maximum impact, choose the right colors, shapes, and patterns.
The Cyrus Artisan Andes AND-05 Rug is a standout piece because of its abstract patterns and rich, rusty color. Another great option is our Cyrus Artian Kushma Ortona Rug because of its striking shades of brown.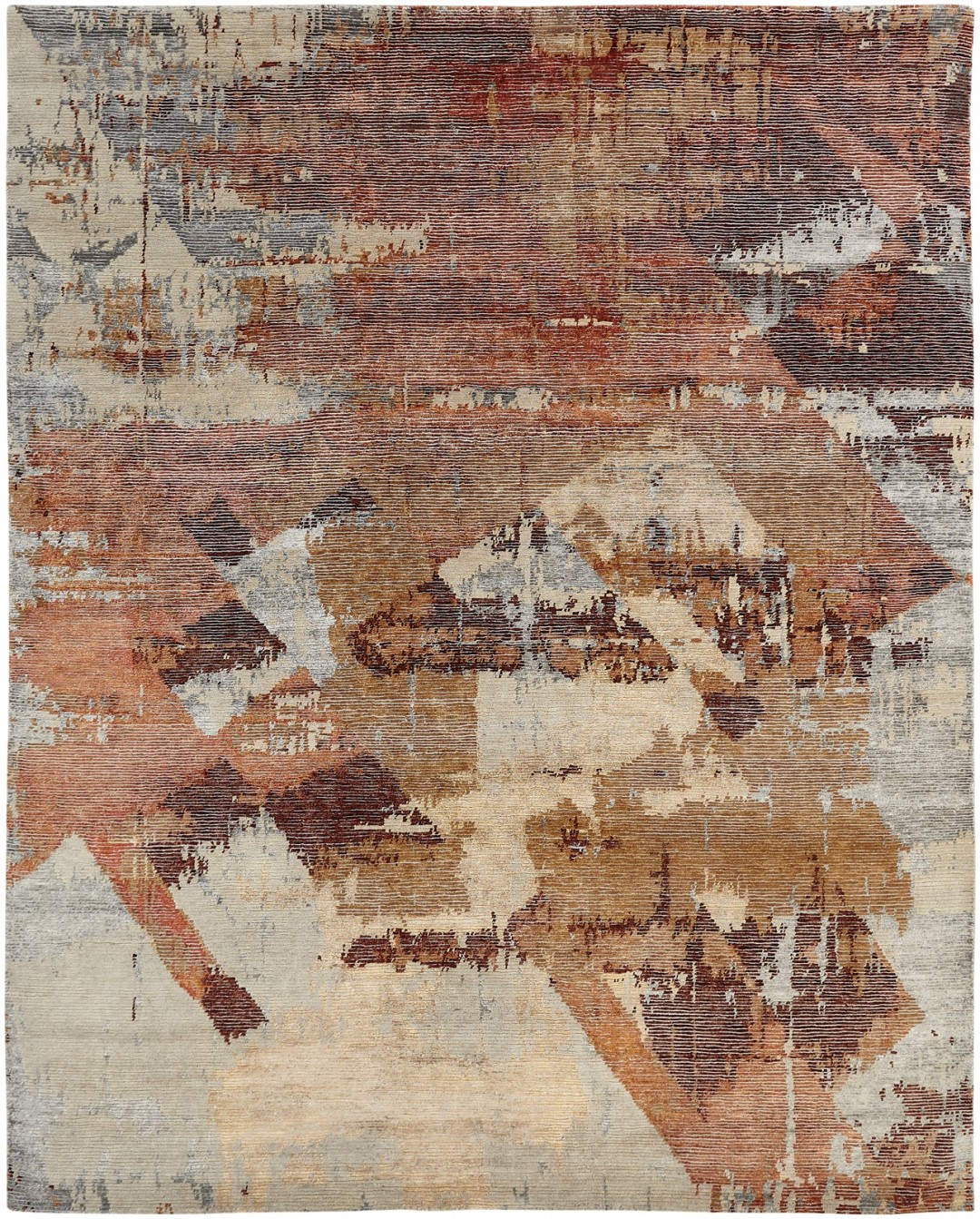 You can also look into Tufenkian rugs, which are perfect handwoven centerpieces for any living room. The Tufenkian Modern Spectrum Rug, for example, fits perfectly into a mid-century modern living room with its clean, straight lines and earthy tones.
Light Up Your Room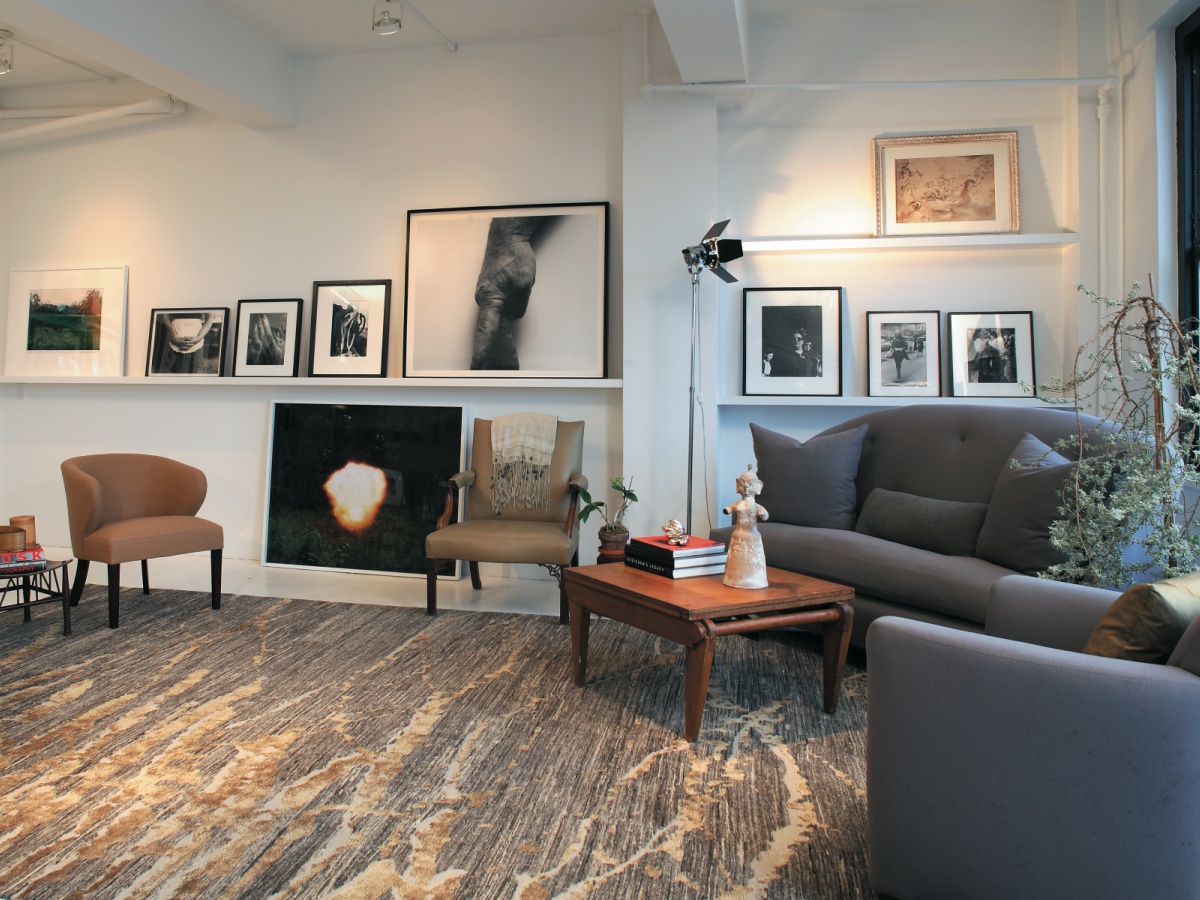 The lighting in your living room can set the right ambiance. Aside from natural light, you can brighten your space with the right lighting fixtures. Some common options for modern living rooms include floor lamps, table lamps, ceiling lights, and chandeliers with a curved or asymmetrical design. Keep in mind that your lighting should complement the other elements in your living room.
For example, tall, overhead lamps can create a vertical contrast with low-lying seats and tables. Meanwhile, asymmetrical ceiling lights make a striking impression because of their unique shape. Table lamps with curved contours can also stand out in your space.
Add A Touch of Nature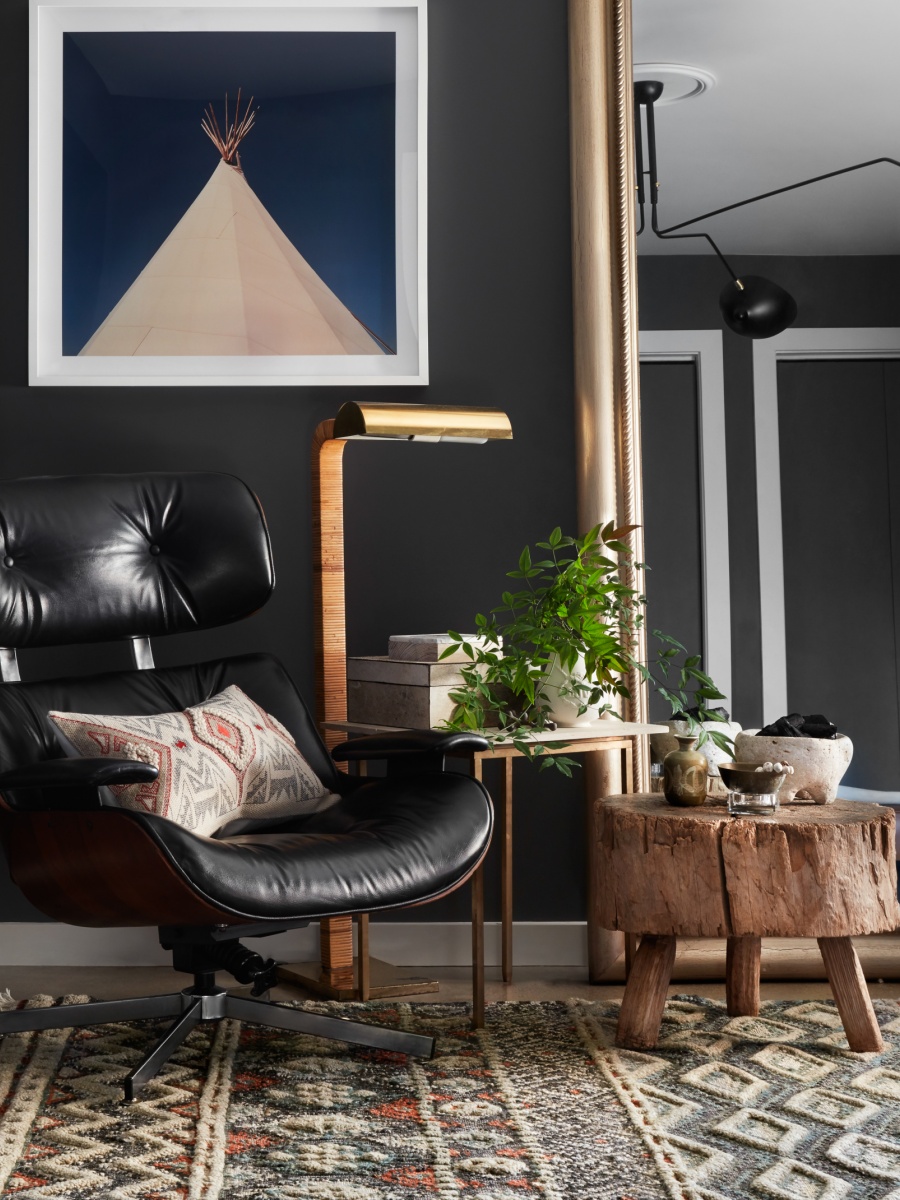 No mid-century modern living room is complete without a touch of nature. So bring life into your living room by placing potted plants like sword ferns on the floor or on top of a shelf. Or you can add visual depth by adding tall indoor plants like Areca palm plants near your furniture.
If you don't have a green thumb, you can line up plastic flowers inside a beautiful vase instead. Floral patterns in your accent pieces can also give your space a subtle "nature" vibe. 
Start Decorating Your
Mid-Century Modern Living Room
Mid-century modern style celebrates the beauty of simplicity and functionality. All the elements in a mid-century modern living room blend harmoniously to create a cozy atmosphere you'll be proud to call home.
For more design tips and inspiration, explore the Cyrus Rugs blog.
Visit our Showrooms
Visit Cyrus Artisan Rugs Showrooms in: Minneapolis, St. Paul, & Rochester, not living in Minnesota? Visit our showrooms in Sioux Falls, SD, Des Moines, IA, Austin, TX, Scottsdale, AZ & Palm Beach, FL. Choose from our wide range of rugs.