The Ultimate Guide to Rug Placement
Posted On October 23, 2020
Proper area rug placement is extremely essential when arranging your furniture. A properly sized and placed carpet can highlight certain areas in your home. Moreover, placing rugs in the right space can give your space feel more spacious and comfortable. If you end up installing rugs in the wrong areas, however, it could clash with other design elements and interfere with the harmony in your space.
Carpet placement is important if you want to achieve a cohesive and inviting ambiance. Here are some helpful tips for decorating with area rugs, whether it's in your living room, bedroom, or other spaces in your home.
How to Place Area Rugs in Your Living Room
Depending on the size of your space and your furniture arrangement, living room rug placement can be quite difficult. But getting a carpet large enough to fit your living room is ideal in this setting.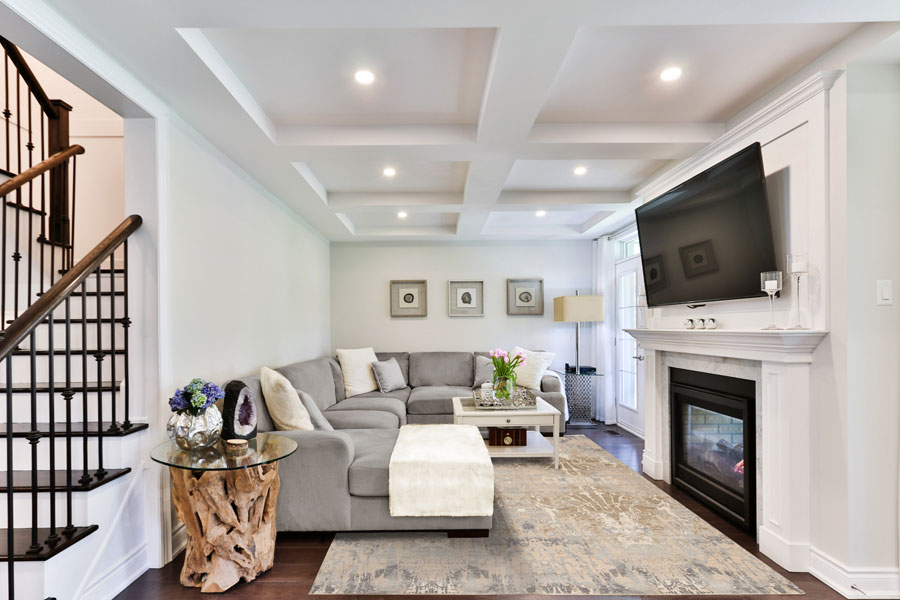 Small Living Rooms
Homeowners with small living rooms can choose between small or large carpets. Smaller area rugs will blend seamlessly in between your furniture, but they run the risk of staying hidden when placed under large pieces of furniture. Meanwhile, a bigger carpet that complements your furniture is great for making your space look bigger.
Mid-sized Living Rooms
Mid-size living rooms, on the other hand, work better with larger rugs. You may opt to put large furniture pieces around your rug, for instance. Just make sure that the carpet extends beyond the sides of your sofa so it stays visible.
Large Living Rooms
As for bigger living rooms, it's best to place a 9×13" or larger rug on your floor. Once the carpet has been placed in your desired area, design your furniture around it. Just don't forget to leave enough room around your rug's outer sides for space to walk.
Tips for
Sectional Rug Placement
If you're putting a living room area rug under your sectional furniture (like your sofa), we've provided a few tips on where to place different sized rugs.
5×8" or larger rugs

: Since this is a relatively small rug, make sure it doesn't clash with your other furniture. Place it on your floor and keep your sofa's legs off the carpet so it stands out on its own.

8×10" or larger rugs

: The best way to install this carpet to your space is by placing it below your sectional sofa. Then, you may position your sofa's front legs on the outer borders of the carpet so that it blends seamlessly with your interior decor. Placing your rug this way can also help you achieve a sense of balance in your space.

9×12" or larger rugs

: Since these rugs tend to be rather large and are a best fit for spacious rooms, the best way to incorporate them into your space is by placing your sectional sofa and chairs on top. This type of arrangement can bring a stronger sense of unity to your room.
How to Place a Carpet in Your Bedroom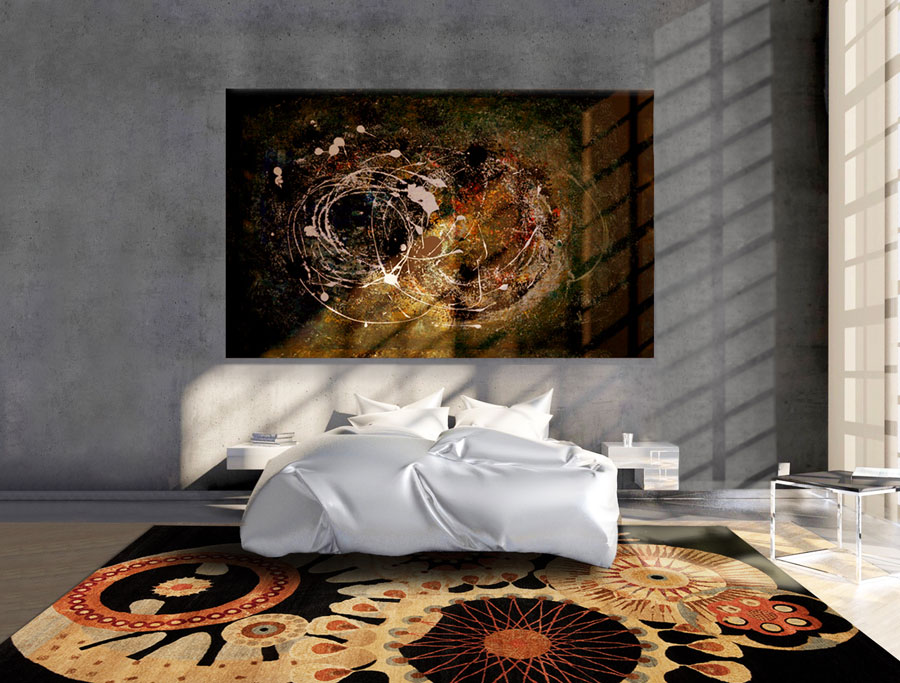 Your bedroom offers plenty of options for interior design — and placing a carpet below your bed is the most ideal type of bedroom rug placement. Make sure it doesn't stay hidden and place your rug perpendicular to your bed. To make the rug truly stand out, you might want to move it until it's closer to your nightstand. Doing this can help you maximize your space. 
Small Bedrooms
If you have a smaller bedroom, you can place your area rug in the middle of your room or at the foot of your bed. This can help call greater attention to your rug and pull your room's decorative elements together. You can also make your room feel bigger by framing your bed and nightstand with a large carpet.
Master Bedrooms
Bigger area rugs work well in bigger spaces, as well. A large master bedroom, for instance, will need a carpet big enough to accommodate a nightstand and bed. That's why you may opt for an 8×10 rug to match your king or queen-sized bed and its bedside table.
How to Place a Rug in Your Dining Room
Dining room rug placement is important because everyone gathers at the table to eat. Adding a touch of style to your dining area can help make the time you spend with friends and family during meals more meaningful. 
For maximum impact, consider placing your rug at the center of your dining table. Keep in mind that it should also be large enough to accommodate your chairs. With that said, carpets that are around 60 to 70 centimeters are an excellent option for your dining room. 
When installing your rug, ensure that all of the chair legs are planted on top of the carpet. This way, your chairs can stay balanced since they're placed on an even surface.
Where to Place a Runner Rug
Runners can be placed in various spaces within your home. Homeowners often put these rugs in hallways, bedrooms, entryways, and other areas. Since runners are narrow, they're the perfect addition to smaller spaces.
Hallways & Room Entrances
If you're placing a runner in your entryway, keep it front and center so that it's noticeable. You could also use it as a marker to indicate clear entrances for rooms. When it comes to proper runner rug placement in hallways, you may opt to place them beside or in front of your furniture to create contrast.
Kitchens
Your kitchen is also a great place for you to add runners because they enhance underfoot comfort and style. They also provide a break in monotony from your daily routines. Placing a non-slip runner between your counter and aisle or under your kitchen table can make your space warmer, for instance.
Bedrooms & Bathrooms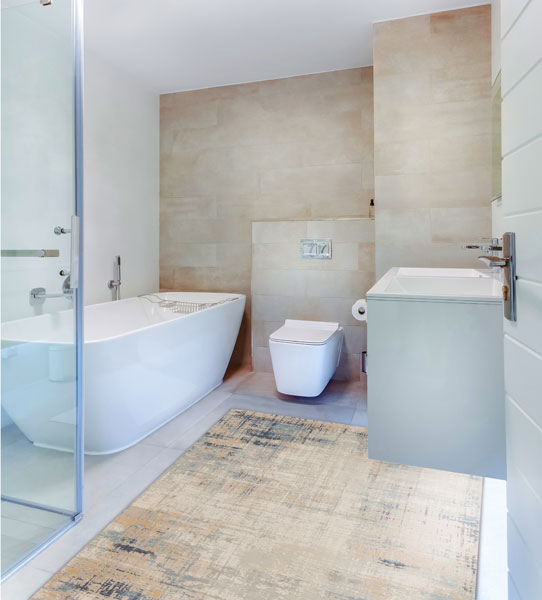 You might want to place runners in your bathroom or bedroom, as well. Bathroom runners can help prevent slip-and-falls, especially when stepping out of your tub or shower. 
If you're thinking of adorning your bedroom with runners, on the other hand, adding a couple of runners on either side of your bed can help provide a distinct decorative accent and promote symmetry.
How to Achieve the Right Rug Placement for Your Space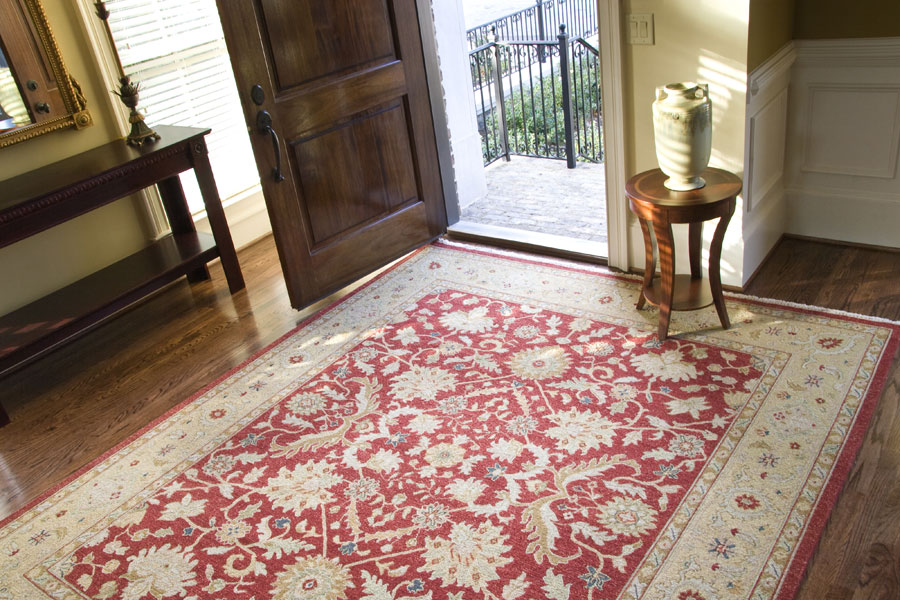 Proper area rug placement involves setting an excellent foundation for your room — and it's essential to achieving a harmonious look. Keep the following tips in mind when designing your space:
Your area rug serves as a visual anchor for your space.
Rug placement is all about achieving balance and harmony. This means your carpet should visually anchor the decorative elements in your space. If you want it to truly stand out, your rug should properly fit your space. 
Pay attention to space when designing with rugs.
If you're unsure where to place your rug, assess your space. Make it command attention by anchoring it near a focal point in your room, such as your fireplace, dining table, or windows. This doesn't necessarily mean that you have to install the rug in the middle of the room. Instead, be creative and think of ways to make your rug stand out. 
Strive for balance between your carpet and furniture.
Area rugs anchor a room's furniture,  so they shouldn't clash with your room's interior elements. When designing your space, make sure you pay attention to how the rest of your furniture pieces are arranged so they complement your rug. 
Keep furniture legs on top of the rug.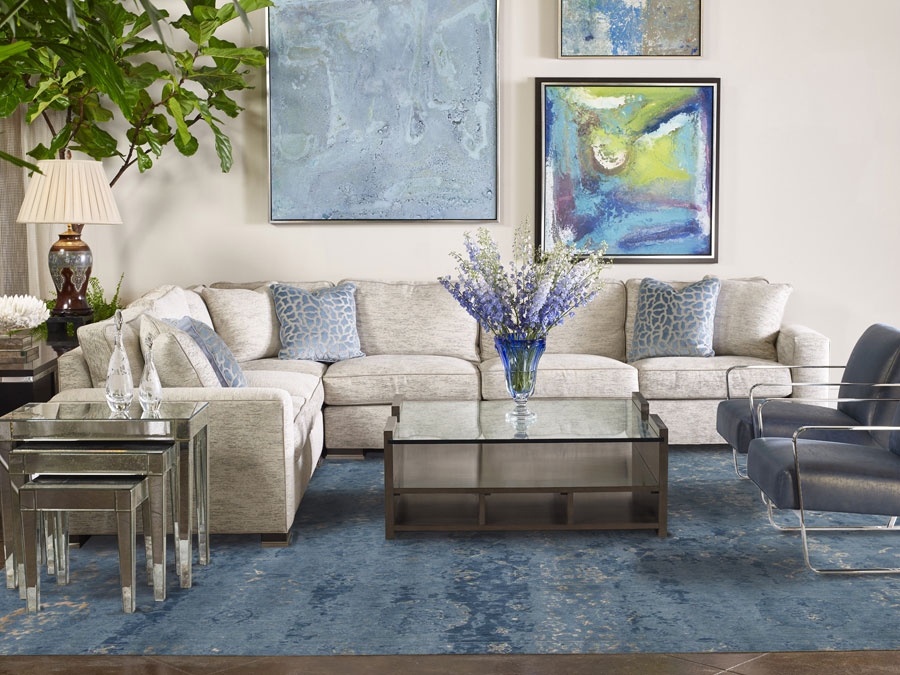 When placing furniture on carpets, you have two options when it comes to your furniture legs: you can have all four legs firmly planted on top on the rug, or just its two front legs on top of your carpet. It will all depend on the furniture size, but the point is to provide a stable foundation for your furniture pieces so they don't fall or topple over.
Experiment with the angle of your rug.
Your carpet highlights certain areas of your space and helps bring different decorative elements together. Try turning your carpet around or experimenting with different angles to find out the best way to place it in your room. 
Adorn Your Space with the Best Area Rugs
With proper carpet placement, you can make your room feel bigger or smaller. Cyrus Rugs carries handmade rugs in various shapes and sizes to breathe new life into your space. From traditional to custom pieces, our vast selection will help you find the perfect carpet for your space. Browse our online inventory and place your order today.