Tips to Elevate Your Dining Room Decor in 2021
Posted On September 7, 2021
Winston Porter Griffeth once said, "The fondest memories are made when gathered around the table."
These words ring true, especially in the light of the recent pandemic when people have more time to spend time sharing meals with their loved ones. Like the kitchen, the dining area is a much-loved place where families can spend quality time enjoying delicious meals together.
But even though we're spending more time indoors, a lot of distractions prevent us from sharing meals at the table. For example, it's so much easier to trade in a family meal with take-out dinner in front of the TV or munch on finger food while finishing up with work. 
Sometimes, all we need to do is give the dining room a makeover so that it's a stylish, clutter-free space conducive to family time. 
Need advice on how to decorate a dining room? Below we've listed some dining room design ideas to turn it into the true heart of the home.
Add Statement Lighting
Installing a new set of lights can help change the overall ambiance of your dining room. Consider installing overhead lights to make your space look brighter and more inviting. Statement lighting can draw attention from your guests and give your dining area an extra sparkle.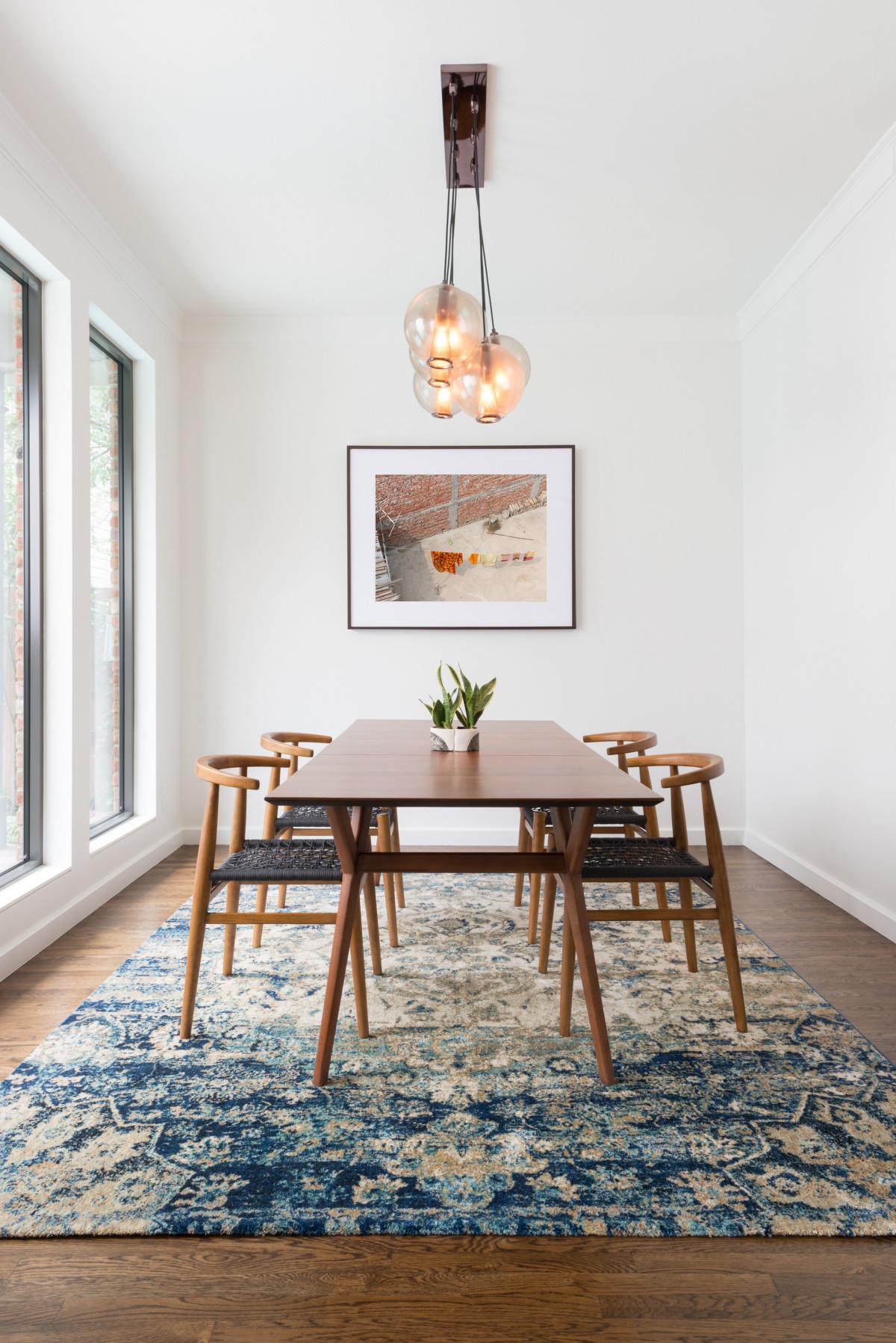 Your choice of lighting will depend on the overall look you're trying to achieve. For example, you could opt for a big statement lampshade or an elegant chandelier to give your space a luxurious appeal. For dramatic effect, install a dimmer switch for your overhead lighting. Dimming the lights can help create the perfect atmosphere during a lively party or somber family dinner.
Use Fine China Pieces
Don't let your fine chinaware end up as a forgotten family treasure. Apart from being put on display, your antique and beautiful fine china pieces deserve to be used on special occasions. So why not set a sparkling table and let your family know just how much you care? After all, using fancy and delicate chinaware are impressive dining room decor pieces. Simply placing them on your table can build anticipation for the meal and company. 
Setting the table may sound complicated, but it doesn't have to look absolutely perfect. If you're holding a Thanksgiving dinner, experiment with different china patterns and pair plain-pressed linen cloths with botanical fine china pieces. If you want to create a more relaxed summer table setting, pair simple white china with glass pieces to create a casual, elegant look.
Add Stylish Wall Decor
Did you know that breathing a new lease of life into your walls can help reignite your passion for your dining room? Adding chic wall art can turn your dining area into a space you'll want to stay in even after the plates have been cleared away.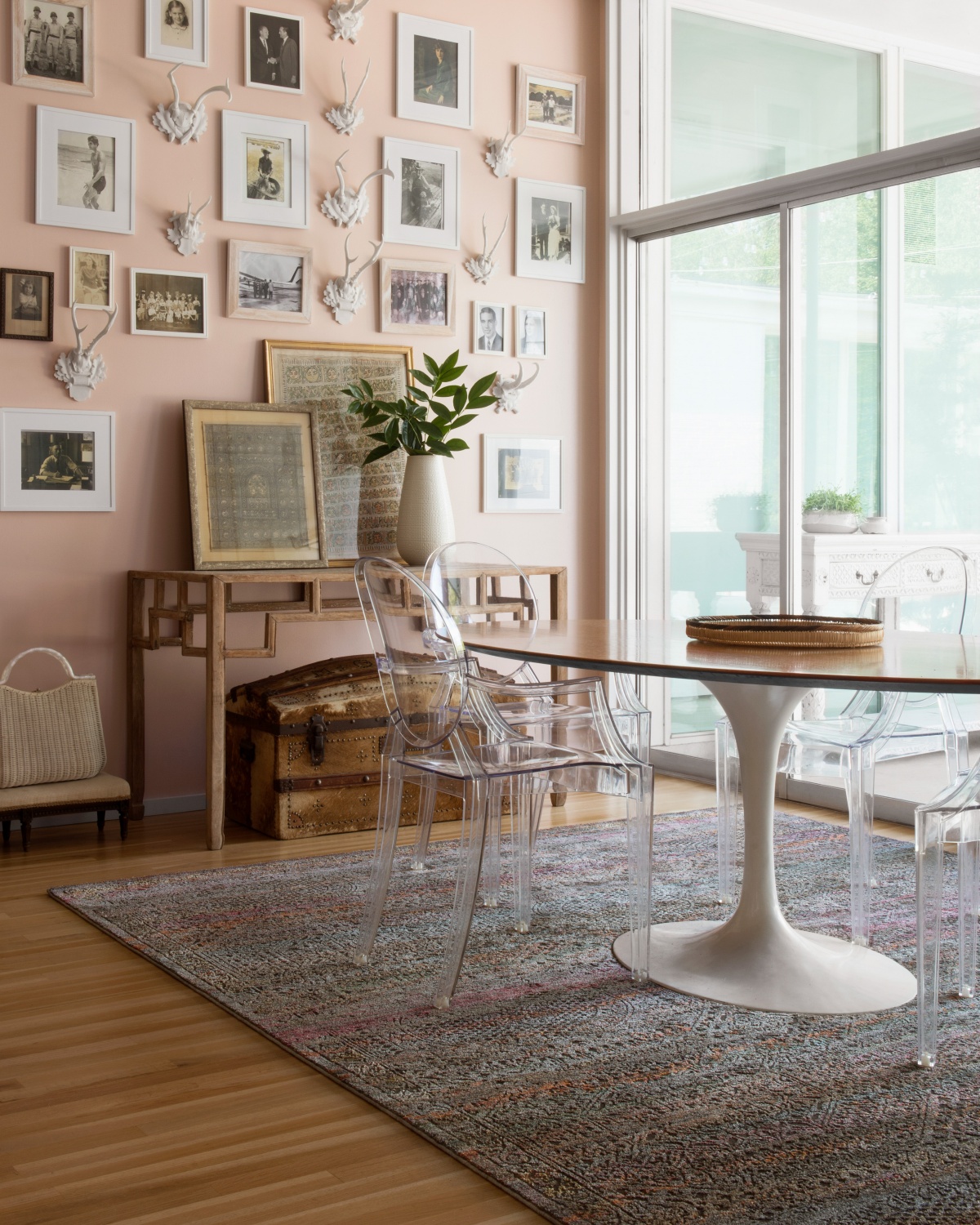 Even if you don't have any paintings, it's still possible to make your walls look stylish. If you're out of dining room design ideas, why not experiment with texture by installing an abstract tapestry? In fact, it can add a more personal and artsy touch than your typical framed prints. Or if you're fond of plants, feel free to hang up floating plants and pretty botanicals from your ceiling.
Another thing you can do is transform your wall by installing a major display case. Add a shelving unit and customize your items on display depending on your mood, season, and occasion. 
Experiment with Mismatched Seats
The idea of designing with mismatched chairs in your dining area may seem somewhat tricky (and counterintuitive) to pull off. But when done right, mismatched chairs can function as gloriously eclectic dining room decor pieces. After all, mixing and matching your dining chairs can give your interior a look you won't find anywhere else.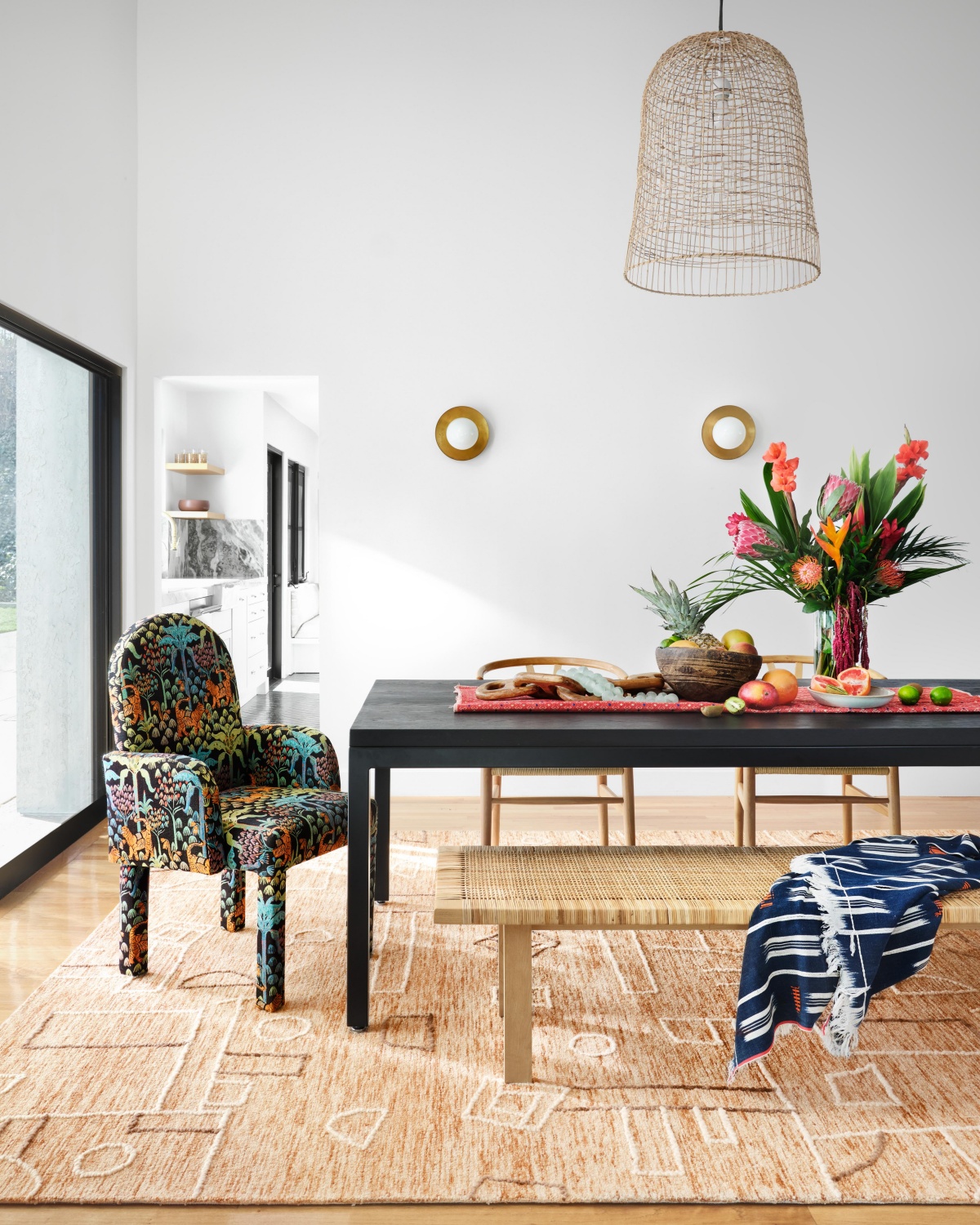 Just a word of advice: make sure you select pieces from the same design style. With that said, make it a point that your chairs share a common "design theme." For example, your chairs can have the same color, texture, or material. After all, the point is to make your seats look deliberately mismatched instead of hodge-podge. 
More importantly, pay attention to seat heights. A huge difference in chair heights can make them look visually cluttered and uncomfortable to sit on.
Style Your Space with Mirrors
Who says mirrors should only be limited to the bathroom? Mirrors are great decorative additions to your dining space because they can reflect light and make your space look bigger. Moreover, Feng Shui tells us that hanging a wall in the dining room can help increase wealth and fortune. 
When styling your space with a mirror, place it on a wall near your dining table. You may also opt to hang your mirror across your window where the sunlight streams through. Experiment on ways to make your mirror stand out — you can arrange candles, add wall sconces, or hang up a collection of artworks on the adjacent wall to create a sophisticated focal point. 
Consider the size and style of the mirror you're hanging, as well. If it's on the small side, keep it at eye level. Meanwhile, if you're decorating with a large mirror with a vintage or rustic wood frame, it'll make an impressive backdrop in a dining room with boho-inspired decor. 
Decorate with an Area Rug
At first glance, an area rug may seem like an impractical dining room decor choice because it could trip up chairs or soak up spilled liquids from the table. But as long as you're decorating with the right rug, you can bring out your room's color, texture, warmth, and style.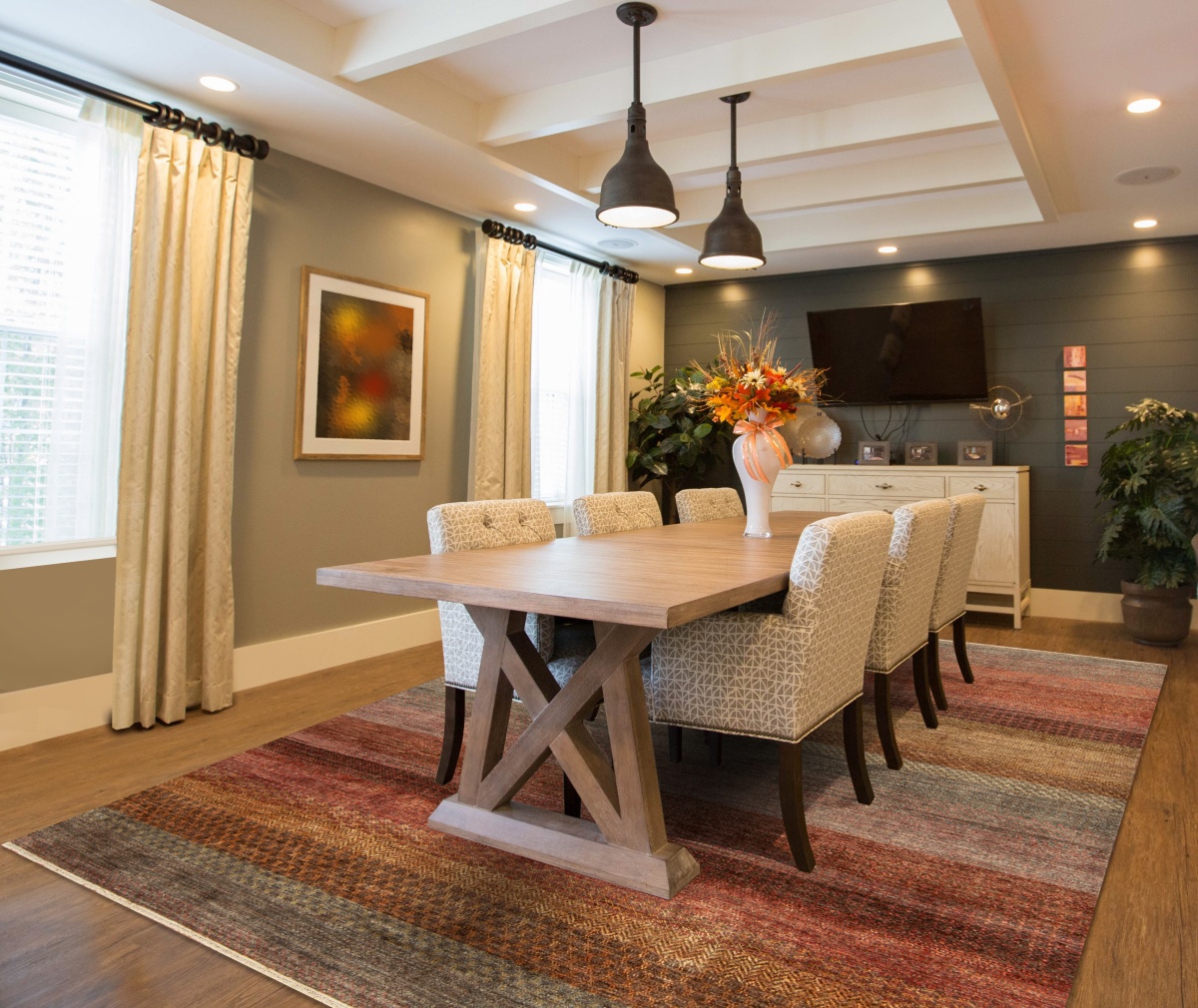 Before adding a rug to your dining space, make sure you measure your dining table beforehand. Keep in mind that when it comes to dining room rugs, bigger is better: choose a rug with at least 24 inches of extra room on all sides. Installing a bigger rug will give you and your guests extra space to pull out the chairs without causing slips. 
More importantly, pick a flat weave or short pile rug. Since spills are unavoidable, flat rugs with short fibers are the more practical choice. Reserve your shag or Moroccan carpets for other areas of the home like your living room. 
Shop for the Right Rug for Your Space
Cyrus Rugs carries handcrafted artisan rugs to suit any taste — we offer the largest selection of rugs in the Midwest. Our website makes it easier to find the right piece depending on size, color, style, and brand. 
Feel free to visit our showroom to witness the beauty of our rugs firsthand. You may also check out our blog for more dining room design ideas and tips.