Adorn Your Home with Versatile Kalaty Rugs
Posted On May 5, 2020
A good area rug can instantly transform a space. With the right size, color, and style, it could bring all the elements of a space together. It serves as the room's center of gravity that draws the eyes toward it and invites people in. But finding the perfect rug to achieve this sense of harmony can be a challenge. With so many choices out there, where do you even start? 
Kalaty Rugs makes your search quick and easy with its extensive collection of premium, handcrafted area rugs. The company was established by a well-respected rug family in Iran at the beginning of the 20th century and was brought to the US by the founder's grandson in 1979.   
This long tradition of woven artistry, combined with the ingenuity of top rug designers in the US, has produced some of the most beautiful contemporary, traditional, tribal, and transitional rugs. Mostly made in India, these precious area rugs are hand-knotted using delicate Himalayan wool and bamboo silk the way the Kalaty family did it hundred of years ago. Ancient design motifs are given the fashion-forward touch to make them more versatile and timeless.  
Decorating with Area Rugs from Kalaty Rugs
Adorning your home with Kalaty Rugs can be a breeze if you know the basic principles of each interior design style. Read on and find out how to pick the right rug for your home decorating project.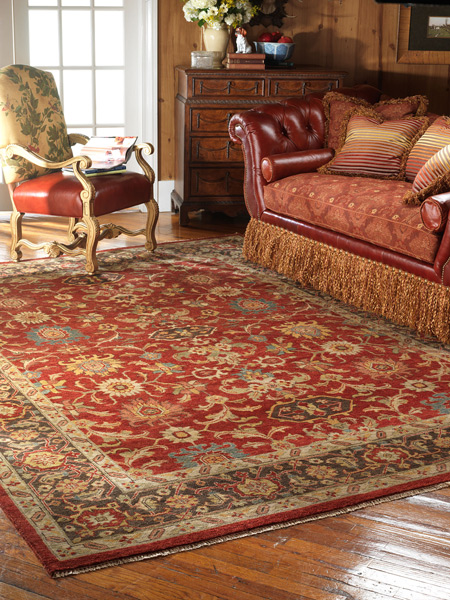 Traditional: Modern Meets Classic 
If you're eyeing a sophisticated and timeless look, a traditional area rug from Kalaty Rugs ticks all the boxes. A traditional rug is basically a modern-day homage to time-honored patterns and styles, but with a focus on intense, earthy tones. If you're aiming for a warm and saturated color palette for your home, a traditional rug will tie everything together. Kalaty Rugs' Natori Lhasa, Caspian, and Encore collections feature rugs that fit this style. 
A traditional rug is meant for a space that's designed to be both comfortable and elegant. If your room features symmetrical lines, rich colors, and decor items from different centuries, you'll find that the natural materials and historical design elements of a traditional rug easily blend in. Look through Kalaty rug collections to find the perfect pieces for your home. 
Tribal but Tasteful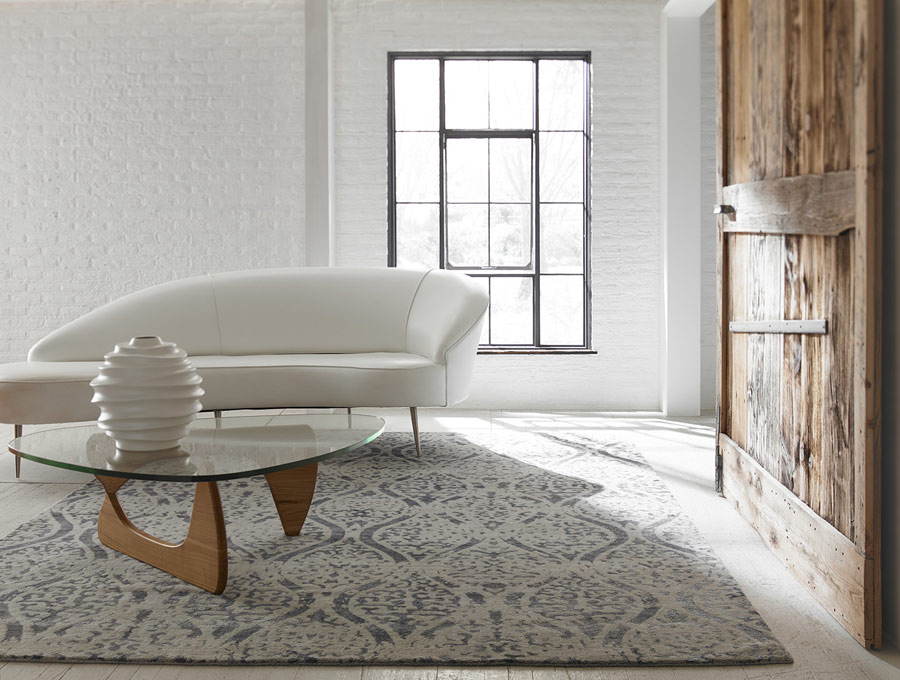 The tribal design style is all about reconnecting with the raw beauty of nature. It highlights organic, handmade items where the material, exposed in its true form, is the main star. A tribal-inspired interior would usually have exposed brick, distressed paintwork, bone inlay, fringe work, beading, pottery, mud cloth, rattan, and so on. 
This style tends to be a bit rugged, but a few curated additions can make a tribal-inspired room more comfortable and tasteful. Start with adding some plush seating and soft throws with vibrant colors. Then, throw in a Kalaty tribal rug with rich, earthy tones and skillful, symbolic patterns to make the space look "whole."
Transitional: Pure Elegance 
The transitional style tries to achieve a classic, timeless look by marrying contemporary and traditional elements. But unlike the Traditional motif that's warm and cozy, a Transitional room features straight lines, rounded profiles, and lighter tones to evoke a sense of sophistication. 
Therefore, a transitional rug would have traditional, symbolic patterns, but the fabric will have soft hues and neutral tones. Kalaty Rugs' Kozan, Ankara, and Barcelo collections should point you to the perfect rug for your home. From the hundred percent wool and signature Silkette fabric to the handwoven artistry and modern touch, these rugs embody pure elegance. 
Clean & Contemporary 
Developed in the latter half of the 20th century, the contemporary style features softened and rounded lines. It puts emphasis on subdued elements contrasted with bold color, allowing the basics of shape, line, and form to shine through. A contemporary-inspired room is offset by neutral colors to bring out metal accents, textures, wood tones, and lighting. 
Sometimes, too much focus on form and contrast can result in a room that looks cold and minimalistic. To soften this look, designers would throw in plush cushions and upholstery and soft, delicate rugs. A contemporary rug from one of Kalaty Rugs' collections is what you'll need to cut through that singularity and add a new dimension to your home. 
Playing with Patterns & Color Schemes 
The beauty of Kalaty rugs, and other Oriental rugs for that matter, lies in its intricate, symbolic patterns and unique color schemes. On top of the premium-quality materials and craftsmanship, it is these characteristics that make these rugs so striking and magnetic. But mixing and matching them to all the other elements of a room is no walk in the park.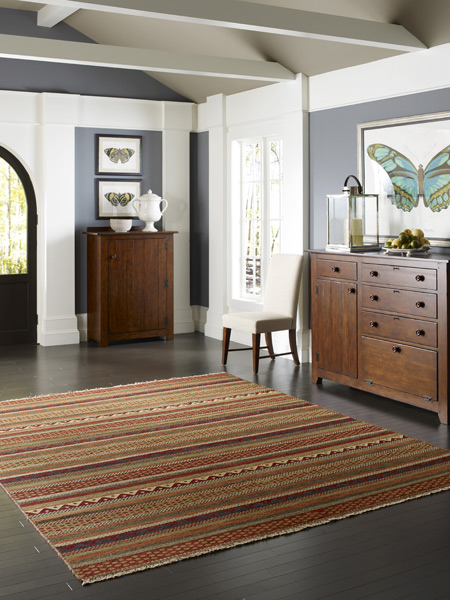 1. Let the rug dictate your decisions. 
If you're decorating from a clean slate, it's a good idea to buy the rug fist and let it determine how the room is going to look like. Kalaty rugs are more than functional pieces, they are works of art that deserve all the praise and attention. For example, if you've got your eyes set on the Kalaty Modena MO-351, make its vivid wine hues pop with white or light gray furniture with dark wood frames, minimal black accents, and coral blue accessories.  
2. Don't be afraid to go bold.
Bold colors and patterns against heavy, solid elements may not seem like a good idea for some, but it actually works. Don't hesitate to put an ornate Ikat or tribal rug in a living room with leather seating and hardwood furniture. This palette works well for rooms with hardwood flooring and neutral-colored walls. Just keep balance and scale in mind when matching furniture and accessories. 
3. Use it to brighten a room.
Putting down a light rug with subtle patterns and neutral-colored accents can brighten up a room. If your room has brown wood floors, gray walls, and dark furniture, for example, the Kalaty Spectra RT – Chino rug will help soften the ambiance and make the space look airy, bright, and more spacious. The Kalaty Renzo RZ-02 rug is also a great choice. 
Shop Premium Kalaty Rugs
Cyrus Rugs is a proud exclusive retailer of the award-winning Kalaty Rugs throughout Minneapolis. Browse our online store to find the piece that will suit your style and interior design project, or visit our showroom to see these precious rugs in the flesh. 
Feel free to get in touch with us today if you have any questions, or you can look through our blog for more rug and carpet decorating tips.