The New Neutral: Decorating with Blush
Posted On September 13, 2021
In the 1989 American comedy-drama film Steel Magnolias, one scene depicts a group of friends huddled inside a beauty parlor chatting about an upcoming wedding.
Soon-to-wed Shelby (played by Julia Roberts), is asked by her friends about the colors she prefers for her grand ceremony. She emphatically declares, "My colors are blush and bashful!"
It's been more than two decades since Julia Roberts uttered that iconic line, but those words still ring true. The romantic, warm hues of blush make it a timeless tone and neutral backdrop for any home, whether it's Asian-inspired or Mid-century modern. 
So whether you're looking to accent your living room with pastel pink or bring a touch of light rose in your bedroom, you can never go wrong with blush decor.
Make your space reminiscent of the blush and bashful colors of Shelby's wedding from Steel Magnolias. Get inspired by our blush room decor ideas below.
Why Choose
Blush Decor
?
Pink is everywhere. Even though it started out as an inherently feminine shade because of oh-so-popular bubble gum and sexy hot pink, people have begun to embrace and be enamored by its other shades. 
In fact, pink has made its way into the more "masculine" and outdoorsy realm of design. For example, you'll notice outdoor campsite pillows available in striking shades of flamingo or lumberjacks donning plaid tops in light pink.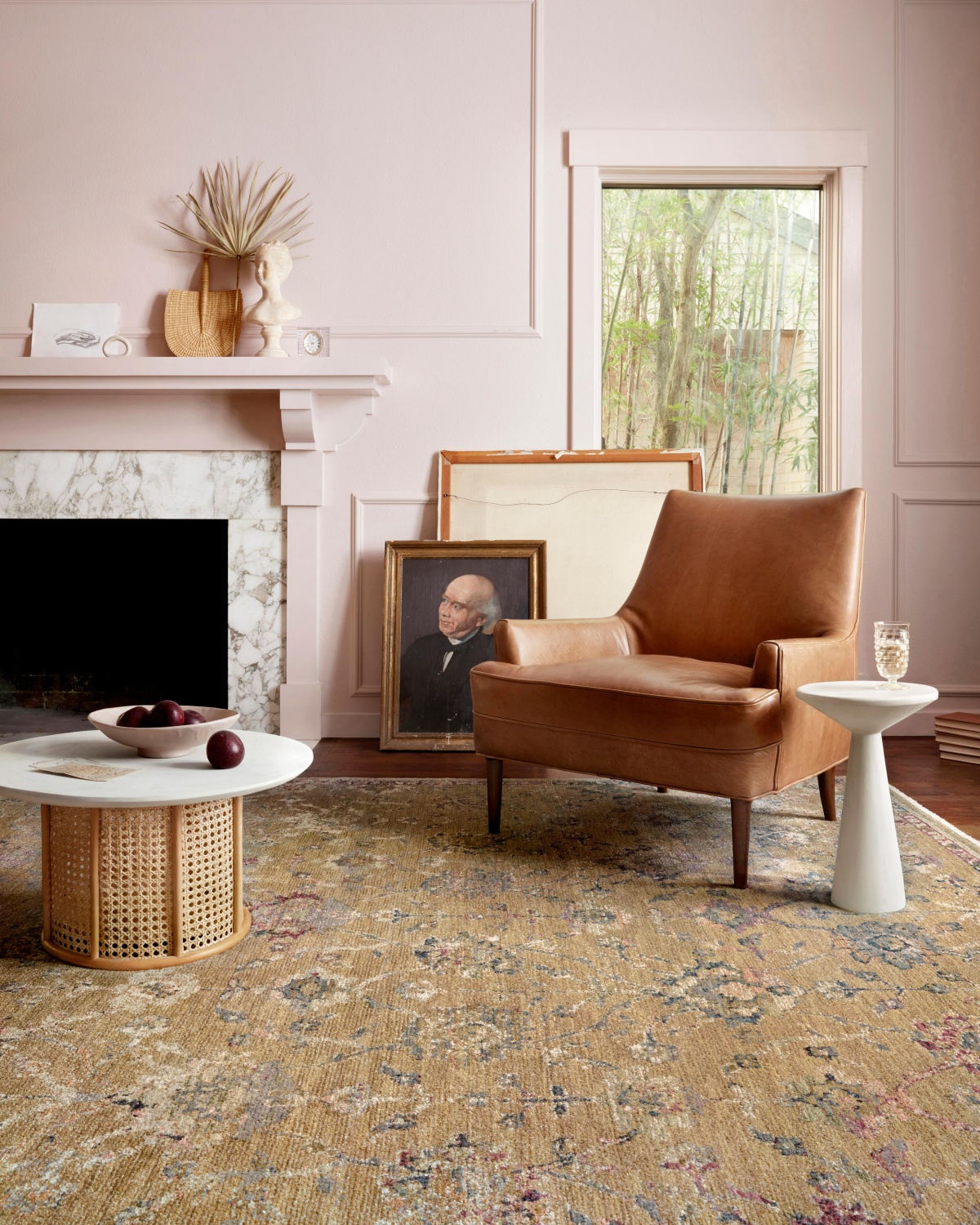 Because of pink's ultimate versatility, some designers have started calling the shade the "new neutral." Blush is now as fundamental as gray and beige because of its distinct retro flavor. And it's so flexible because it blends well with white, silver, gold, indigo blue, and mint green. 
Decorating Your Home with Blush Pink
Blush pink decor is perfect for spaces meant for relaxation because it has a calming effect. That's why it's the perfect shade for living rooms or bedrooms because it helps with stress relief and winding down. Adding a touch of blush through a pink pillow or a vase of blush roses can also make your room look more elegant and inviting.
With that in mind, here are some blush room ideas you can keep in mind:
Use Blush Seats
What better way than to curl up into a light pink sofa after the end of a long day? If you want to keep things subtle, throw in a blush accent chair to create visual interest in your living room. After all, you don't need an overly-pink home to achieve a blush interior. Sometimes even just a hint of pink works best, especially in modern spaces.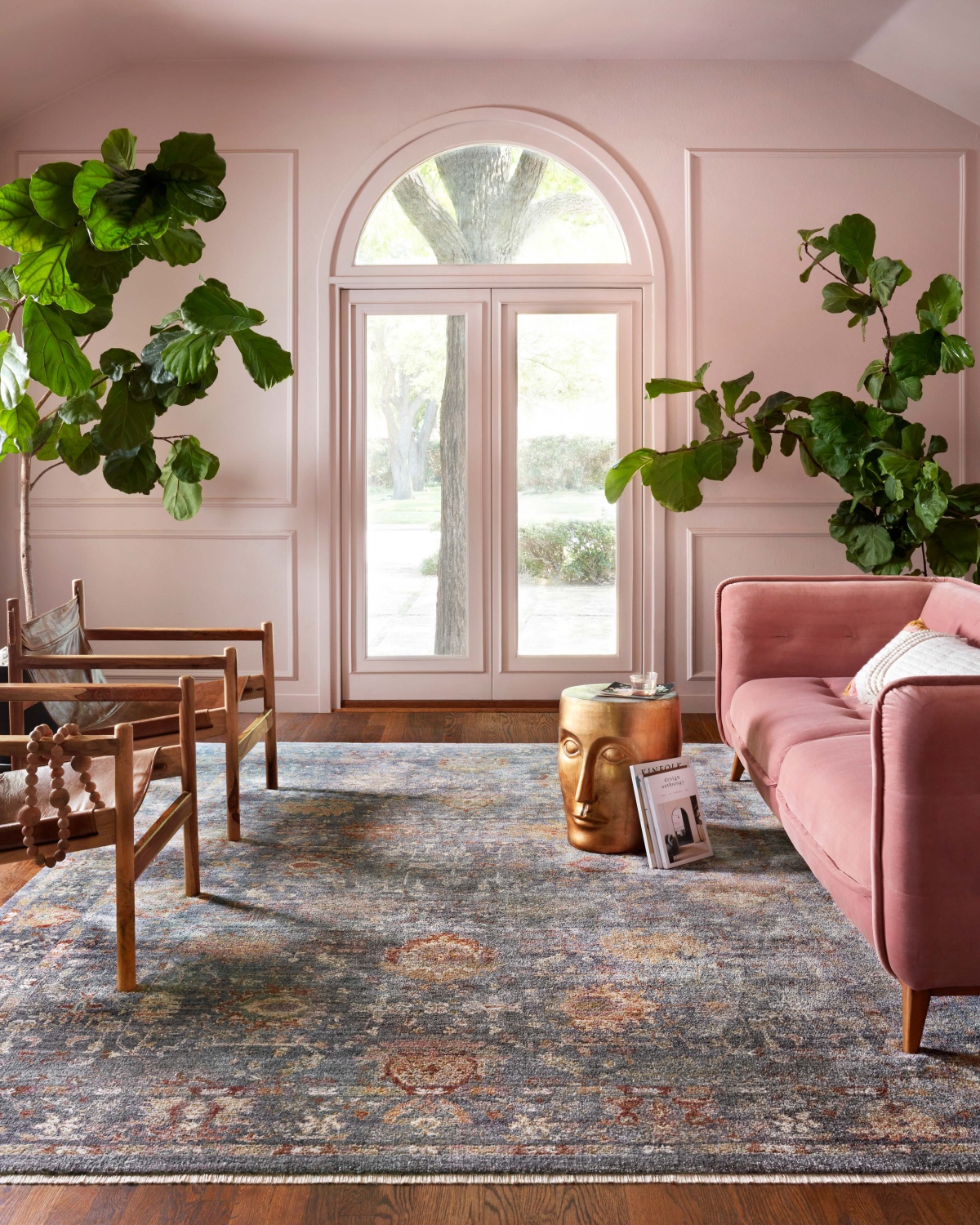 But don't just limit yourself to blush decor, either. Feel free to use white, light blue, and mint green. A broad color scheme can make your seats stand out and give your space a warm, fuzzy feeling.
Install Blush Accent Pillows
If decorating with blush seats seems too on-the-nose for you, try incorporating light pink pillows into your space. Blush throw pillows provide just the right amount of comfort and color for your living room. 
Consider pairing your pink pillows with soft gray for a casual chic look. Gray is a common color for living room sofas so adding a hint of pink can instantly refresh an overused decor statement. Installing a cushion in the fun, feminine color can inject a sense of novelty into your all-gray interior. 
Pro tip: choose cushions in the same shade of blush but with different patterns to add depth to your space.
Blush Out the Bold Colors
Do you want to add a subtle charm of pink to your bedroom? Decorating with blush works even in a space with bold colors. Let's say your bedroom has a dusty, earthy palette made up of bright oranges and reds. You can tie everything together with a blush headboard or pink cushions for a soft splash of color.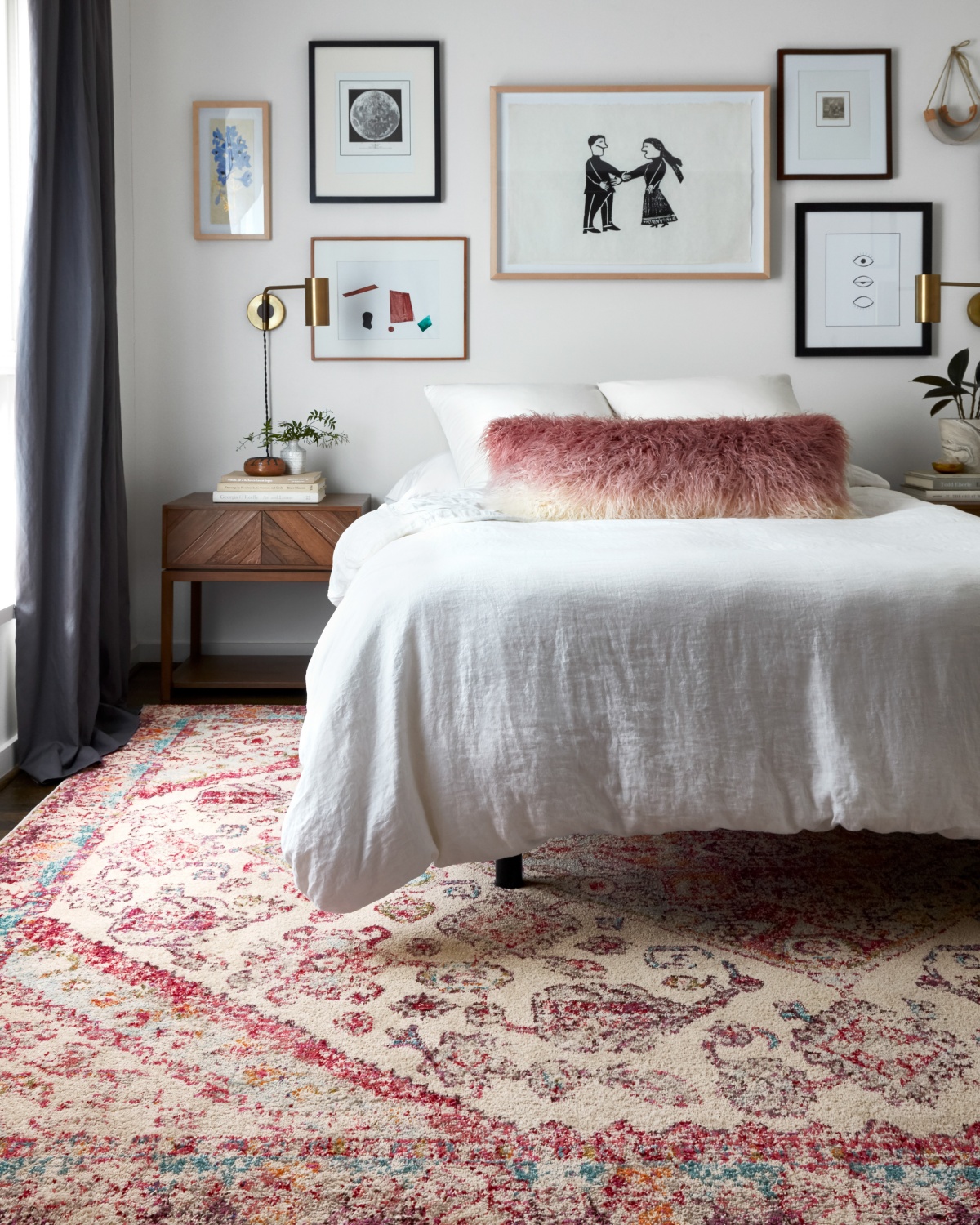 If you want to keep things subtle, consider blush bedroom decor like a vase of pink hydrangeas or a blush lampshade on your bedside table.
Pair Blush with Dark Hues
They say blush is the new black, but who says you can't pair the color with black itself? Blush decor blends beautifully with darker hues because it creates an inviting contrast. For example, a blush bench seat can truly stand out in a room with a deep blue cabinet and black window trimmings. 
Incorporating blush accents can add a pop of color if your room has a modern and eclectic look with strong blacks and grays. Consider adding texture to your walls with blush-themed wall art to match the clean, bold lines. Alternate between blush and peach to add depth — even the smallest imperfections like paint drips or hand-painted edges can bring out a distinct sense of personality. 
Style an Accent Wall with Blush
Want to make blush truly stand out in your space? Choose an accent wall that you can paint or decorate in the subtle, quirky shade. 
Don't be afraid to balance fun with formality in your living room — for example, you can make your blush accent wall stand out by complementing the area with a black and white rug, yellow accent display pieces, and a modern style fireplace. It also helps if the other walls in your space are painted in a different shade (like white) to add a sense of visual height.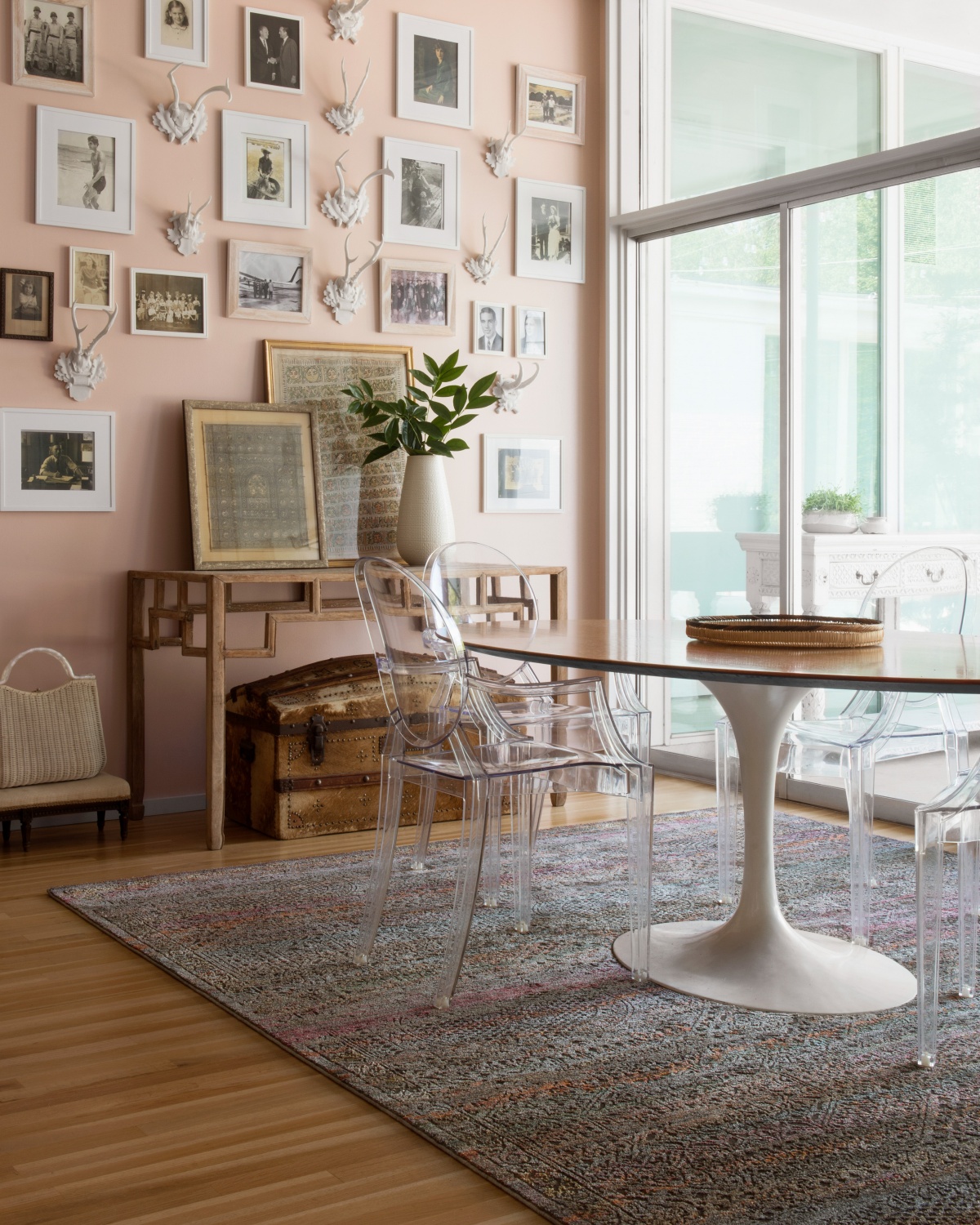 Just a word of advice: when choosing the right shade of pink, make sure it matches the undertone of your decor. For a neutral look, choose softer tones of blush. But for bold designs, go for richer shades of pink.
Make Your Floors Blush 
Add a sense of sophistication to your neutral room by installing a blush rug. A patterned rug can bring texture into your room and make it warmer and more inviting. Consider adding accent pieces in black or gray to make your rug truly stand out. 
If you're leaning toward the maximalist end of interior design, make your room shine by incorporating blush from floor to ceiling. A tribal rug, for instance, will blend beautifully with light pink walls, pink patterned pillows, and an abstract piece of blush-inspired art on the wall.
Decorate with an Accent Piece from Cyrus Rugs
Decorating with blush will surely pay off — after all, its grown-up take on floral baby pink can give any space a subtle, sophisticated look. Tie everything together with an area rug for added comfort and dramatic flair. 
At Cyrus Rugs, we carry the finest collection of rugs in the Midwest. Our inventory includes exquisite antique rugs and unique color patterns for the most discerning eyes. Check out our inventory or explore our blog for more design tips today.
Visit our Showrooms
Visit Cyrus Artisan Rugs Showrooms in: Minneapolis, St. Paul, & Rochester, not living in Minnesota? Visit our showrooms in Sioux Falls, SD, Des Moines, IA, Austin, TX, Scottsdale, AZ & Palm Beach, FL. Choose from our wide range of rugs.