A Closer Look at the Timeless Beauty of Tribal Rugs
Posted On April 8, 2021
Tribal rugs are highly popular pieces among antique collectors worldwide. Semi-nomadic and nomadic tribes in Central Asia, Caucasus, Anatolia, Persia, and Kurdish regions create these beautiful rugs.
Female weavers from these groups don't make tribal area rugs with conventional motifs. As a result, each piece looks distinct and showcases the weaver's story and creativity. This means that tribal rugs have flaws, but these little imperfections only make them more exquisite.
If you're thinking about adorning your home with tribal-style rugs, read on to learn more about these eye-catching pieces.
What's the History Behind Tribal Rugs?
Tribal rug weaving started with the tribes settling in the Caucasus Mountains. Most of these groups had their own rug weaving traditions. The Caucasian peoples stayed in the mountains while creating these rugs, and they produced 85 styles of rugs. Each style has its distinct design, color, and form.
Persian tribes also wove tribal rugs. Moroccan traveler Ibn Battuta also saw the beauty of Persian tribal rugs up close. In fact, the explorer even shared how he saw a green rug laid out for him during his visit to the Bakhtiari governor.
The significant variety of Persian rugs came from the following groups:
Qashqai
Afshar
Lurs
Kurdish
Bakhtiari
Khamseh
Shahsavan
All of these groups created unique and vibrant rugs. Back in the 5th century, the Greek historian Herodotus even complimented Armenian rugs for their vivid, timeless hues.
Vintage tribal rugs weren't known globally until the 1960s and 1970s, though. At that time, collectors considered art from indigenous people in high esteem. Major auction houses would always bring in many tribal rugs and sell them to the highest bidder.
The number of tribal-style pieces in the past is a stark contrast to the tribal rugs today. In fact, museums are putting these antique rugs on display.
How are Tribal Area Rugs Made?
Weavers produce tribal-style rugs out of wool, with some artisans using camel or goat's wool. The western tribes used the knotted pile technique to create tribal rugs. However, historians have found little evidence of these knotted pile rugs. We could only guess when the rug was first created. But history proves that the nomadic peoples learned about the knotted pile method before anyone else.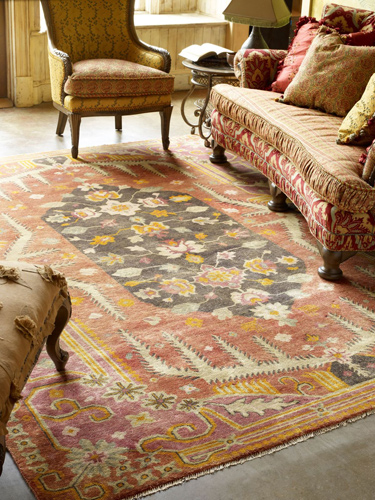 What are the Patterns on Tribal Rugs?
Tribal-style rugs have a variety of designs. Often, these rugs have several repetitive patterns in one field and use various colors.
Here are several common patterns you'll see in Persian and Oriental tribal rugs:
Boteh
Eight-pointed star
Ram horn
Diamond
Cross
Elibelinde
Scorpions and spiders
Mihrab
Camel
Fish
S-shape
Mountains
Peacock
Running water
Guls
What are the Different Types of Tribal Rugs?
Caucasian and Persian tribal rugs come in 12 distinct styles. Here's a closer look at each of these rug styles.
Qashqai Rugs
Weavers from the Qashqai confederacy in Southern Persia's Zagros mountains created Qashqai rugs. These rugs have rich and saturated natural dyes. Qashqai weavers often use vivid indigo, ivory, and red hues then add in other complementary colors to complete the look.
These rugs usually include plant, bird, and animal motifs.
Afshar Rugs
Afshar rugs get their name from the Persian tribe settling in Iran. These tribal rugs were woven by the Kerman people, the largest and most dominant group in the tribe. Afshar rug patterns range from geometric motifs to extremely stylized floral designs.
Afshar rugs come in the following colors:
Saturated rust and brick reds
Bright royal to midnight indigo blue
Gold, yellow, and teal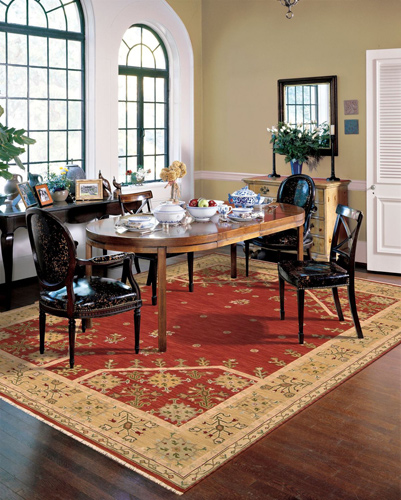 Khamseh Rugs
Khamseh rugs were made by weavers of the Khamseh confederation from Southern Persia. This group produced various rug designs with Turkic, Turkoman, and native Persian-influenced rug motifs and designs.
Central medallions, overscaled boteh motifs, and repetitive floral patterns are some of the styles you'll find in these Khamseh rugs. The artisans wove different ornaments into their rugs and complemented them with saturated, naturally dyed colors.
Shirvan Rugs
Shirvan rugs come from the Shirvan district in the east of the Caucasus Mountains. These rugs have a wool warp and cotton weft, and are finely crafted. Shirvan weavers incorporate eye-catching patterns such as ornate flowers, animals, and polygons into these pieces.
The finest Shirvan rugs showcase a fresh, captivating take on traditional and borrowed rug motifs. Subtle colors help complement these patterns.
Kazak Rugs
Nomadic and village-dwelling tribes in the highest regions of the Caucasus Mountains produced Kazak rugs. They used high-quality dyes and a range of colors to make these pieces.
Kazak rugs have loose knots and thick wool piles, with elemental and open designs. Kazak rug designs are striking and graphic, and weavers combine them with traditional and rich primary colors.
Karabagh Rugs
Karabagh rugs were named after Karabakh, the district where these pieces were woven. Karabagh tribal rugs come in deep, earthy palettes, with deconstructed animal patterns.
Some Karabagh rugs showcase patterns like ancient Christian symbols, and other pieces have lavishly ornate motifs. The Russian-Georgian style influenced these elaborate patterns.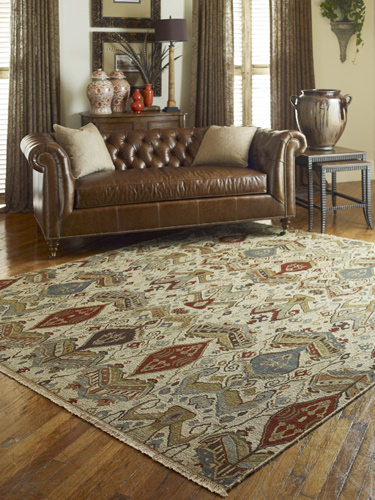 Gendje Rugs
Gendje rugs come from the market town of Gendje. You'll often spot large diagonal stripes with small, abstract flowers in these rugs.
Weavers took designs from the Kazak, Karabagh, Shirvan, and Baku areas and replicated them using a finer weave. Gendje artisans also made runner rugs with these designs.
Daghestan Rugs
Daghestan rugs were made in the northernmost regions of the Caucasus Mountains between the 17th to the 19th century.
Finely knotted, exceptionally crafted prayer rugs set Daghestan rugs apart. These rugs show angular arches with ornate, vibrant wildflowers underneath.
Kuba Rugs
Weavers from the Caucasian town of Kuba created Kuba rugs. These rugs borrowed designs and themes from the Daghestan, Shirvan, and Baku areas. Kuba weavers took inspiration from these elements while still sticking to their style.
Detailed designs are the most prominent characteristic of Kuba tribal rugs. Fine knots and closely sheared piles showcase these motifs. Moreover, these rugs were made from natural dyes with vibrant colors.
Bakhtiari Rugs
Bakhtiari rugs were made by the nomadic Bakhtiari tribe. At first, weavers created these rugs for the tribe. However, later creations had distinct and stylized geometric floral motifs influenced by rug-producing regions near the Bakhtiari.
Bakhtiari tribal rugs are well-known for their remarkably high-quality materials. Weavers used extremely sturdy, lanolin-rich wool to produce these rugs. Bakhtiari rugs showcase vibrant shades, as well. Craftsmen skillfully applied natural dyes to their creations, resulting in extremely colorful rugs.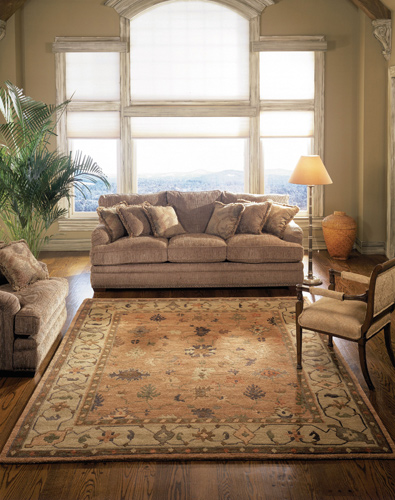 Northwest Rugs
Northwest rugs have the same characteristics and motifs as the Heriz regions, Caucasus mountains, and Azerbaijani tribes. These tribal area rugs have geometric yet simple and more elemental designs. Moreover, weavers adorn Northwest rugs with plain geometric patterns.
Northwest rugs are produced as runner and area rugs. These pieces are thick and made of cotton.
Shahsavan Rugs
Shahsavan rugs were woven by people from eight different tribes in Anatolia, Syria, Karabagh, and Turkmen. Rug artisans used a broad color palette for the finest Shahsavan tribal rugs. Their creations also displayed captivating and beautiful geometric patterns. Only a few of these rugs exist today.
Adorn Any Space with Handcrafted Tribal Area Rugs
The variety of intricate designs and rich hues in tribal rugs can lend an artistic, colorful touch to any room. If you're looking for a unique piece, Cyrus Artisan Rugs offers tribal-style pieces with eye-catching patterns and colors. Browse our online inventory or visit our showroom today to find the perfect tribal area rug for your space.
Visit our Showrooms
Visit Cyrus Artisan Rugs Showrooms in: Minneapolis, St. Paul, & Rochester, not living in Minnesota? Visit our showrooms in Sioux Falls, SD, Des Moines, IA, Austin, TX, Scottsdale, AZ & Palm Beach, FL. Choose from our wide range of rugs.