Very Peri: Meet Pantone's 2022 Color of the Year
Posted On January 18, 2022
New hopes and new colors await as the year 2021 comes to a close. To keep up with the effects of the pandemic-stricken world, the global authority Pantone has again taken a novel approach in selecting the Color of the Year.
For 2021, the leading figure in color trends has chosen not just one but two colors: ultimate gray and vibrant yellow. But for 2022, Pantone takes its selection up a notch by developing a new color altogether—what we now know as Very Peri or Pantone 17-3938.
This entirely novel hue seeks to represent the rapidly changing times. It combines the timeless blue shades with energetic notes of violet and red to create a light-hearted, warm color unlike any other. Let's explore the Pantone Color of the Year 2022 in this article.
A New Future for Color
Color often communicates a message, mood, idea, or emotion. And just like the new year ahead, Very Peri is all about pushing boundaries. It champions exploring the unknown and broadening our horizons.
At its core, Very Peri represents a fresh breath of life, an ode to the whims and joys of the coming year. It sparks creative and imaginative thought, as seen in the delightful harmony of reddish-purple energy and static blue hue. It tickles curious minds with its carefree charm and jolly glow.
The color Very Peri also embodies novelty and versatility in all forms. In realizing a new vision, it opens itself to the possibilities that the future brings. All in all, it leads the way for innovating colors and expanding our existing palettes.
A Fitting Color Selection
Pantone analyzes societal trends and hallmarks in determining the color of the year. Amidst rapid transformations in the present, unprecedented times call for unprecedented colors—hence the birth of Very Peri. But how did this come to be?
The inspiration comes from the rise of the digital space—from social media, games, and virtual currencies. Soon enough, these spaces have permeated every single inch of our physical lives. It has resulted in a groundbreaking shift in modern life, as it inevitably intertwines with the virtual world.
As per the official Pantone description, "Very Peri is a symbol of the global zeitgeist of the moment and the transition we are going through."
Decorating with Very Peri Rugs
Start the year right by adding splashes of Very Peri in your home. It provides a unique pop of color that will surely bring your space to life. What's more, it's a versatile hue that works well with an array of themes, textures, and finishes. 
Adding an area rug in the shade of Very Peri will surely elevate your space to new heights. Here are our top picks for luxurious rugs colored along the spectrum of Very Peri.
Cyrus Artisan Metallica Reserve VC-55 Rug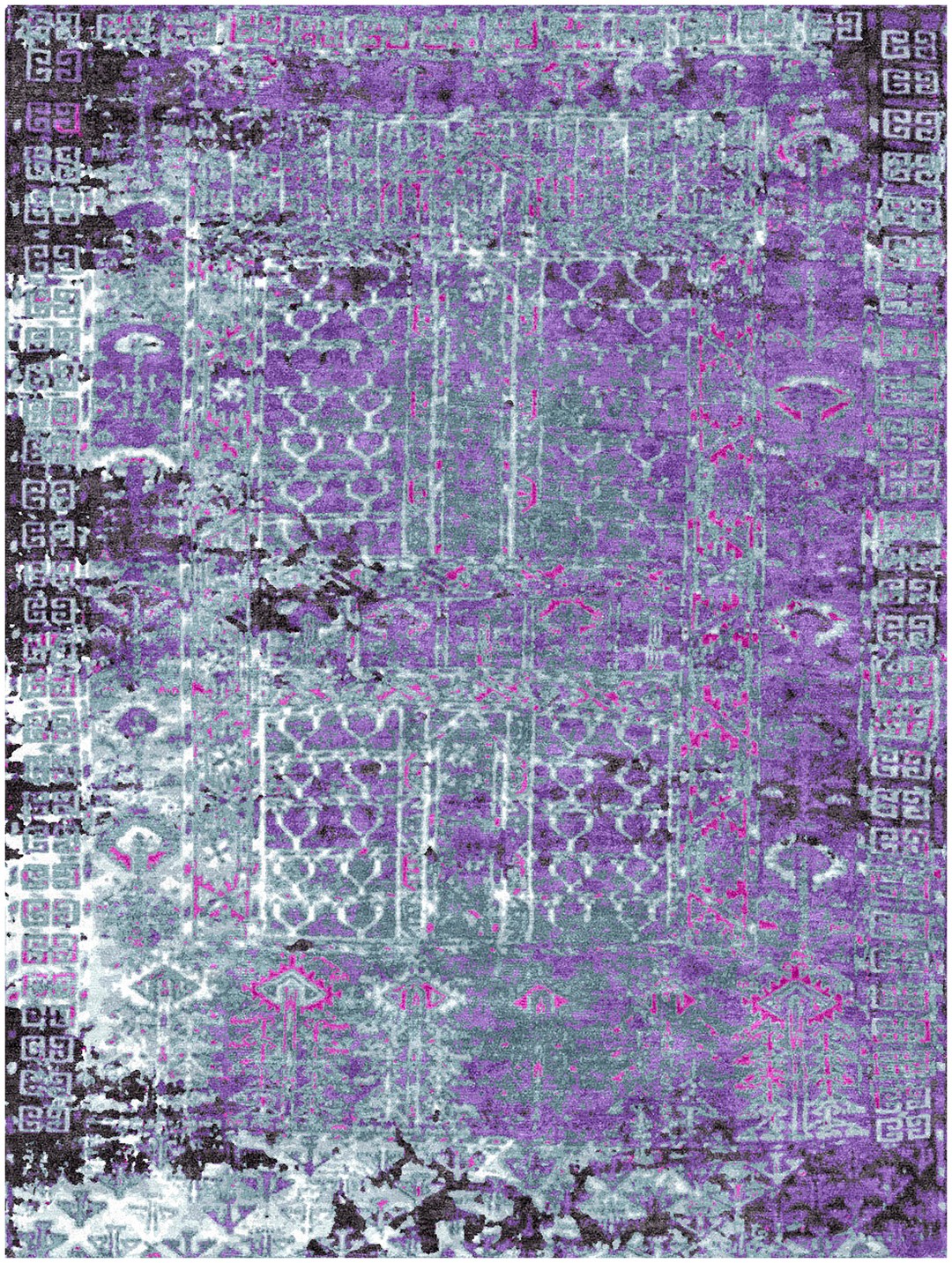 Our very own Metallica Reserve VC-55 Rug features a recurring geometric pattern colored in a striking lavender and blue hue. It uses the softest, high-quality silk that creates a metallic shine and a thin pile finish. Place this piece on your living room floor for a stunning centerpiece.
Cyrus Artisan Barca BR-1 Rug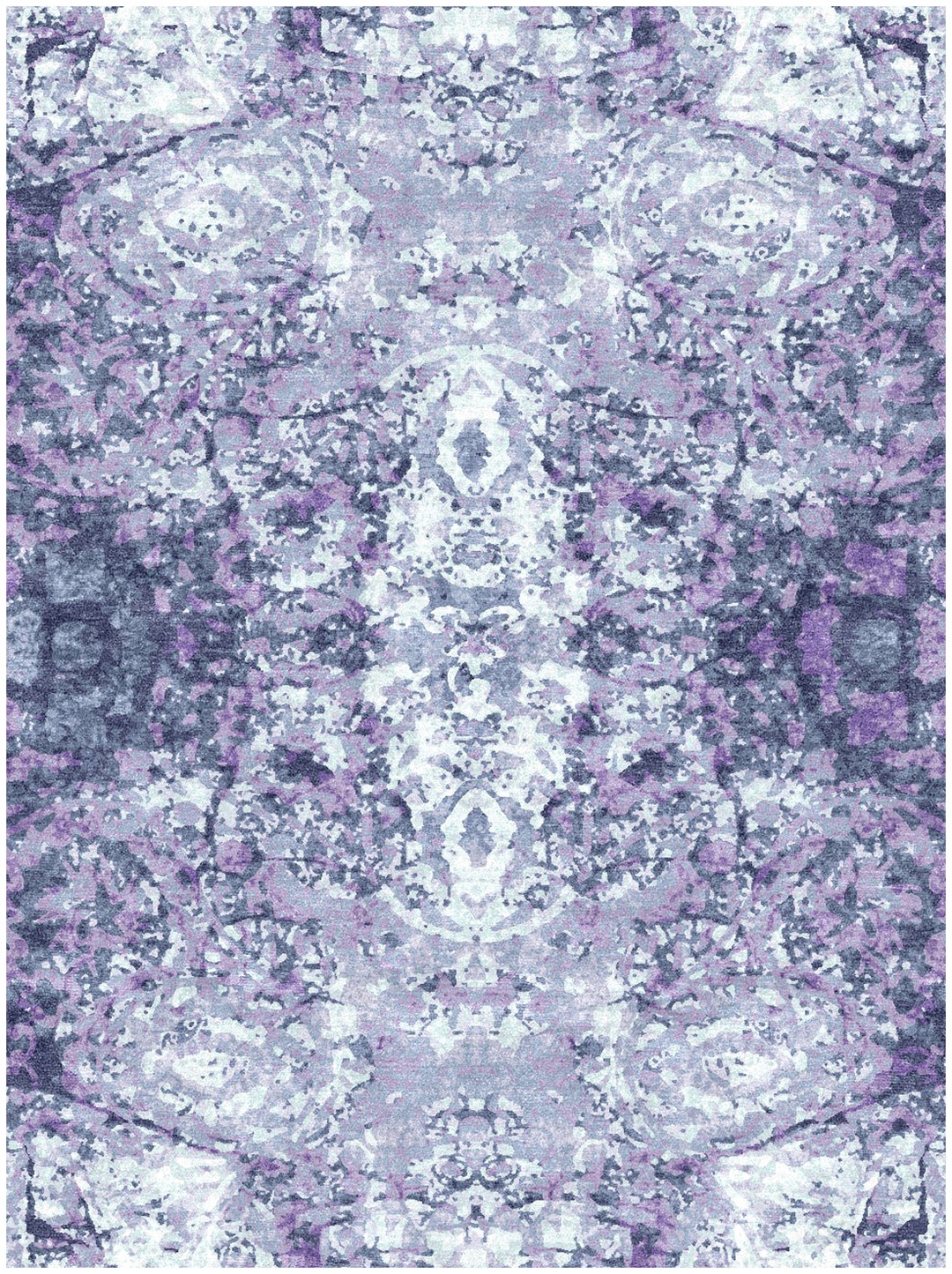 The BR-1 rug is part of our in-house Barca Collection which features unique hand-knotted pieces with subtle patterns fit for your home. This rug, in particular, contains abstract designs weaved using premium wool and silk. It adds a touch of elegance to your contemporary living room.
Jaipur Living Project Error by Kavi ESK-431 Rug
Sometimes, you might make common design mistakes, but this rug isn't one of those. The ESK-431 area rug explores the beauty in error using rich colors splattered across the canvas. The combination of bamboo silk and wool gives it a luxuriously soft texture that certainly won't go wrong with your contemporary space.
Cyrus Artisan Barca BR-2 Rug
The BR-2 area rug is another exquisite piece from our Barca collection. This hand-knotted piece has ripples of abstract paint weaved across the canvas using a delicate combination of wool and silk. Placing this area rug on your bedroom floor adds a rich, velvety texture to the space.
Tamarian Hipster Pinwheel 50% Silk Rug
This Hipster Pinwheel rug comes from the world-class rug brand Tamarian's TAM-100 Knots – 50% Wool and 50% Silk Collection. A rich periwinkle color dances across the wool and silk canvas, filling it with a subtle design. This piece adds character to an otherwise bleak dining area.
Cyrus Artisan Aanya AK-4 Rug
This hand-knotted AK-4 rug hails from our Aanya Collection. It features floral notes knit using wool and silk, giving the piece a lush texture and a high-low finish. It has a thick pile that is soft to the touch and built to last. It works both as a stunning floor piece and a striking wall ornament.
Tufenkian Setana Kensington Rug
Enjoy a whimsical blend of geometric prints with Tufenkian's very own Setana Kensington Rug. It has a simple yet striking design that spreads across the borders and adds a light-hearted touch to an entryway full of wood and earth tones. It also provides a touch of style on a neutral-colored kitchen floor.
Cyrus Artisan Tibetan Classic Contemporary Rug
The Tibetan Classic Contemporary rug combines modern design elements with timeless craftsmanship from the artisans of Nepal. It features clean lines, circles, and shapes painted in vibrant hues, forming a one-of-a-kind carpet that appeals to your inner artistic sensibilities.
Tufenkian Arts n Crafts American Deco Blue Rug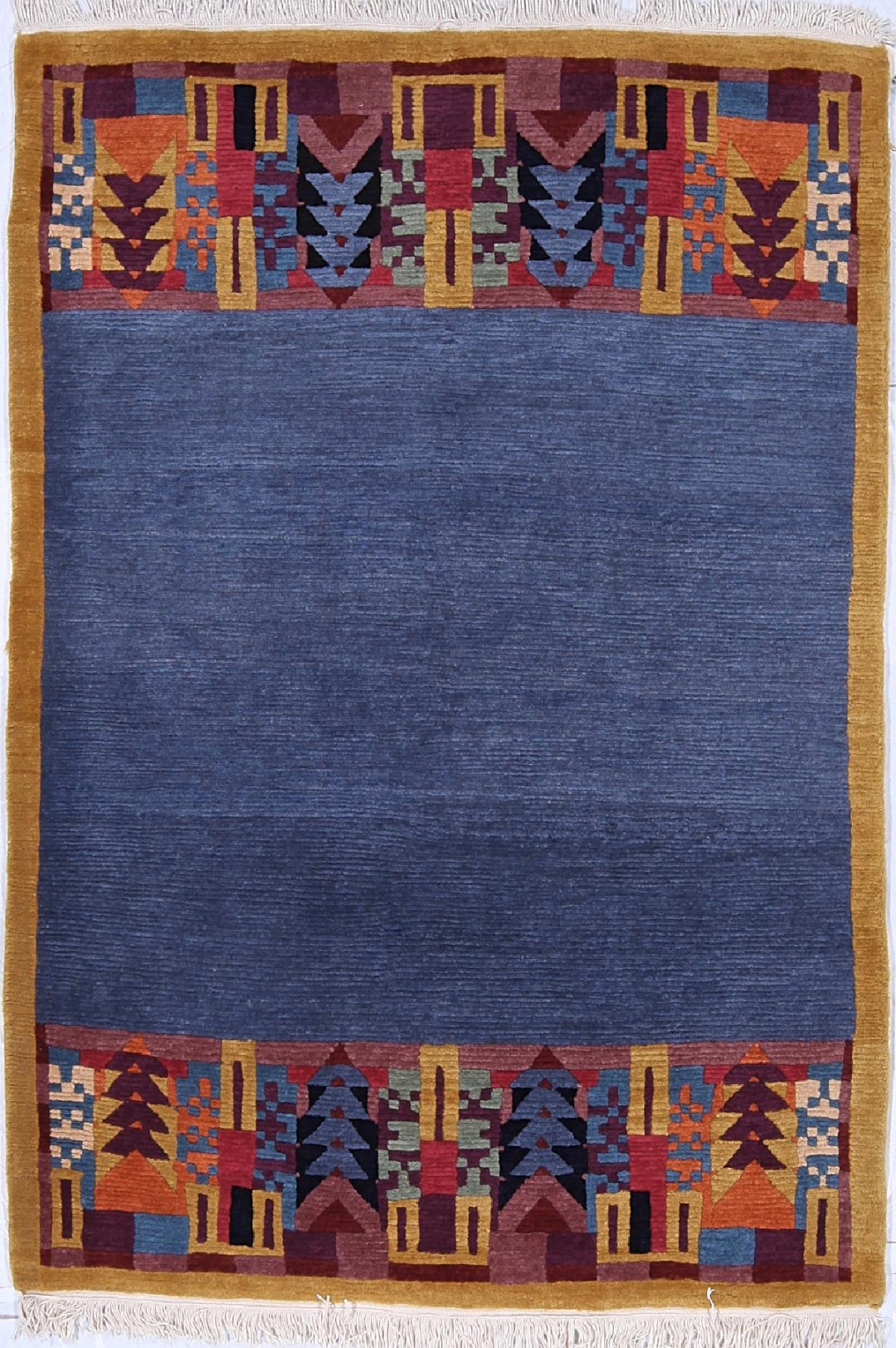 Contemporary art enthusiasts will surely revel in this Arts n Crafts American Deco Blue rug. Geometric shapes in shades of red, yellow, and orange fill the borders of this periwinkle rug. Place this Tufenkian wool rug near the entrance for a playful yet durable floor piece.
Cyrus Artisan Indian Transitional Rug
For our final piece, we have selected the Cyrus Artisan Indian Transitional Rug from our Amora Collection. It features an elegant diamond pattern hand-knotted using fine strands of bamboo silk. Its vivid color and unassuming design create a nice contrast in a vibrant bedroom. 
Beautify Your Space With A Dash of Very Peri
The cheerful Very Peri takes the colors from the digital screen to your home. It opens infinite possibilities not just for combining colors but also for conceiving them. Bring the future of color to your living space by selecting a Very Peri-colored rug.
Find your design inspiration in the Cyrus Rugs blog today.