What are the Different Types of Persian Rugs?
Posted On July 28, 2020
Persian area rugs are produced in Iran (the modern name for Persia). The country is renowned for its highly developed, centuries-old carpet-weaving tradition, with some of the finest rugs boasting high knot counts and elaborate designs. Persian rugs are versatile in design, function, and color—making them suitable for a wide variety of contemporary and traditional interiors.
Authentic Persian carpets are true works of art, with designs that range from pictorial scenes to purely decorative designs. Rugs woven in various production centers—like Qom, Kerman, and Tabriz—are distinguished by their unique weaving techniques, as well as patterns, colors, and materials. 
What are the Different Persian Rug Styles?
Persian carpets come in numerous styles—giving you a wide array of options for your space. The major ones are:
Tabriz

Heriz

Kashan

Gabbeh

Isfahan

Nain

Sarouk

Mashad

Baluchi

Qum

Bakhtiari

Bijar

Farahan

Kerman

Kilims

Malayer

Senneh

Sultanabad
Tabriz Rugs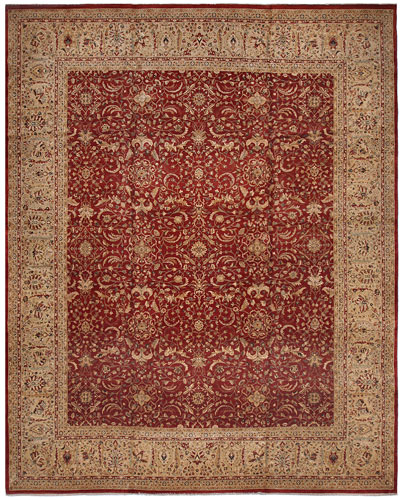 Originally made in Azerbaijan's capital city of Tabriz, these high-quality carpets have a wool or wool and silk pile and a cotton or silk warp. Tabriz carpets vary in motifs, from teardrop medallions to flowers, trees, and hunting scenes.
Heriz Rugs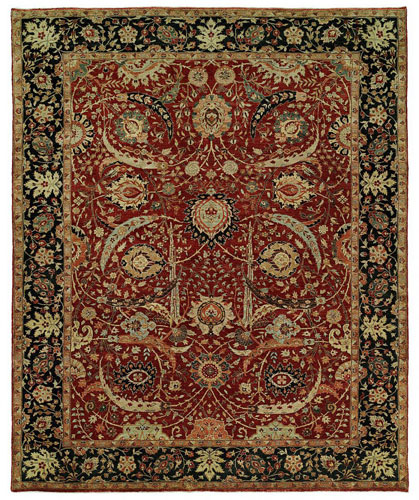 Heriz carpets are easy to identify, with their vibrant shades and distinctive, striking patterns. Oversized medallions are often at the center of these Persian rugs. The medallions feature double or triple outlines and large corner pieces. These rugs are extremely durable and long-lasting as well.
Kashan Rugs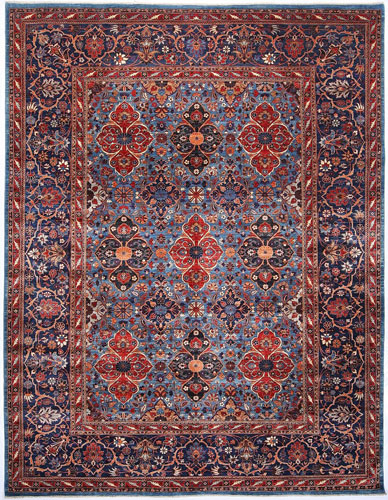 These Persian carpets are distinguished by medallion and corner patterns on elaborately patterned floral fields. Artisans often weave Kashan rugs with deep blues and reds and ivory hues. Yellow, green, and burnt orange streaks can be found in many designs as well.
Kashan carpets boast knot counts of 100 kpsi to over 800 kpsi, deeming them high-quality.
Gabbeh Rugs
Qashqai and Luri weavers in the Zagros Mountains craft these carpets, hence tribal culture's great influence on the Gabbeh rug's design. The weavers produce Gabbeh carpets from handspun wool, making these pieces thick and coarse. 
Gabbeh rugs feature simple designs woven on a plain, rich color field. Common carpet hues include orange, yellow, rust, and red. Only natural dyes are used. 
Isfahan Rugs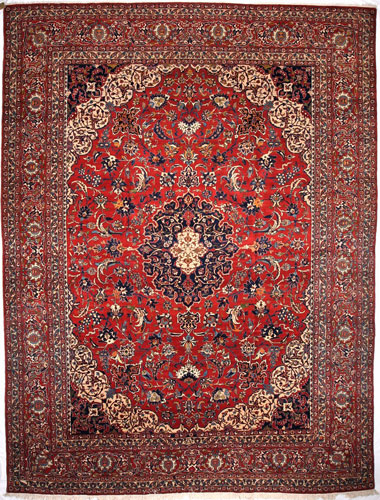 Isfahan carpets are made of silk and wool. These handmade rugs have extremely harmonious motifs, with vines around an indigo, rose, or blue medallion. Artisans weave Isfahan rugs on ivory backgrounds.
Nain Rugs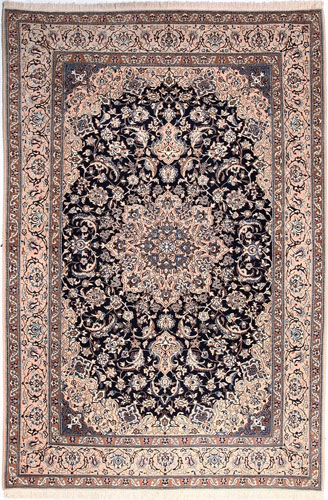 These Persian carpets boast exceptionally fine wool and knot counts of around 300 kpsi to 700 kpsi. A Nain rug has extremely intricate motifs. Blue and green intertwined branches with little flowers often comprise Nain carpet designs. Craftsmen weave these patterns on white or light ivory backgrounds.
Sarouk Rugs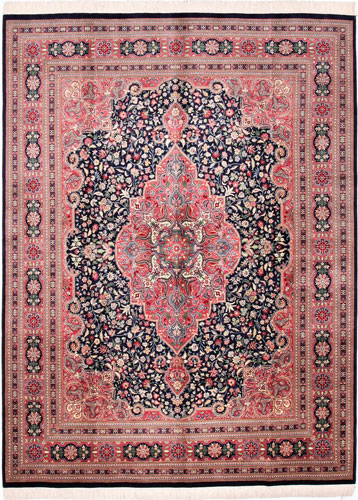 Made with a fine compact weave, Sarouk carpets are famous for their incredible color, strength, and charm. These Persian area rugs have mellow shades and striking medallion designs.
Sarouk carpets go well with traditional or contemporary décor. The combination makes these pieces a perfect match for a wide array of spaces.
Mashad Rugs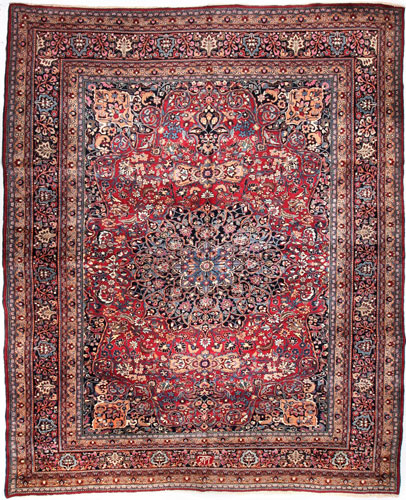 Mashad carpets are large with a wool pile and a cotton foundation. A large Shah Abbasi medallion at the center is the highlight of this area rug style. Mashhad artisans weave the medallion on an intricate background with floral motifs. The floral patterns have curved designs.
Baluchi Rugs
Baloch nomads near the Iran-Pakistan-Afghanistan border originally wove these Persian carpets. Baluchi area rugs are sold in Mashad in Iran, and Herat in Afghanistan, thus dividing them into Mashad-Baloch and Herat-Baloch carpets.
Baluchi carpets are small with dynamic motifs. Red, brown, and dark blue are common shades in these handmade rugs. Additionally, most pieces can have a wool or wool-goat hair warp. Newer carpets boast a cotton warp.
Qum Rugs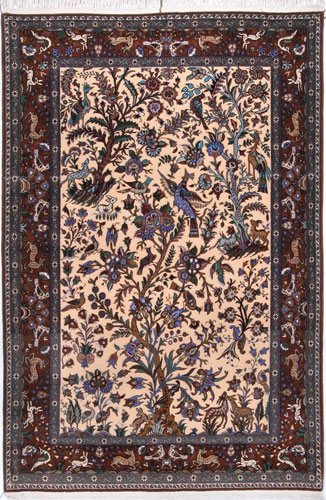 These carpets get their name from the Iranian province of Qum, where artisans weave them. Qum area rugs are of extremely high quality: Weavers produce these pieces with tight knots and give them a luxurious silk or cotton pile.
Qum carpets feature intricate designs with a combination of the following motifs:
Flowers

Birds

Medallions

Hunting scenes

Gardens
Qum weavers use dark blue, reddish-brown, or orange shades to depict the designs above. They use a turquoise hue as well.
Bakhtiari Rugs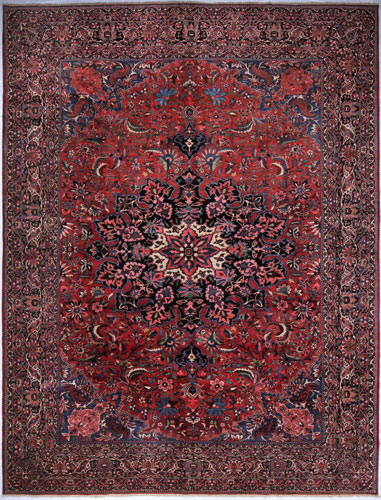 Crafted by the Bakhtiari tribe in west-central Iran, Bakhtiari carpets can have tribal motifs, garden patterns, and striking hues. A garden motif on a Bakhtiari rug consists of paneled medallions with geometric trees, flowers, and animals, or other patterns.
As for colors, this Persian rug style can have rich reds and blues. Yellow, brown, and green highlights can complement both hues.
Bakhtiari artisans use Turkish knots to weave their carpets. They also make the pile from glossy, high-quality wool, and the foundation from cotton. Furthermore, Bakhtiari area rugs can boast single or double wefts.
Bijar Rugs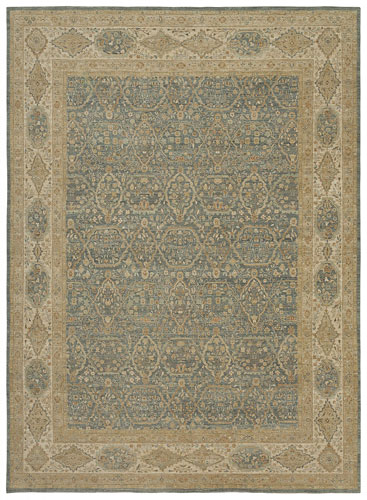 The Kurds in Iran's Gerus and Afsha areas produce Bijar carpets, also known as "The Iron Carpet of Iran." These area rugs are much heavier, firmer, and sturdier than other carpets, with double wefts.
Craftsmen produce a compact pile by tightly beating down a thicker weft between rows of knots alongside a thinner weft. They weave the pile out of wool and craft the foundation with cotton, wool, or camel wool.
Bijar rugs have a variety of unique patterns and hues. These pieces also come in a wide range of sizes—you can find smaller and much larger sizes.
Farahan Rugs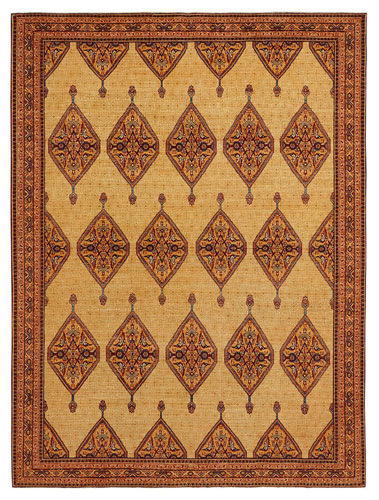 Farahan carpets originate from the central Iranian district of Farahan. Artisans weave these rugs on a cotton base and knot soft, thin wool asymmetrically. As with Bijar carpets, Farahan area rugs have different designs. But they typically boast excellent quality and remarkable strength.
Kerman Rugs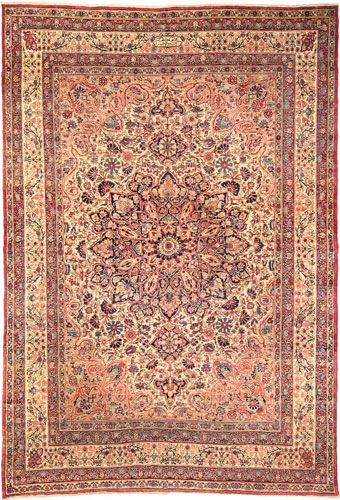 Kerman carpets are made of quality wool with a cotton weft and warp. These area rugs are mostly red with a medallion at the center and a wide border of flowers. Antique pieces have trees, animals, and figural designs, while newer carpets (Kerman-Lavar rugs) have clear-colored floral motifs throughout their surfaces.
Persian Kilims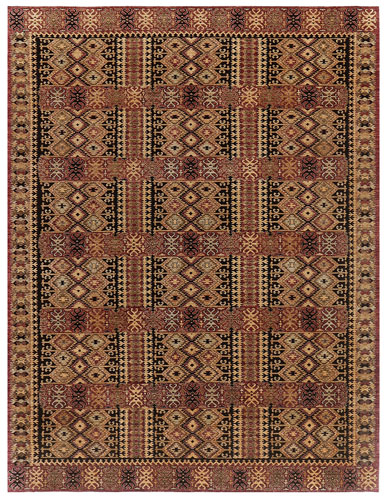 Persian kilims get their colors and designs from their foundation. Weavers craft patterns with various hues of wool, intertwining the resulting wefts and warps. They often use the slitweave technique to weave these carpets—it gives most kilims a vertical slit between colors.
Kilim weavers typically favor diagonal patterns to prevent an imperfect rug structure with vertical slits. The slitweave creates eye-catching, sharp motifs; thus, people associate kilims with geometric patterns. The technique even makes a kilim smooth and reversible.
Malayer Rugs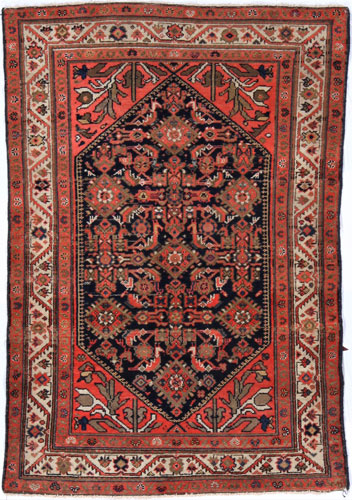 Malayer carpets are woven in the Malayer village between Hamadan and Sarouk in northwest Iran. Weavers craft these rugs using lots of designs from the two regions, but they incorporate originality into their work.
These area rugs have a fine weave and a symmetrically knotted, single-wefted Herati design resembling those of Hamadan and Senneh carpets. This is why traders call Malayer carpets the "Hamadan Senneh rugs."
Malayer rugs feature a variety of motifs, including all-over field designs and central medallions with different patterns around them. The boteh is a favored design among Malayer artisans and they weave it liberally into the carpets. Weavers also cover whole fields in smaller rugs and runners with the design.
Senneh Rugs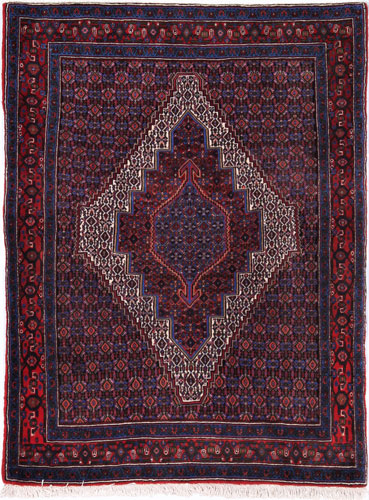 Tight weaves with a soft, silky pile and an uneven backside distinguish Senneh carpets from other Persian rugs. Weavers craft the rug's wefts with thread, giving it a spotted backside. 
Senneh area rugs can have rhombs, mir-e-buteh, or Herati designs in their patterns. Red and dark blue are common Senneh carpet colors.
Sultanabad Rugs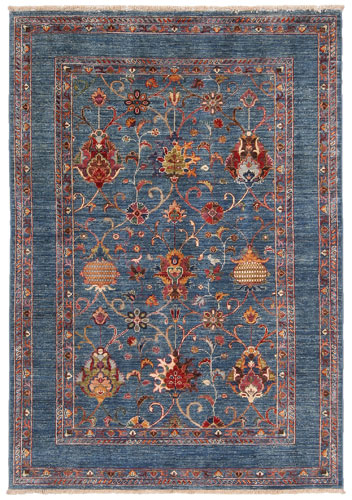 These carpets have the same designs as most Persian rugs, but they boast larger and more flexible weaves. Sultanabad rug motifs are closely associated with Heriz or Serapi carpet designs. Pieces feature more curved, classical lines while retaining a more casual, tribal feel.
Sultanabad carpets also boast the same warm hues as those of the earliest Sarouk Farahan rugs. Muted neutrals, vivid reds, and clear blues give these carpets a majestic Western look. You can even see pieces with unique color combinations.
Frequently Asked Questions about Persian Area Rugs
What materials do artisans use to craft Persian carpets?
Persian rug artisans mostly craft authentic pieces from wool, silk, or cotton.
Wool is soft, sturdy, and readily available in Iran, making it the most commonly used carpet weaving material.

Silk is fine and extremely durable.

Cotton is a common material for creating a Persian carpet's foundation. Weavers produce rug warps and wefts with this material.
How do weavers make hand-knotted Persian rugs?
Crafting Persian area rugs begins with artists designing a piece.

Weavers then treat and dye silk or wool.

Artisans attach warps to a loom's wooden beams and tie wefts horizontally over and under the warps.

After weaving the rug foundation, weavers tie rows of knots between wefts.

Artisans then shave, wash, and inspect the carpet.
What are the common Persian rug designs & patterns?
Floral

All-over

Geometrical

Medallion

Tribal

Panel

Open field

Birds and flowers

Hunting scenes

Garden designs
Persian carpets can also have any of the following motifs:
Herati – comes in different forms with geometric or curved designs

Boteh – generally found in a cluster

Gul – octagonal, all-over, or repeated patterns

Mina-Khani – a motif with diamond or circular lines interlinking repeated daisies

Rosette – a circular arrangement of motifs extending from the central medallion

Shah Abbasi – palmettes in all-over designs, medallions, and borders.
How do you identify an authentic Persian carpet?
Each area rug has a unique design—artisans don't weave them in various sizes.

Irregularities and imperfections are signs of hand-knotted Persian carpets.

Authentic Persian rugs don't have sewn-on fringes.

Machine-made carpets would have regular, perfect rows of knots on their reverse side. The knots on a Persian rug's reverse side don't have these qualities.

Persian carpets are made of wool, cotton, camel hair, or pure silk.

You can also identify high-quality carpets with knot density.

Extremely high-quality pieces are 3mm to 6 mm thick.
What's the difference between Persian and Oriental area rugs?
First, these artisan carpets differ in the location where weavers made them. Persian rugs are produced in Iran, while Oriental carpets are made in China, India, Egypt, Pakistan, or Afghanistan.
Persian and Oriental area rugs also have different designs. Most Persian carpet designs can have symmetrical or similar forms with all-over, compartment, central medallion, and one-sided patterns. Flora and fauna motifs featuring more curved lines are typical Oriental rug designs.
Cyrus Artisan Rugs Carries the Best Selection of Handmade Persian Rugs in Minneapolis, MN
With their artistic and varied designs, hand-knotted Persian rugs can give your home, office, or commercial space added charm. Cyrus Artisan Rugs lets you find the perfect piece with its curated selection of modern and antique Persian carpets. Browse our website today or make an appointment at our Minneapolis, MN, showroom to appraise our wide selection of authentic Perisan carpets. 
Visit our Showrooms
Visit Cyrus Artisan Rugs Showrooms in: Minneapolis, St. Paul, & Rochester, not living in Minnesota? Visit our showrooms in Sioux Falls, SD, Des Moines, IA, Austin, TX, Scottsdale, AZ & Palm Beach, FL. Choose from our wide range of rugs.